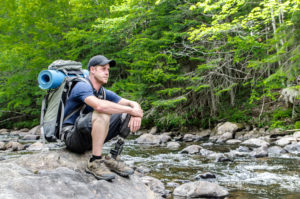 Have you ever asked yourself, "What am I trying to say here?" or, "Why do I sound like I'm making my case to a courtroom judge? This is my partner (or friend)!" A small sense of discomfort and being out-of-joint with yourself may be telling you to pause and reflect. It is worthwhile to do so because effective communication begins with self-awareness.
Differentiation is more than a marketing term about finding your value as compared to competitors in the field. In psychology, this refers to your sense of self-knowing your perspective, thoughts, values, feelings, and desires. It also means articulating your thoughts and emotional needs in a way that is congruent, exposing who you truly are.
The next level of differentiation is developing awareness of your partner as separate and different. Building on this, one can cultivate the ability to listen, hear, and respond effectively to differences. Yet another level of differentiation is creating an environment in the relationship that supports desired changes.
You may have heard it said, "How are they supposed to know what you need when you don't know what you need?" Well, this is an oversimplification—while the responsibility for your feelings ultimately resides with you, sometimes it is exactly by talking through our feelings and perceptions that we uncover what is needed. And it may not result in a conclusion that you need this from your partner. To treat communication as a declaration of truth shrinks the conversation space and misses out on the potential for good dialogue to illuminate information and experiences that would otherwise go unnoticed. In other words, it is OK to learn new things about yourself and for yourself with your partner.
What is not as helpful is to try and impose personal feelings and interpretations on someone else. Stay on your side of the net; express "I" statements about how the situation or dialogue is feeling to you, what you think is important about it, why you want to talk about it—your main intention for having the dialogue. Refrain from "you" statements where you tell your partner what their thoughts, feelings, and truths are or blaming them for your differences.
Then ask open-ended questions: "Who does this happen with?" "What are you feeling when it happens?" "Where in our relationship did this start to be an issue?" "How do you respond when this is going on?" Questions that can be answered with "yes" or "no" are often leading and laced with our personal agenda about what is true.
Some of us grow up in "enmeshed" families—where there is a lot said and yet very little understood or changed about the issue. Stressed-out families may get polarized and have family members stuck in a role: the authority, the rebel, the hero. Try writing down the typical responses of each of these characters. For example: "I know what is best," "Anything but the way it was last time," or, "We just have to work harder." Now exchange scripts. Try on a new role! You might be amazed by how right you feel after a while, voicing the other perspective from where you have been standing.
Why is this? Typically, there is some truth to each side of a situation and each person ends up standing for an aspect of the truth, rather than holding the complexities and trade-offs within and together. This can lead to antagonistic, stuck interchanges that ultimately preserve the status quo. Yet when we can engage in perspective-taking through careful dialogue and appreciation of difference, something new may emerge—a creative, third, or heretofore unknown point of view.
Imagine you had to describe your partner's/friend's/coworker's inner experience so well that a stranger would know what it is like to be that person in the difficult situation. If you cannot make this complete description, painting a picture of facts and emotions and thoughts and concerns like a professional journalist would, then you have not asked all the questions that need to be asked.
For a moment, set your agenda aside and get curious. What if I were that person? What would it feel like? What would I think? What would I want to know? What would my dream outcome be? Now, this is not to mean that you drop yourself; rather, that you go to the other side of the mirror for a minute and know what it is like. When two people have this level of understanding, there is often more common ground than they originally thought when the difference arose.
Together, between the two of you, try to keep all of the intelligence and information with you as you think about your difference. Understand the dreams, the symbolic meaning underneath the issue for one another. Then, you may find your way to a solution that will last.
Murray Bowen, professor of psychiatry at Georgetown University and pioneer in family systems theory, defined differentiation as "the degree of resilience to the interpersonal contagion of anxiety." Developing this resilience can be a lifelong process of growth, and it creates many benefits for us as individuals, family members, and partners. We become more confident in ourselves—without becoming rigid—and more able to handle stress together as a team. It may feel awkward to hold differences in this way, but it pays dividends in how rich and robust our lives and relationships can become as we continue to grow.
How does good dialogue and communication feel to you? What are your effective behaviors when this is happening? What qualities and attitudes are helpful? Please share your questions and comments below.
References:
Bowen, M. (1978). Family therapy in clinical practice. New York: Aronson.
Bader, E. (n.d.). Utilize the initiator-inquirer process in couples therapy. The Couples Institute. Retrieved from http://www.couplesinstitute.com/utilize-the-initiator-inquirer-process-in-couples-therapy
Levine, A., & Heller, R. (2010). Attached: The new science of adult attachment and how it can help you find—and keep—love. New York: Penguin Group.

The preceding article was solely written by the author named above. Any views and opinions expressed are not necessarily shared by GoodTherapy.org. Questions or concerns about the preceding article can be directed to the author or posted as a comment below.