Mindfulness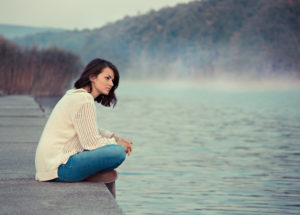 and meditation are two examples of Buddhist psychology that have been widely used to help people deal with a variety of mental health conditions, including mood and personality issues. Buddhist teachings tend to be easily assimilated into mental health treatments because they offer applied practices which help us to overcome unhealthy thinking, behavioral, and emotional patterns.
A practicing Buddhist psychotherapist for nine years, I find myself offering Buddhist teachings and practices to people with greater frequency. Buddhist techniques can easily be applied to "homework" assignments and real-world applications for people in therapy, making them especially useful therapeutic tools.
Buddhist psychology contains myriad beneficial teachings and practices. I tend to teach people in therapy to meditate regardless of the presenting issue. Some individuals are unable to begin their practice by sitting quietly and following the breath because they experience intrusive thoughts. "Beginner" practices such as walking meditation, reciting a mantra, or counting meditation give the mind something to attend to while simultaneously slowing down racing or unwanted thoughts. Mindfulness, another technique, has become mainstream and is used by many psychotherapists to help people stay in the present moment. Other, lesser-known Buddhist psychology techniques can be equally useful.
Here are four Buddhist psychology concepts of particular note:
Right Action
When you are engaged in thinking, behavioral, or emotional patterns that may have less-than-beneficial effects, investigate and consider a different action that may be more conducive to your well-being. If the action you are considering supports wisdom, understanding, peace, and flexibility, you are on the right track. If the new action is creating more suffering, ignorance, rigidness, or is immoral, you are not engaged in "right action."
You might start by identifying one minor action you can take the next time you are triggered to promote a sense of peace and well-being. Your practice could start with something as simple as changing an aspect of nonverbal communication such as the tone of your voice or sitting up taller.
After you identify a new right action, the egoic voice may begin commenting on all the reasons you couldn't, wouldn't, shouldn't incorporate this new action. Don't listen. The egoic voice is based in fear. Your inner wisdom, which knows right action, is based in fearlessness.
An element that is contained in any growth process is an ability to tolerate discomfort. When an urge arises, we must stay with the discomfort for as long as possible. This is "right effort."
Right Effort
Our most harmful thinking, emotional, and behavioral patterns have been habituated over the course of years with thoughts and actions. What is a right effort to break our worst habits? This depends on many factors, including your personality, your motivation, and your support systems.
An element that is contained in any growth process is an ability to tolerate discomfort. When an urge arises, we must stay with the discomfort for as long as possible. This is "right effort." Tolerating discomfort is by definition uncomfortable, but we can all tolerate some discomfort. We do it all the time.
Impermanence
Everything is impermanent. Your thoughts, emotions, job, health, relationships, physical appearance, and reputation (among other things) are all impermanent. Sometimes, the nature of impermanence results in sudden, life-changing experiences. At other times, conditions change at an imperceptibly slow pace.
My personal favorite is to witness the impermanent nature of my likes and dislikes. Some of my likes become dislikes and some of my dislikes become likes. The condition of clinging and aversion are constantly shifting.
How can we apply this insight to our mental health and well-being? It helps us to learn to tolerate discomfort. Unhealthy behavioral, emotional, or cognitive responses are driven by likes and dislikes. We desire something because we like it. If we can see the urge as an impermanent condition of "liking," we can distance ourselves from the urge and the habituation may become less intense.
Ego
Buddhist psychology and Western psychology view the ego very differently. In Western psychotherapy, a therapist may strive to identify and empower a person to change aspects of their ego or sense of self. More specifically, a therapist may assist the person in therapy to sculpt their egoic sense of self to adopt healthy self-concepts. In Buddhist psychology, the task is more aligned with an attempt to annihilate ego. The idea is that when there is no longer ego, there is no longer suffering. That is because, according to Buddhist psychology, the ego is the fountain from which clinging and aversion flows. If we can stop the constant flow of clinging and aversion, we may be free from suffering. This is not to say we will not have preferences. We recognize our preferences, but distance ourselves from the perception that our preferences are conditions for joy and peace.
A personal experience I often share with people in therapy occurred at a local Zen temple that I often visit. A visiting monk was joining us for the evening. He was a distinguished older gentleman with a deep sense of stillness and peace. The abbot of the temple, who lives humbly and with minimal comforts, offered us dinner before we began meditation. The dinner consisted of mini-pizzas which still had the price tag of "10 for $1" on the cellophane wrapping. The dear abbot used an old toaster oven which burnt the pizza on one half and barely heated the other half.
After eating, we practiced walking meditation before listening to the visiting monk speak of preferences. He stated he preferred the food of his native country, Vietnam. He commented that the pizza, while offered with generosity, was not very satisfying. He went on to say that although the food was not good, during meditation he felt happy, peaceful, and content. His likes/dislikes, although present, did not affect his mood or mindfulness in the slightest. Our preferences are constantly presenting or taking from us and should not be a condition for our peace if we live with wisdom, he explained. The conditions come and go. Our peace does not have to if we accept the present moment and see our likes and dislikes with an element of detachment.
When we learn to distance ourselves from our clinging to favorable conditions as a condition of our peace, we are free. May you be successful in liberating yourself from suffering.
© Copyright 2017 GoodTherapy.org. All rights reserved. Permission to publish granted by Diane Chrestman, LCSW, DCEP, CcHT
The preceding article was solely written by the author named above. Any views and opinions expressed are not necessarily shared by GoodTherapy.org. Questions or concerns about the preceding article can be directed to the author or posted as a comment below.