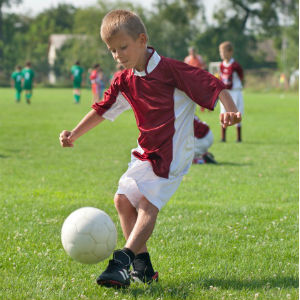 With funding for physical education classes dwindling all across the country, childhood obesity rates making headlines, and children sitting in front of complex technology for hours every day, most American parents feel the need to get their school-aged children moving. The days of playing outside in the neighborhood until the streetlights come on are all but gone. Team sports have become the way our children play.
Not only are organized sports a way to help children learn to move their bodies in ways that can bring pleasure, increased health and physical fitness, and establish habits they can carry into their adult lives, well-led teams can help players develop personal discipline, the ability to manage disappointment and loss, and a willingness to sacrifice for a group.
But it's not all sweetness and light. Coaching quality is all over the board. Adding practices, games, and volunteer time into already busy family schedules can overwhelm even the most organized parents. It can be quite expensive to sign up to participate, and then to spend even more money to buy equipment, some of which your children may outgrow or wear through before the season is out. Many teams require parent and player volunteer time to help manage concessions, tournaments, etc. All of these concerns are multiplied with additional sports at different times of the year and/or more children participating. This repeats year after year, assuming your child continues to play.
Sports can result in injury, too. Learning how to deal with a sprained ankle, torn ligament, or inflamed joint is part of the game, especially at higher levels.
And then there are the other parents. Most of these moms and dads are wonderful support to their children—and yours. But there are those miserable few who live out their own frustrations through their children's actions, humiliate their children in public, and turn the sideline into the stuff of reality shows.
Despite all the potential pitfalls, the positive aspects of organized sports generally outweigh the negatives. Knowing this, how can we better manage the problematic aspects of adding sport into family life?
Parents must be willing to see their child's sport as one of their own hobbies. It will require enormous commitments of time during the season, and if you decide to coach, that time will at least triple. This means that each parent, whether directly involved in the team or not, will need to fit this into his or her weekly personal schedule. Easier said than done.
Parents will need to decide if their child's favorite sport can fit into the family budget. A sport such as ice hockey will require more of the family's money—for equipment, ice time, and, perhaps, travel to other rinks—than a sport such as basketball, which requires less equipment and can use public and school gyms.
If you are new to the team sport experience, do not allow your child to focus on a single sport early in his or her development. Research continues to show what many of us know from experience: single-sport focus leads to repetitive injury, over-training of specific body parts, mental fatigue, and burnout. Encourage your young athlete to seek out other team or individual sports they want to try out, and allow them to follow their imagination, their friends, or their favorite professional athletes until they find good fits.
Don't allow sports to trump your other core family commitments, such as faith or family vacation. In the past 10 years, sports programs in my area have scheduled games and practices on Sunday mornings, over school breaks, and even on major religious or federal holidays. How can you manage your child's religious education and play soccer too? Keep talking about how you want to spend your family time—and follow through.
With a lot of enthusiasm, family commitment, flexibility, and encouragement, youth sports can become a wonderful, life-giving experience for your young athlete as well as his or her parents. Everyone can benefit if the family is able to manage the schedule, financial obligations, and physical challenges that youth sports present.

The preceding article was solely written by the author named above. Any views and opinions expressed are not necessarily shared by GoodTherapy.org. Questions or concerns about the preceding article can be directed to the author or posted as a comment below.