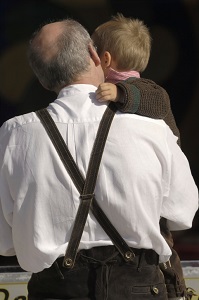 Today I saw The Curious Case of Benjamin Button. It was a deeply moving film. I recommend it highly. And I also wish for you that you allow it to open your heart to yourself and others in a new way.
Benjamin (as you can read anywhere on the Internet—so I'm not giving anything away) is born old and gets younger and younger through his life. You journey with him as he goes through the pains and joys, sorrows and comforts of life.
Again, without giving the movie away, I want to offer what moved me most: that we witness, in reverse, Benjamin's experience in life as an old man, its effect on him as he goes through his life, and his experience in life as a baby.
One of my early teachers about therapy taught this in my very first class with him: If you haven't worked through your dependency issues in your childhood, early adulthood, or midlife, when you reach your elder years you will be faced with them all over again, without the benefit of having resolved anything.
We face many of the same experiences in our elder years as we do when we are infants, babies, and children. We are often, no matter how fiercely independent we have come to be, dependent in some way on others who take care of us to some degree. Even before our elder years.
Some parents need someone to be dependent on them, to satisfy their wounded selves—their need to be loved, their need to have power, their need to be needed.
unique self
—becoming all he or she could possibly be—then we have probably lived the passage through the dependency issues already. Although there may be a loose thread here or there that needs to be tended to.How many people grew up with parents that evolved? That conscious? That unwounded? That healed?
Most people have had parents who conceived and/or gave birth to their children unconsciously, and for reasons beneath their awareness that only a purposeful process of inner exploration could reveal.
Maybe your parents had you so they would stay connected to each other. Maybe they had you so your sibling wouldn't be alone in the world. Maybe so they wouldn't be alone, themselves. Maybe so they would have someone to love or someone to love them. Perhaps so they would have someone who couldn't leave them. Perhaps so they would have someone they could have power over, like their parents had power over them. These and other reasons greatly affect what it's like for a child going through the years of gestation, birth, infancy, and childhood—the ages of dependency.
Maybe your parents were tickled with you when you were a baby, in the stage of oneness. Maybe they tried to keep you in the stage of oneness as long as they could, longer than was good for you. And when you began to have a "mind" of your own, a will of your own, including needing to not be "one" anymore, perhaps they were triggered by your individuating process—the process of becoming your own person, separate from them. Perhaps they became frustrated, angry, punishing then, without realizing that your movement to become yourself was triggering their own stuckness in their dependency issues, their own stuckness in the stage of oneness in their childhood, their own inability to move through the dependency issues into the unique self they needed to become.
Or maybe your parents were terrified of you when you were a baby. Maybe they wanted to give you away. Maybe you reminded them of their own experience as a baby. Maybe they felt inadequate to give you what you needed and so were frightened every time you needed something. And in their fear either withdrew from you or blamed you, made you feel your needs were not OK, and took it out on you.
These are simply two extremes of possibilities that reveal our not making it through our dependency issues. There are many possibilities in between these extremes.
And there are many outcomes that can emerge from the variety of childhood experiences. For example, an adult man who might seem completely incapable, and who might seem fine to be that way, may have come to believe he is incapable because his parents taught him that in order to keep him with them. He may be longing to know his huge potential and longing to fulfill it. He may not even know it's possible to do that kind of healing work with a therapist. And an adult woman who may appear to be fiercely independent, may have become that way out of fear of being dependent on anyone in any way, because of her frightening experiences of dependency as a child.
If we are to work through our dependency issues, we need to enter the process of how we feel about our own needs, our own feelings, our own asking, our being taken care of or not being taken care of. We need to be able to discern between needs we think are here and now needs and those that are really the needs of the dependent child still alive within us calling to be known, expressed, felt, and responded to in a healthy way, purposefully and for healing. In this exploration, we need to stop expecting our boss, our friends, our partner, to take care of our baby needs under the guise of some here-and-now request or demand. But we need to not try to cut off or get rid of our early needs. Instead, we need to learn how to work with and heal in relation to those needs that call from deep within, whether they are baby needs or the needs of our souls. There is a significant teasing apart and diving deep into our inner selves that is calling us!
One more piece I'll add here, before I stop and give you the time and space to sit with all I am offering: It is in our infancy, our babyhood, and our childhood that we are most powerless.
Whatever we learn about power and powerlessness, the use of power and its misuse or abuse comes from our earliest times in this world. Whatever we decide about power and powerlessness, the use of power and its misuse or abuse, and what we are going to do with our power comes from our earliest times in this world. From the times when we have no thoughts in our minds and no words to express them. The times when our body holds our experiences and is our body/mind/heart all wrapped into one. So our experience of dependency and our experience of power are all entwined beneath our awareness.
The way to untangle them is to delve into the inner exploration of ourselves. To really experience how "then" unconsciously affects "now." And as you do, to work through your dependency issues and your power issues. It has the potential to change your life now. It has the potential to change your elder years. And it has the potential to change the life of our world!
Afterthought:
The theme of dependency is particularly poignant at this time in our world, for many reasons. To name just a few:
There are still babies being born in our world, who need their parents to do their own inner work of psyche and soul in order to help their children lovingly through their dependency.
There are millions of baby boomers who are moving toward their elder years and already facing, or on the verge of facing once again some of their own dependency issues.
Who knows how many million men, women, and children all over our world are experiencing dependency issues as a consequence of poverty, war, or abuse of power in some way?
I give great thanks to all those involved in The Curious Case of Benjamin Button for the beautiful work you have co-created and for the inspiration you sparked in me for this article.

The preceding article was solely written by the author named above. Any views and opinions expressed are not necessarily shared by GoodTherapy.org. Questions or concerns about the preceding article can be directed to the author or posted as a comment below.