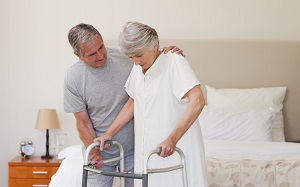 Living with a disability can be exhausting and frustrating, and the experience may give way to feelings of dependency and vulnerability. If you live with your family, it is important to remember that they are all living with the disability, and they are coping with many changes, sacrifices, and uncomfortable feelings as a result.
Those who take on the role of providing routine care for their beloved partners often find that the line between caregiver and spouse becomes blurred. In essence, the more care-giving a partner or spouse provides, the harder it becomes to maintain the role of lover, friend, and partner.
Here are the top five concerns I hear from caregivers, most of which are things they don't know how to talk to their loved ones about.
1. "I need a break from routine care, but my spouse/partner only wants me to do it."
People who require routine physical care (nonmedical) such as bathing, help with incontinence or bowel problems, dressing, feeding, and so on are truly dependent on others for their day-to-day functioning. Some of these needs can be met by home care aides who come to your house 1-2 times a day for an hour or so to help. While it may be uncomfortable to turn your body over to strangers for routine care, it may give your significant other a much needed break — both physically and emotionally.
Perhaps having your spouse or partner present the first couple of times you work with someone new would help ease the transition. He or she can be there for support and ensure that you are being taken care of properly. That may ease some of your partner's guilt, as well. Consider these people as medical providers, as you would your doctor or nurse. If you get someone you are uncomfortable with, call the agency and request a different person. Tell them why your experience was unpleasant, so they can address it with the staff member.
Some insurance will pay for these services. The services are not terribly expensive. Some families have aides come 1-2 times a week to help with washing hair and things that are especially difficult. Call your insurance company or local home care agencies for details.
2. "I feel guilty or selfish if I take time for myself." (Or, "my partner doesn't want me to.")
This feeling is almost universal, but I find about 1 in 10 is able to manage good self-care without the guilt. We stress several things so that caregivers may prevent burnout:
Take time to do things for yourself.
Take a break from providing care.
Let others help you.
Ask for help.
Set limits.
Exercise.
Get plenty of rest.
Learn to let go.
You can imagine that trying to do what is best to protect their own health and well-being is much more difficult if their beloved doesn't support these healthy behaviors.
Try to remember that your spouse or partner has to balance his or her own needs with yours. Give this person permission to take time for self-care. Help brainstorm ideas for making this a regular practice. Develop a list of people who can be with you or be on call should you need something while your loved one is practicing good self-care. Give your partner the gift of freedom from guilt by joining in his or her self-care efforts. This is also in your best interests, as it will protect your loved one and your relationship.
There are no easy or correct answers to these concerns, and everyone has to figure this out based on personal situations. It is important to know that even saying these things out loud makes most spousal caregivers feel horrible. They should have a place to talk freely about such issues, as they also make sacrifices. Their feelings are legitimate. Encourage your beloved to attend a local or online caregiver support group. Well Spouse Association (wellspouse.org) has a listing of both.
In Part 2 we will look at three other concerns and recommendations.

The preceding article was solely written by the author named above. Any views and opinions expressed are not necessarily shared by GoodTherapy.org. Questions or concerns about the preceding article can be directed to the author or posted as a comment below.