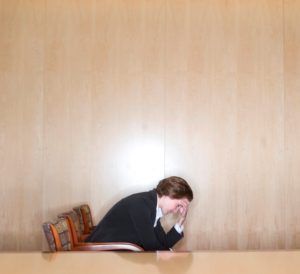 As we move toward spring, we often feel inspired to reduce the weight we are carrying. For some of us this is literal, as we try to get healthier after a winter of total or partial hibernation. Others take on the task of spring cleaning and purging items from their homes. It feels good to get rid of what we no longer need. A few pounds here or an empty drawer there give us freedom and energy to relax or pursue other interests.
If you're looking for more energy this season, I encourage you to reduce the busyness of your mind. It's not our fault that we find ourselves overwhelmed. Even though many aspects of life are much easier than they used to be (Dishwashers! Google! Pre-washed vegetables!), the busyness of life—especially our constant connection to technology—has expanded to crowd out some of the benefit of these luxuries.
Interestingly, as we do more, we accomplish less. Studies have shown that what we perceive as multitasking is actually not our brains doing two things at once; instead we are changing rapidly between tasks, which can result in slower or sloppier work. Our brains are not designed to process the amount of information they receive every day; one estimate is that we process the content of five full newspapers worth of information daily! The result is feeling frazzled, tired, and unaccomplished.
Solution-focused counseling can help you focus on what's working and how to do more of it. It can also make you aware of all of the nonproductive thoughts you allow to occupy your brain every day. With practice, you can learn to cast them aside more quickly and focus more on your priorities.
Here are some ideas to try:
Single-Tasking
As Charles Dickens once wrote, do "each single thing as if [you] did nothing else." It sounds so elementary, but when you are cooking, try to just cook and not also check your email. When you are getting dressed, try to just put on your clothes and not eat breakfast at the same time. Not only does your multitasking not save much time, it compromises each experience. Over and over again in my office, I discover that people are happiest when they do one thing at a time. It doesn't even matter what it is.
Just a note: Of course, there's nothing wrong with folding laundry while talking to your kids, or listening to the radio while you make dinner. Some tasks are OK if they don't receive your full attention. But each task will be performed better if it is the only one in front of you.
Screen Your Thoughts
Surprise: not all of your thoughts are useful! Many of them are inaccurate or unproductive. We need to do better at telling our thoughts to go away. Say to yourself, "I will worry about X-Y-Z later today, when I am home." Or when a nagging thought arises, ask yourself, "Is this thought taking me someplace useful? Do I want to keep having it?" Becoming more aware of these thoughts gives you choices. Yes, you might still have a problem to solve, but there undoubtedly are better ways to solve it than letting it run free in your mind when you are trying to focus on something else.
Just a note: Letting your thoughts roam free can be useful if you are attempting a creative project or engaging in a physical activity like a hike. If you're the kind of person who likes to muse on a topic or who enjoys daydreaming decisions as part of your process, go for it! But keep your obsessing/analyzing/revisiting events-type thoughts in line during your normal activities.
Five-Minute Write
Even though the mind can seem as unruly as a child, much like a toddler it enjoys structure and routine. If you find yourself thinking the same thoughts about the same situations again and again, try a journaling exercise like the five-minute write. Set a timer and write for only five minutes about anything that comes to mind (it might not be about the problem you expected to write about). When the timer goes off, finish your thought and leave your writing for 30 minutes. Go do something else. When you return to your writing, reread what you wrote and set a timer for two minutes. Then write some feedback about what you just read. What did you notice about what you wrote about? What surprised you about what you did NOT include? Pretend this writing is from another person. What additional insight do you have about the person's writing?
Just a note: It's important to use timers to ensure this activity reduces the busyness of your mind. We want to zone in on the busyness, give it a place to go, and then get on with our day.
So, what will you do with your extra mental energy? This is a trick question; do nothing! You've just learned some techniques to take yourself back to a normal capacity for your brain. Rest and enjoy a greater level of happiness.
© Copyright 2015 GoodTherapy.org. All rights reserved.
The preceding article was solely written by the author named above. Any views and opinions expressed are not necessarily shared by GoodTherapy.org. Questions or concerns about the preceding article can be directed to the author or posted as a comment below.