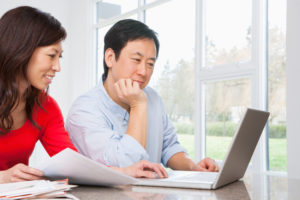 Money is a common source of bickering among many couples. They fight over how one or both people are spending money. They fight over how much money is coming into the household. Some couples may feel like their money concerns are never-ending and they are never going to have enough. Financial insecurity can overwhelm other aspects of the relationship. Typically, each couple has their own pattern of unresolved arguments regarding finances.
However, most of the time, money isn't the actual problem.
The problem is having different financial values and behaviors. It's not about how much or how little money there is, or how much money is going toward necessary expenses. If you and your partner are on the same page with your financial values and behaviors, then no matter how low your account balance gets, it likely won't lead to a fight. Instead, when things get difficult, you may be more likely to support one another and work together to get back on track. Wouldn't that be a different experience?
If you want to stop fighting over money, it's time to figure out what's really going on underneath those unresolved arguments. Here's a five-step process that can help:
1. Identify Your Values
Start by determining your financial values. If you and your partner are having money-related fights, chances are you either have differences in values or your behaviors are not matching up with those values. To figure out which is going on, both of you need to spend some time identifying what money means to you and what role it plays in your life. Does money represent security and stability or is it more about freedom? What is it you crave when you think about getting your finances in order? Is your priority taking care of your family and providing comfort, or do you lean more toward fun and excitement? If you are struggling to identify your money values, start with your priorities in the other areas of your life. Money is simply a tool to get what we want in our lives. So, let's say you prioritize health, stability, and family. Those priorities can also be your financial values.
Try to identify at least three financial values and write them down. Have your partner do the same, then discuss your lists. What do you value? What about your personalities or experiences led you to prioritize your respective items? It's important that you take the time to understand each other's values, even if you don't agree on any of them. Spend as much time as you need to on this to make sure you both have a solid understanding of one another.
2. Analyze Your Compatibility
Discuss where your values line up or complement each other and where there are discrepancies. Sometimes values that might seem to be in conflict can turn out to be complimentary if reframed. If your values are obviously in alignment, congratulate yourselves and move on to your behaviors (see step 3). If, as many couples find, your values don't line up, you'll need to spend some time sorting this out.
There is usually a way to compromise or identify common ground. Just because one person values stability and the other values excitement doesn't mean you can't find a way to both get what you need. If you get stuck, reach out to a counselor who can help you work through it.
3. Identify Supporting Behaviors
Just because one person values stability and the other values excitement doesn't mean you can't find a way to both get what you need.
Once you are clear on your values, it's time to make sure your behaviors around money line up. For each value you identified, come up with a list of behaviors that would support that value. For example, if you value stability, some supporting behaviors would be to focus on saving money; setting aside a percentage for retirement; and creating an emergency fund to help reduce financial insecurity. Write down several behaviors that would support each of your values. Help each other come up with ideas as needed.
4. Recognize Conflicting Behaviors
Are any of your current habits out of alignment with the values you've identified? Be kind but honest with each other when you start dissecting how each of your habits supports or detracts from your values. We often don't realize how our lifestyles and choices don't match up with what's important to us. Chances are some of your daily habits conflict with what you believe you need. Which of your partner's habits are in conflict with your values and vice versa? Are these the things you've been fighting about?
5. Make a Plan Together
Now it's time to come up with a plan. Keep your financial values foremost and refer back to them whenever you make a decision to ensure you are acting in alignment with your priorities. Take some time to come up with both short- and long-term goals. Your goals can be anything that helps you achieve a lifestyle in alignment with what you value. Create a budget together, incorporating all the items you have identified as important. This will help you to stay on the same page, which can be tricky when two people are trying to work together toward financial goals. Agree to stick to the budget, and set up methods that will set you up for success. There are many methods of accomplishing this and many different types of financial plans. No matter what you choose, just make sure you and your partner see eye to eye.
Don't let money continue to have a negative impact on your relationship. You can choose to work through problems and learn to manage your differences in a healthy way. By starting this process, you are showing your partner that you value them enough to want the best possible relationship you can have.

The preceding article was solely written by the author named above. Any views and opinions expressed are not necessarily shared by GoodTherapy.org. Questions or concerns about the preceding article can be directed to the author or posted as a comment below.