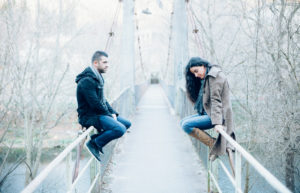 Over the past 20 years, social media have taken the world by storm. Facebook, Twitter, Instagram, and text messaging are just a few of the many ways we now stay in touch with one another on an ongoing basis throughout the day. And yet, many people feel less connected than ever.
Although technological advances have provided us with easier methods to communicate than in the past, it could be argued they have also driven a wedge into our ability to truly connect on a deeper level. Checking to see how many "likes" we've received to a post or comparing our posts to those of others can prevent any real sharing from occurring. In addition, many people post only those messages or images that present a particular view of themselves (frequently a more positive one) to the world. This often contradicts how they may actually be feeling or experiencing their reality, which can lead to feelings of disconnect or alienation from others.
So how can we communicate more effectively in order to start feeling more connected with our friends and loved ones? The following are a few of the ways we can start sharing at a deeper level and increase our sense of connection:
Call rather than text. Whenever possible, try to get into the habit of calling, rather than texting, to check in with friends and loved ones. Text messages can be perceived as impersonal, may be misinterpreted, and don't generally allow for a deeper level of sharing.
Spend quality time connecting. Do activities with friends and loved ones that enable you to share what's been going on in your life and create deeper bonds. Sign up for a cooking class with your partner, go on a hike with a friend, or plan a group picnic. Try to find new and fun ways to spend time together and connect with others.


Even if you've been together for a long time, clear and open communication is important to keep the peace and express needs and feelings.

Put the phone away during meals. Institute a rule that phones are not allowed any time you sit down to eat. This enables family members to focus on their food and on each other.
Reduce time spent on social media. Rather than spending hours posting messages, following others, or reading the news feeds, dedicate more time each day to becoming more active. Social media tend to make many people feel unhappy about their lives, as they constantly compare what they do to others and often feel they come up short.
Don't expect your partner to read your mind. A frequent complaint I hear from couples is that one partner often expects the other to know what they're thinking and they become upset when that's not the case. Even if you've been together for a long time, clear and open communication is important to keep the peace and express needs and feelings.
Share your dreams and goals. We often become stuck in our routines and preoccupied with the daily events in our lives, which can sometimes cause us to lose sight of the bigger picture. Every so often, make a point of sharing with significant others any dreams or goals you have for the future. Doing so can help to keep them alive and motivate you to continue working toward them.
Listen without interrupting. Many people tend to want to jump into conversations without fully listening to what the other is saying or waiting until they have finished. Try to practice listening intently to your friends or loved ones and waiting until they are done before contributing anything yourself, allowing them to feel truly heard.
Don't keep your feelings bottled up inside. Expressing emotions is important in relationships. If you are feeling angry or upset about something a friend or loved one did, share what is going on for you in a calm manner rather than allowing grievances to accumulate until they explode.
Learn the art of forgiveness. Needing to always be right or have the last word is quite common, but can be detrimental to relationships. If you look at the bigger picture, would you prefer to prove your point or maintain a happy relationship? Learning to let go of grudges and allowing others to have their own opinions can make for a much more peaceful state of mind.
Conclusion
Most of us can benefit from improving our communication skills. By using some or all of the guidelines above, you can start to share again on a deeper level and feel more connected to those around you. If you are still experiencing a lot of conflict in your relationship(s) despite using some or all of these techniques, you might want to consider meeting with a therapist or couples counselor.

The preceding article was solely written by the author named above. Any views and opinions expressed are not necessarily shared by GoodTherapy.org. Questions or concerns about the preceding article can be directed to the author or posted as a comment below.