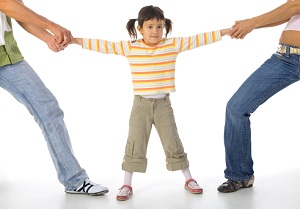 "Happy holidays" is the theme from November until January—often very happy times of family closeness, but holidays can be disappointing and painful if you're in the midst of family turmoil caused by divorce or simply bad feelings between people. Families can break into factions; the ins and the outs, leaving people feeling left out and unwanted. In Lulu's family, everyone was left out by somebody.
Some families develop deep, long wars. People choose up sides or are simply born on one side or another, and there is nothing much to do about it. This is tough if you want to be friends all around, especially during holiday times when there is much family visiting. Lulu grew up in this kind of family.
"When I was little," Lulu said, "I felt like Rudolph the red-nosed reindeer—left out. Hearing the song always made me cry because my parents had stopped speaking to their mothers, my grandmothers, which spread like the flu to include everyone else. They crossed everyone off their Christmas list, also their Easter list, their good- and bad-news lists … they just simply threw away the addresses and phone numbers of all their relations, by blood or by marriage. They wanted to simplify their lives, and perhaps they did, but not my life, which got lonely and complicated. Each time I visited my grandmothers, my parents got mad. And my grandmothers were mad, too, and they had to tell me why, in detail, and they even cried sometimes, which I tried to get used to. My parents didn't cry—they just yelled about how much they hated their mothers. I always wished I had a grandfather; I thought a grandfather would have made things different, people would behave around a grandfather, but my grandfathers both died before I was born. Luckily, my aunt and my cousin reached out to me, and I developed my own relationships with the family."
Lulu's parents were clearly infantile in their inability to get along with people, but we can wonder, too, how they reached that point. They cut their family out of their lives, and then their family returned the favor. What happened to them all when they were growing up that made them able to cut off like that?
Holiday times are special, but life gets tense when the family is composed of warring tribes who cannot put their guns down. Lulu was in the middle. She liked everybody, she wanted to visit everyone for the holidays, but half the family wouldn't see the other half, so Lulu traveled from one person to the next to keep everyone happy. Lulu felt maybe she should cut herself in two, or clone herself, or buy a magic carpet so she could travel great distances with ease.
"I thought about moving so far away the problem about seeing everyone would solve itself because I wouldn't be able to see anybody," Lulu said. "By that time, I didn't want to, anyway. I started reading up on life in Australia. I did actually move far away—not as far as Australia, but pretty far—and lived in a different country for two years, but then my grandmother came to visit, and she convinced me to move back home. I was pretty homesick by that time."
When Lulu came home, the family war was in full swing. She wanted to see everybody, not leave anybody out, but in her family everybody was somebody's enemy, as in "the friend of my enemy is my enemy." Some relatives decided she was disloyal for consorting with people they didn't like, and they resented her.
"I tried not taking this personally, but how can you not take it personally when these folks are part of your very personal bloodlines?" Lulu said. "When bloodlines become firing lines and you're in the gun sights because of what people see as your treachery?"
What could Lulu do? She tried getting people to make peace, or at least talk to one another, but that didn't work—at least not enough to make much difference. Often, people want to feel justified in their anger and proven right, even though nobody is right when you can't put your guns down and act polite. Lulu learned to hop back and forth across enemy lines without too much injury to herself or anyone else, but holiday times were traumatic, not enjoyable. Thanksgiving turned into a speed date.
Typically, folks ask one another how their holidays are going, or where they'll spend Christmas. It's a friendly gesture—but not to Lulu, who had to learn to give people answers that were honest and protective.Rather than moaning her answer about family strife, Lulu created a new one: "Wow! I got to celebrate Christmas twice!"
She learned not to take in the negative vibes, which made her feel alone, bereft, unwanted, and unworthy—all the "uns." Her task is to remember that these feelings are not only not her own, they are the opposite of what she feels. She is helped by honest discussions with empathic friends and by learning to gradually let go. She is also learning that she if she can't change how everybody else acts and teach them to be friendly, she can definitely change how she reacts to their behavior. Lulu embodies the warmth and closeness of holidays.
© Copyright 2012 GoodTherapy.org. All rights reserved. Permission to publish granted by Lynn Somerstein, PhD, RYT, Object Relations Topic Expert Contributor
The preceding article was solely written by the author named above. Any views and opinions expressed are not necessarily shared by GoodTherapy.org. Questions or concerns about the preceding article can be directed to the author or posted as a comment below.