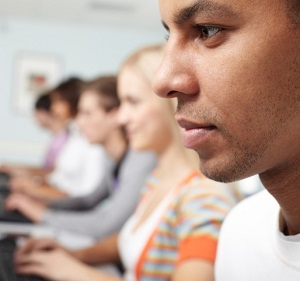 For many people, the Internet has become such a normal part of everyday life that checking email, engaging with people via social media profiles, watching YouTube videos, and streaming all types of content are second nature. Several jobs exist entirely in the digital world, and so much of our day-to-day business can now be conducted solely online—banking, bill paying, business transactions, and higher education being among the plethora of options available to people.
With so much time spent in front of a screen—whether on a computer, phone, iPad, or some other Internet-capable contraption—it seems that people would crave time away from technology. Instead, researchers have found that a large number of people feel compulsively drawn to the Internet in spite of the feelings of isolation, depression, and anxiety their excessive use produces.
The researchers, Dr. Cristina Quinones-Garcia of Northampton Business School and Professor Nada Korac-Kakabadse of Henley Business School, gathered data from over 500 males and females between the ages of 18 and 65 to assess the effects of compulsive Internet use. Some of the participants were employed, while others were not, and they all completed questionnaires designed to evaluate their time spent on the Internet, emotional stability, work habits, and overall satisfaction with their jobs and life in general.
Over 60% of the respondents admitted to compulsive Internet use and drew a connection between this behavior and working excessively, regardless of how emotionally stable they felt. For the participants experiencing compulsive Internet tendencies, "measurable withdrawal symptoms" such as isolation, depression, and anxiety were also reported when not engaging online. And while those who were unemployed found themselves on the Internet more often than those who were employed, they expressed a less addictive relationship with the Internet.
The findings suggest that compulsively spending time online is detrimental to a person's well-being, and excessive amounts of job-related work requiring the use of the Internet may contribute to this widely shared issue.
Reference:
British Psychological Society (2014, January 8). Compulsive use of the Internet linked to excessive work. Retrieved from http://www.bps.org.uk/news/pressure-work-may-be-leading-internet-addiction
© Copyright 2014 GoodTherapy.org. All rights reserved.
The preceding article was solely written by the author named above. Any views and opinions expressed are not necessarily shared by GoodTherapy.org. Questions or concerns about the preceding article can be directed to the author or posted as a comment below.