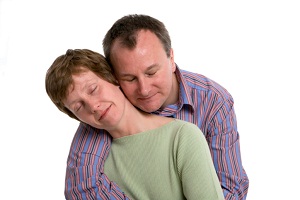 When the honeymoon ends, many newlyweds experience a bit of an emotional letdown. According to Sonja Lyubomirsky, a professor of psychology at the University of California Riverside and author of a recent article, the feeling of passion that new lovers experience tends to shift to one of compassion after about two years of marriage. When you're with your partner even longer, he or she can become more like a sibling or good friend than a sexy, attractive object of lust and love. But there is hope. Lyubomirsky notes that research has shown that people who can make it past the first two years, and even the first few decades, have a better chance of staying together than those who begin to lose interest early in the marriage.
Researchers have shown that even though the initial burst of excitement wears off after a couple of years of marital bliss, relationships usually get another big charge after 20 years or so. It's no coincidence that this is about the same time that children leave home and couples become empty-nesters. But Lyubomirsky says you don't have to wait that long. Adding a little variety and the element of surprise can go a long way toward stirring up those smoldering feelings.
Lyubomirsky points out that studies have shown couples who engaged in exciting and novel nonsexual activities together over a period of several months were more satisfied with their marriages than couples who did monotonous and familiar activities with each other. This means that you don't have to break out the toys and costumes to add a little spice to your marriage, although that isn't necessarily a bad idea. But doing simple things, like engaging in a new activity or hobby, and doing them together as a couple, can rekindle that spark of excitement and rev up the romance in an idle relationship. "A marriage is likely to change shape multiple times over the course of its lifetime; it must be continually rebuilt if it is to thrive," Lyubomirsky says.
She also believes that couples of all ages can benefit from the empty-nest theory. Even if your children are still at home, injecting some unpredictability into your routine can help protect your marriage from becoming stale. Lyubomirsky adds that even though research shows that happiness is most robust early and late in marriage, there's no reason to have to wait that long to reap the rewards that await you.
Reference:
Lyubomirsky, Sonja. New love: A short shelf life. (n.d.): n. pag. The New York Times Sunday Review. 1 Dec. 2012. Web. 4 Dec. 2012. http://www.nytimes.com/2012/12/02/opinion/sunday/new-love-a-short-shelf-life.html?pagewanted=1&partner=rss&emc=rss&_r=0
© Copyright 2012 GoodTherapy.org. All rights reserved.
The preceding article was solely written by the author named above. Any views and opinions expressed are not necessarily shared by GoodTherapy.org. Questions or concerns about the preceding article can be directed to the author or posted as a comment below.