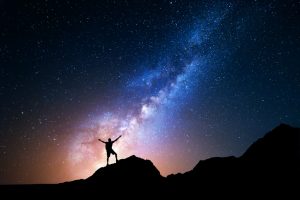 I truly believe less is more. Themes of minimalism, getting rid of things that don't provide "joy," and living more simply are buzzing all around. I'm totally on board. Beyond all the external stuff we don't need, there often is internal "noise" that holds us back from being our best. Taking the time to evaluate certain habits and ways of thinking can help eliminate blocks and clear the way so we can reach our full potential.
So much of how we operate each day is out of habit, which means it's unconscious. With an intentional look at what we automatically do, it's common to discover behaviors that are working against us. It can be helpful to take a step back and take an honest look at our actions from a conscious place. This can help us uncover and clearly see habits that create stagnation or even harm. Looking at ourselves from a bird's-eye view can reveal choices that are not in the flow of what we want for ourselves.
Here are three areas to investigate in order to identify and clear the noise:
1. Mind
What is your inner voice communicating? Is the tone of your inner voice caring and nurturing or prison guard-like? Is the voice encouraging or critical?
I'm aware of the harsh tone of my inner voice in some moments. It has the potential to be pretty critical, hard, and inflexible. Self-talk—our head space, our ability to be compassionate and warm to ourselves—can strongly impact our lives. Changing the way we talk to ourselves can improve our self-concept, level of self-love, and relationship with the world and the people in it.
Pay attention to your inner voice. Notice what it's saying. Be aware of the consistent things it murmurs. If you find your inner voice tends to have a more negative tone, put energy toward cultivating a more uplifting, encouraging, and supportive relationship with yourself. Be sweet to yourself; you deserve to be treated with respect and kindness, no matter what.
2. Body
How do you feel in your body? Do you have any areas of chronic pain? Often, the body holds onto pain in order to get our attention. Chronic pain could be a red flag that something needs tending to. Becoming more in tune with the body is an important part of promoting well-being.
Looking at our level of self-care can be a great practice toward becoming aware of areas that need adjustments.
Looking at our level of self-care can be a great practice toward becoming aware of areas that need adjustments. How's your sleep? How's your eating? Do you drink enough water? Do you exercise regularly? Do you talk about your body in a positive way? How's your relationship with alcohol? Are you quick to pop pills when you feel uncomfortable? Do you spend a lot of the day drinking caffeine in order to function? Practice awareness regarding these and similar questions.
3. Soul
Measuring the level of fulfillment within your life can help you discover if there are areas that need to be nurtured or eliminated. How is the quality of your relationships? Do you generally feel heard, understood, and respected? When you walk away from gatherings with friends or an intimate encounter with a romantic partner, do you fill filled up, neutral, or drained? Do you engage in regular activities that feel genuine to who you are, what you're about, and how you want to live your life?
Living a life that awakens your spirit and makes you feel alive is the whole point of being. Perhaps some introspection in this area can help to highlight parts of your life that need attention.
When we make choices and take actions that mirror what we want and who we are, it allows us to feel more at peace. When these choices and actions match who we authentically are, that crossroad is where we can find contentment, success, and joy. Evaluation is always a helpful tool to utilize in order to make we're in balance with who we are and what we want.
Notice and eliminate the noise in your life. You may feel lighter and more at ease. If you're not sure how, contact a licensed therapist.
© Copyright 2016 GoodTherapy.org. All rights reserved. Permission to publish granted by Kim Egel, MA, MFT, GoodTherapy.org Topic Expert
The preceding article was solely written by the author named above. Any views and opinions expressed are not necessarily shared by GoodTherapy.org. Questions or concerns about the preceding article can be directed to the author or posted as a comment below.