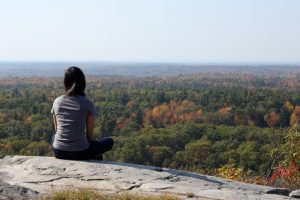 Editor's note: SooMi Lee-Samuel, MD, MA, is the medical director of Timberline Knolls Residential Treatment Center in Lemont, Illinois. She will present her GoodTherapy.org webinar, titled Identifying and Treating Eating Disorders and Comorbidity, at 9 a.m. Pacific on Friday, April 21, 2017. The event is good for 2.0 continuing education (CE) contact hours and available at no cost to GoodTherapy.org members. Learn more or register.
Although the three most common eating disorders—anorexia, bulimia, and binge eating—manifest quite differently, they share certain things in common. Clearly, an unhealthy relationship with food figures prominently in each of these psychiatric conditions. What's more, at the heart of these and other food-related issues is emotional pain. This pain may result from early childhood neglect, be associated with a severe trauma later in life, or stem from other circumstances. Regardless, pain—or, more importantly, the desire to mitigate or eliminate it—is what fuels the condition.
The other aspect of eating disorders that is commonly shared is that they rarely occur alone. In fact, a person presenting with a singular diagnosis of anorexia would be the extreme exception to the rule—the rule being eating disorders are generally accompanied by co-occurring issues or addictions.
This should come as no surprise. If abused as a young child, an adult woman may find solace in binging and purging. The presence of clinical depression would not be unreasonable. A sexual assault in the past may lead an adolescent to drastically restrict food intake, believing emaciation might render the adolescent sexually unappealing; to find this young person also struggled with crippling anxiety would be understandable. If traumatized in combat or through another violent event resulting in flashbacks and night terrors, an individual could easily compulsively overeat and then turn to alcohol or pharmaceutical drugs to provide relief.
Over months or years, it is not unusual for people to move from one disorder or addiction to another. Basically, they go to what works, what proves effective at the time.
Prior to any treatment of an eating disorder, it must be definitively established there is no underlying medical issue behind the weight loss or weight gain. A thorough medical evaluation will effectively rule out other conditions that might be mimicking the symptoms of an eating disorder. The criteria for establishing an eating disorder diagnosis is clearly delineated in the Diagnostic and Statistical Manual (DSM-5). Self-reporting, the clinical history of the person, and the parental/family history are all valuable tools in determining the diagnosis.
The question is often posed: Which came first, the eating disorder or the depression, anxiety, or drug or alcohol abuse? The answer is rarely relevant; however, what is imperative is all disorders and addictions are treated simultaneously.
The question is often posed: Which came first, the eating disorder or the depression, anxiety, or drug or alcohol abuse? The answer is rarely relevant; however, what is imperative is all disorders and addictions are treated simultaneously. This has not always been the case. For years, co-occurring disorders were treated sequentially and separately. A person would receive therapy from a psychiatrist for an eating disorder, then subsequently visit a substance abuse counselor for issues with stimulants. This was due primarily to the disconnect between specialty fields. Fortunately, that course of action is no longer the norm. We now know a unified integrated treatment approach offers the greatest possibility for recovery.
A treatment team should be multidisciplinary in nature and include a primary care physician, primary therapist, family therapist, registered dietician, and a psychiatrist, if medications are a component of treatment. Initially, outpatient therapy is the standard course of action; however, if improvement is not seen in a reasonable amount of time, residential or inpatient therapy may be recommended.
Regardless of level of care, the necessity to address all conditions and addictions cannot be overstated. It behooves no one to help a person overcome bulimia, only to have the person return home and drink excessively as a method of coping. A therapist can get an adolescent with anorexia to gain weight, even establish a healthier relationship with food, but if the young person remains addicted to exercise, the therapy is incomplete.
The goal of any treatment is complete and lasting recovery. It is important to remember the skills and tools utilized to overcome an eating disorder are the same as those used to recover from other mental health conditions and addictions; therefore, addressing all issues at the same time gives the person the best possible chance to achieve the goal.
© Copyright 2017 GoodTherapy.org. All rights reserved.
The preceding article was solely written by the author named above. Any views and opinions expressed are not necessarily shared by GoodTherapy.org. Questions or concerns about the preceding article can be directed to the author or posted as a comment below.