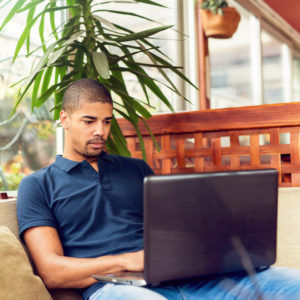 "People cannot be reduced to singular descriptions, but we often do this to ourselves and attempt to push down the parts of us we do not want to be." —Pleading Insanity, 2013
It was a period of almost 70 years after the telephone's advent before 75% of American households acquired one, in comparison to 7 years for the television. In 2000, roughly 70 million American adults used the internet daily, and usage has only increased since. Today, there are more than 3 billion users worldwide, and as the internet continues to merge with every avenue of our lives, traditional three-dimensional activities are being digitized.
The Digitization of Therapy
Hi Andrew,
I have left you a message in your [company name] room.
Please click on the button below to view my response.
As I click on the email message from my potential online therapist, I'm reminded of the brilliant Joaquin Phoenix and Scarlett Johansson film, Her. The prescient 2013 movie follows a lonely man—in a near future—who develops an intimate relationship with a conscious computer operating system anthropomorphized via a female voice.
The service requests my name and age. The therapist is temporarily offline, so I have the option to switch to someone else. For the sake of this article, I'm obnoxiously impatient, so I switch. I also decide the new therapist—who, like me, is a social worker—is more attractive in their photo than the previous one, which identifies my presenting problems: vanity and egocentrism.
A therapist identified as being from Oregon digitally inquires, "How can we help?" within about a minute. I respond with some of my current life stressors. "That is a lot of change. What's the hardest part for you?" There is a smidge of empathy in her Rogerian, person-centered responses. Over-used exclamation points and emoticons present the platform as a 21st century, advanced Turing machine algorithm.
The momentary delay between exchanges allows me the opportunity to wander the Internet, check my phone messages and review the company's blog page. An article notes some good places to text your online therapist: at work, in the bathroom, at a park, during social events, or "while giving birth"! My skeptical nature leads me into the Terms of Service fine print where I discover the meta-data and other search terms used to scan the transcripts of the conversations for trends and patterns in the name of "quality assurance."
The big question for me was this: Did increased time spent online come at a cost to face-to-face interaction, potentially isolating the person, or was the internet a medium acting to expand communication and augment human sociability?
Additionally, the service "assumes no responsibility for the quality of the therapeutic services" the therapist provides (and by the way, they do not guarantee the verification of degrees, qualifications, licensure, certification, credentials, competence, or background of any of their therapists). If that does not make a person approach this modality with caution, by omission, the service is not medical advice and "the care offered through the Service may not be a full and complete substitute for a face-to-face session by a licensed Therapist".
Interfacing with the site on my laptop is a clunky, slow process that reminds me of the advanced stages of AOL. Instead of downloading the app for 24/7 access to daily messaging with a licensed therapist (including photos, audio, and video messages at any time), I reflected on my own digital journeys as well as the shift from multi-tasking and the pursuit of new tech to mindfulness practices.
From Social Loneliness to Isolated Presence
My college years were filled with redundant mistakes as I wandered the same campus footpaths expecting different destinations. Loneliness was at the pit of my various twenty-something existential crises. In the spring of 2008, I steered some dinner party conversations toward the topic of the influence of the burgeoning social networking website, "Facebook," which was even then quickly becoming a reputable forum and ubiquitous entity. I was beginning to see the inescapability of the social phenomenon and wondering what that meant for our intimate relationships.
This curiosity came at a time when individual mobile access to the Internet was at a tipping point. The smartphone was disseminating like Girbaud jeans on adolescents in the early '90s across suburban America, both trademarked with visibility and worn with gullible pride. The big question for me was this: Did increased time spent online come at a cost to face-to-face interaction, potentially isolating the person, or was the internet a medium acting to expand communication and augment human sociability? Were we being regulated in a direction of superficial relationships with our head in the digital cloud? Was an ever-expanding split-focused life filled with digital interruptions affecting our relationships and communication?
My summer was filled with journal articles and dense books that year. However, I had an earnest conviction to understand these developing social constructs. Sunny days were spent walking through the dark "stacks" of the college library, completely frustrated and literally lost at times. Automated lights welcomed my footsteps as I uncovered dusty book jackets and scanned articles all while getting to know librarians.
Back then I would not have been able to give you a definition for the concept of mindfulness, but I was starting to try to live in the present moment. I locked myself into the graduate student "cages" of the library that were impenetrable to wi-fi and cell phone signals. This environmental barrier was necessary for me to be able to write without the distraction of the digital world. I later noted in my thesis that "sound effects and reminders provided by new e-mails, instant messages, and various pop-up ads exemplify our forced, modified learning style, which can be equated with a new form of classical conditioning." The repetitious mini-hit of dopamine we are now all getting, every moment of the day.
Decreasing Digital Stress: A New Way of Life
Being alone in a cage introduced a new way of living. Spending time in quiet, rural settings enclosed by nature is known to increase one's attention and strengthen memory capabilities and overall cognition. In other words, the typical bombardment of external stimuli makes it impossible to relax. Contemplativeness with fewer conceptual demands gives the mind a rest.
After graduating in 2009, I accepted a job in a desolate area of Northern New Hampshire. The small town I resided in was barricaded by majestic mountains and lush, forested rolling hills that prevented a cell phone signal and lacked underground fiber-optics. The Blackberry smartphone was not a distraction—because it had no signal—and unlike their urban counterparts, the town was not yet privy to online social networking. Unbeknownst to me, I had inadvertently locked myself into a new type of library "cage." I would tell other professionals that multitasking was a myth and that they should mono-task.
During time away from my therapy work, I loitered in an Internet-less bakery and started studying language by reading books far too complex for me. My quest for knowledge ranged from sociological studies, neuroscience, Buddhism, and novels by verbose authors. The fear of isolation and the foreseen direction, or consequences, of a digital age had led me right to the vortex of that storm. My previous belief in technological advancement as a cure for modern psychological ailment was replaced by archaic Eastern philosophies and long periods of silence.
The dial-up Internet speed gave me a new pace, and I started to appreciate the utility of singular tasks (e.g., hiking or running without music and getting lost in soundless green fields) and achieved different results.
Whether it is digital stress or a state of mind, struggles and pain are rooted in the clinging to our preferences. The online, digital worlds—on a cultural scale—are preferential for the predictability of infinite self-reference. Our realities are constructions of Russian dolls rather than a progressive fantasy of open, inclusive communities. E-therapy, similarly, creates a smaller world within a casing of misperceived authenticity. This reality equates traditional "talking," rich with nuance and gesture, with non-synchronous messaging. Text-based communication will never be the same as face-to-face human connection. (This is not to say that e-therapy does not help some individuals, and in fact it may be a person's only option for counseling in some cases.)
Despite the consumer fallacy, a pause—rather than the habitual reach for instant access to social contact or information—permits one to skillfully move forward.
References:
Archer, A. J. (2013). Pleading insanity. Bloomington, IN: Archway Publishing.
Carr, N. G. (2010). The shallows: What the internet is doing to our brains. New York: W.W. Norton.
Boase, J., Horrigan, J. B., Wellman, B., & Rainie, L. (2006). The strength of Internet ties. Pew Internet and American Life Project. Retrieved from http://www.pewinternet.org/2006/01/25/the-strength-of-internet-ties
Internet users. (n.d.). Internet Live Stats. Retrieved from http://www.internetlivestats.com/internet-users
Perrin, A., & Duggan, M. (2015, June 26). Americans' Internet Access: 2000-2015. Retrieved from http://www.pewinternet.org/2015/06/26/americans-internet-access-2000-2015
Putnam, R. (2000). Bowling alone: The collapse and revival of American community. New York: Simon and Schuster.

The preceding article was solely written by the author named above. Any views and opinions expressed are not necessarily shared by GoodTherapy.org. Questions or concerns about the preceding article can be directed to the author or posted as a comment below.