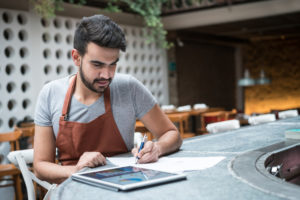 Alicia, 25, has fibromyalgia and works part-time in a customer service job. She is often asked to stay late or work overtime, and because she has a hard time saying no and fears losing her job, she frequently works more hours than her body can handle. The result? More often than not, she becomes ill and has to call off work, sometimes for several days, in order for her body to recover.
Moving toward our values in a career is important for overall life satisfaction, and finding that balance with a chronic illness isn't always easy. Many people with a chronic condition push themselves too hard and wind up becoming more sick or fatigued. When employees with chronic illness are overworked, they can show signs of:
Increased tardiness
Fatigue on the job
Increased absences
Difficulty concentrating
Loss of productivity
Do any these signs look familiar? Are you struggling to find ways to balance a chronic illness and your career? Do you find it difficult to say no to your boss when they ask you to work overtime? Is your health affected as a result of working too many hours or because of strenuous tasks? If you answered yes, you may be caught in a balancing act between career and chronic illness.
Like Alicia, people diagnosed with chronic illness must learn how to manage symptoms on a daily basis and quickly deal with unexpected symptoms or flare-ups. Unfortunately, those symptoms cannot be put on hold until after the workday ends. But there are ways to manage a chronic illness in the workplace. Set yourself up for success with these tips:
Being assertive and setting boundaries with your employer will help clearly establish your limits and keep you in a mentally and physically healthy space.
Know Your Body
Chances are you've dealt with this diagnosis for some time and have an idea of your physical limits. If you can't handle standing on your feet all day due to chronic pain or arthritis, then request accommodation such as a chair or stool. If you feel more fatigued in the morning, ask for afternoon shifts. Pushing beyond your physical limits may result in more somatic issues and time away from work.
Be Realistic
Sometimes we have to make compromises, even with ourselves. I'm the last person to tell someone they shouldn't follow their dreams, but it's also important to set yourself up for success. Being honest with yourself about your condition can help you better define what you can do and what is truly off limits. Talking with your providers or a therapist can be helpful in determining the practicality of your job description.
Take Breaks
Whether that means taking time for self-care at lunch (like doing yoga or going for a walk), using a "mental health day" to recharge, or taking an extended vacation, making time for breaks is essential in keeping your battery charged to handle the stress of work. Don't be afraid to use your breaks and paid time off; that time is built into your benefits for a reason!
Set Boundaries
It's not easy to tell your boss "no," but there are fewer consequences for you both when you do. If you push beyond your limits and work too many hours, there's a chance you'll end up sick or needing more time off; that affects both you and your employer. Learn how to be assertive so you can ask for what you need and say no when you must.
Disclose Thoughtfully
Each person living with a chronic illness faces the decision of who to tell and how much to disclose. In regard to the workplace, decide what feels right for you by assessing the trustworthiness of your manager/HR personnel/coworkers and their ability to be supportive of your needs. Many employers are sympathetic and understanding when this delicate issue is addressed and will make accommodations as needed.
Know Your Legal Rights
But don't abuse them. Employees with chronic medical conditions are considered disabled under the Americans with Disabilities Act (ADA). Employers are obligated to show no discrimination in decisions related to employment and must offer reasonable accommodations to employees who need them. Assertively ask for the adaptations you need in order to set yourself up for success at your job.
Is it possible to balance a career and a chronic illness? Absolutely! Being honest and realistic with yourself can help you realize the best workplace fit for you. Being assertive and setting boundaries with your employer will help clearly establish your limits and keep you in a mentally and physically healthy space. Finally, taking breaks can help keep you going. Recognizing these concessions can allow you to move toward career values that are important to you.
References:
Alderman, L. (2009, June 19). Protecting your job when coping with a chronic illness. The New York Times. Retrieved from http://www.nytimes.com/2009/06/20/health/20patient.html?mcubz=0
Bruce, S. (2014, January 8). I've got a chronically ill employee – Balance compassion and business. Retrieved from http://hrdailyadvisor.blr.com/2014/01/08/ive-got-a-chronically-ill-employee-balance-compassion-and-business/
Caramela, S. (2017, June 29). 5 ways to manage your chronic illness at work. Retrieved from http://www.businessnewsdaily.com/10041-manage-chronic-illness-at-work.html

The preceding article was solely written by the author named above. Any views and opinions expressed are not necessarily shared by GoodTherapy.org. Questions or concerns about the preceding article can be directed to the author or posted as a comment below.