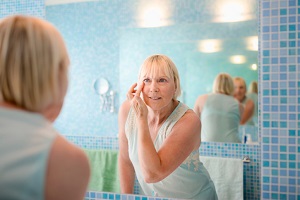 All you have to do is turn on the television or page through a magazine and you're instantly bombarded with images of perfect-looking older women joyfully jogging after their latest Botox treatment, or aging men smiling with their newfound virility thanks to their new relationship with Viagra. Makeup commercials urge us to "defy our age," while "physicians" try to convince us that if we take their supplements, we can live to 100 like the residents of obscure islands in the Pacific. If you haven't already heard, "80 is the new 50! Fight wrinkles! Defy age! Don't settle for yellow teeth! You can do anything you want to—if you just put your mind to it!" Correct me if I'm wrong, but last I heard, all things that live will someday die.
These messages do a profound disservice to us all, fundamentally convincing us that we can (and should) "fight" the aging process. According to many contemplative traditions, suffering is mostly caused by not accepting reality as it is. If this is true, then most of us are caught up in a fantasy struggle, thinking we can live forever and stay healthy if we do things "right." That, to me, constitutes unnecessary suffering, as we are fighting a losing battle.
Some believe and follow claims such as the above. Others commit to certain lifestyles they believe will postpone or prevent illness and death. Still others deal with it much less overtly by starving themselves to be thinner, or numbing themselves with sex or computer games to avoid the reality of aging. If I am honest with myself, I can pretty easily be convinced that if I just cut out gluten or eat more fish oil, I will stay youthful. I have to admit that when people think I am younger than I am, I feel good. The roots of these beliefs go deep.
Besides fighting the inevitable, which takes a lot of time and energy from other, more healthy pursuits, the assumption behind all of these actions is that we are just not good enough the way we are. And that if we are unsuccessful in "defying" our age, we aren't trying hard enough or are just plain failures. Which puts us in a perpetual cycle of self-improvement and forcefully engaging our willpower to change ourselves. As Charles Eisenstein beautifully illustrates in his book, The Yoga of Eating, when we depend on willpower for our well-being, we inevitably fall short because we either fail or revert to old patterns. Then we feel once again flawed that we didn't try hard enough or just aren't good enough. What an unhealthy and toxic cycle this is!
Is there anything good about aging? In most cultures and until fairly recently, age was believed to invoke wisdom, and it engendered respect from others. Now we simply view age as something to be avoided, denied, and "fought." If we are to age "gracefully" and enjoy our golden years, we need to shift our perspective from defiance and denial to acceptance of all that older age brings. And we need to embrace the joys that come with age. If you can let go of the pursuit of eternal youth, there is indeed much to be appreciated!
Look next month for the follow-up to this article, where I will explore the brighter side of aging.

The preceding article was solely written by the author named above. Any views and opinions expressed are not necessarily shared by GoodTherapy.org. Questions or concerns about the preceding article can be directed to the author or posted as a comment below.