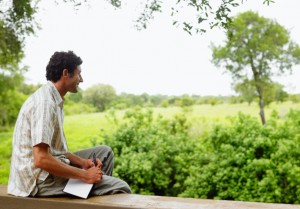 Editor's note: This article is the 13th in an A-Z series on issues related to creative blocks. This month we explore the ongoing struggle to stay motivated.
Creative individuals often struggle with motivation to continue pursuing their work. This can be very distressing and, though quite common, can make artists feel "stuck" and even lead them to question their commitment to their work. After a period of low motivation and perhaps low productivity, such individuals might develop discouraging thoughts such as "I'm not good at this" or "I never should have started this," and they may begin to feel like giving up.
If you're subject to these kinds of thought traps, here are some ways you can reconnect with your motivation to create.
1. Articulate What's Not Working for You
Sometimes, the concept of motivation seems vague and abstract. Often, artists will complain of not feeling motivated without being able to put this feeling into words.
The first step in regaining motivation is to articulate what feels less enjoyable, less satisfying, less worthwhile, and less meaningful about the work. Sometimes it's about the work itself; for example, a composer whose 20-year dedication to classical jazz has decreased due to the development of an interest in experimental jazz. Other times, it's about the process; for example, a sound engineer who struggles to manage his or her time and compulsively spends 15 consecutive hours on a track without recognizing the risk of burnout.
Loss of motivation can also be related to negative feelings about oneself as the creative author; for example, an insecure animator whose every move is accompanied by self-criticizing thoughts such as "this is terrible."
There are many ways to explain or, simply, describe the experience of low creative motivation. Doing so is an important first step in tackling the issue.
2. Reconnect with the Intrinsic Value
The next step is to think in terms of intrinsic and extrinsic sources of motivation. Simply put, intrinsically motivated activities are those we pursue for their own sake, whereas extrinsically motivated activities are those we pursue in order to attain a goal. Developing an awareness of and sense of connection to what motivates you may foster a more positive attitude toward the work.
Sources of intrinsic motivation might be in-the-moment enjoyment from the activity itself, satisfaction derived from improving one's skills, the therapeutic effect of self-expression through creativity, etc. One characteristic that sets creative motivation apart from motivation for other types of activities is that creative endeavors tend to be intrinsically fueled. The process of creating itself is often the underlying reason someone begins creative activities.
Sources of extrinsic motivation might be making money, winning a competition, or developing a reputation and gaining recognition from others.
Both types of motivation can be effective, though intrinsic sources may better get to the root of why you decided to do creative work and thus help you more readily reconnect with it.
3. Ask What Truly Matters to You
The third step is to attempt to answer questions about what kind of intrinsic and extrinsic sources of motivation are meaningful and influential at any given time. These types of questions might look something like "Why is this important to me right now?" or "Out of all the activities I could be engaged in, why I am choosing this one?" Thinking about how you might benefit from your creative work and what you will gain from it is important in shaping your relationship to the work itself.
The journey of regaining motivation, after having disconnected from it, begins with defining what parts of the creative process seem less enjoyable and continues with an exploration of what intrinsically motivates and matters about the creative process.
Another set of questions might be along the lines of "What will feel good to me about finishing this work?" and "What am I trying to express through this piece?" Having these moments of self-reflection and self-exploration will help develop, foster, and nurture a healthy and long-lasting sense of motivation.
Similarly, if there are any conflicts between sources of motivation, now would be a good time to identify those. For example, an author's motivation to continue writing horror stories might come into conflict with the motivation to please a publisher who expects another romance novel. The motivation to self-express and the motivation to gain the publisher's approval may result in an impasse that affects or impedes the author's motivation. By exploring the conflict and making a conscious decision to confront each side's pros and cons, the author may be able to resolve or, at the very least, manage the conflict and regain motivation to continue.
Motivation is an elusive concept for creative people and people in non-creative fields alike. For those in the former group, the journey of regaining motivation, after having disconnected from it, begins with defining what parts of the creative process seem less enjoyable and continues with an exploration of what intrinsically motivates and matters about the creative process.
© Copyright 2015 GoodTherapy.org. All rights reserved. Permission to publish granted by Olga Gonithellis, MA, MEd, LMHC, Creative Blocks Topic Expert Contributor
The preceding article was solely written by the author named above. Any views and opinions expressed are not necessarily shared by GoodTherapy.org. Questions or concerns about the preceding article can be directed to the author or posted as a comment below.