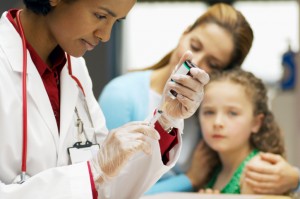 Almost half of American parents either believe vaccines cause autism or are unsure whether the two are linked, even though a 1998 study linking the measles-mumps-rubella vaccine (MMR) with autism was debunked in recent years. About 10% of children don't have all the vaccines they need, making these children vulnerable to a variety of serious and life-threatening diseases. According to the Centers for Disease Control (CDC), almost all Americans developed measles before there was a vaccine, and 15,000 people died from diphtheria in 1921 alone.
Public health experts are increasingly interested in steps they can take to encourage parents to vaccinate their kids while ameliorating fears about the potential dangers of vaccines. According to a new study published in the journal Vaccine, though, educating parents about vaccine myths might actually make the problem worse.
The Perils of Countering Vaccine Myths
Researchers evaluated data from the 2012 Cooperative Congressional Election Survey in which respondents answered questions related to one of three different flu scenarios. In the first scenario, participants received no information about the flu or flu vaccines. A second group learned about the health risks the flu poses, and a third group received corrective information explaining that it's not possible to contract the flu from flu shots.
Forty-three percent of study participants argued that it's either "very accurate" or "somewhat accurate" that the flu shot can give you the flu. Participants in the third group, who received corrective information about the safety of a flu shot, were less likely to endorse this belief. However, among participants in the third group who had also expressed significant concern about vaccine safety, receiving corrective information actually reduced participants' self-reported intention to get the flu shot. Thus the corrective information actually had a damaging effect on behavior.
This suggests that correcting vaccine myths may change what people know to be true, but not necessarily their behavior. Previous research supports this claim. In one 2010 study, Brendan Nyhan, co-author of the vaccine study, and Jason Reifler, a senior politics lecturer at the University of Exeter, found that correcting political hoaxes and misinformation actually strengthened people's beliefs in the inaccurate information. Nyhan suggests that, just as correcting political myths may not work, correcting vaccine myths may not be the best way to stem the tide of anti-vaccine sentiments.
References:
Heusel, C. (n.d.). Vaccination facts. Retrieved from http://www.parents.com/health/vaccines/facts/vaccination-facts/
Slightly more than half of Americans say vaccines don't cause autism: Poll. (2011, January 20). Retrieved from http://health.usnews.com/health-news/family-health/brain-and-behavior/articles/2011/01/20/slightly-more-than-half-of-americans-say-vaccines-dont-cause-autism-poll
What would happen if we stopped vaccinations? (2014, May 19). Retrieved from http://www.cdc.gov/vaccines/vac-gen/whatifstop.htm
Why myth-busting vaccination fears is trickier than you might think. (2014, December 8). Retrieved from http://www.medicalnewstoday.com/articles/286651.php

The preceding article was solely written by the author named above. Any views and opinions expressed are not necessarily shared by GoodTherapy.org. Questions or concerns about the preceding article can be directed to the author or posted as a comment below.