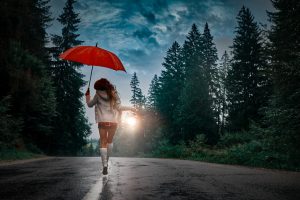 Awareness of impermanence and appreciation of our human potential will give us a sense of urgency that we must use every precious moment. – Dalai Lama
Life is unpredictable and constantly changing, something that can be realized after even a moment's consideration. Within a few minutes our moods can shift from love to joy to frustration—and the cause doesn't even have to be something traumatic or devastating. Waiting in a long line at the grocery store, for example, or listening to a troubling news story can shift our state of mind from one of peace and calm to one affected by irritation, worry, and fear.
Take a moment to think about some of the moments when you became frustrated or worried today, and reflect on the following questions:
How did you react?
What did you believe? (To be more specific, did your thoughts follow a "should/should not" or "right/wrong" pattern?
What happened to your breath and body when you had this belief?
What happened to your heart?
These questions are meant to help you see the ways in which limiting beliefs can lead to reactivity and emotional pain. As you reflect, try to keep an open mind: doing so can help you begin to see the vulnerability or need beneath the reactive thoughts. Recognizing our own vulnerabilities can be an important shift in thinking that can help us regain our sense of balance and emotional well-being.
If I have the belief, for instance, that I'm not good enough, and my partner tells me he's disappointed by something I did, I might react toward him with anger. If I lash out and blame him for what I'm feeling, I suffer, and our relationship suffers. If instead I take a moment, pause, and reflect on the above questions, investigating what is happening in my body, mind, and heart, I might be able to connect on a deeper level, beyond these thoughts to what is happening in real time. This process can help me recognize that suffering is present.
From this point of recognition, I might move forward by choosing one of several ways to help myself reconnect with the mind that is calm and the heart that is compassionate.
Practicing with an "in breath"—this can help bring us into the present moment where life is lived.
Breathing in and out helps us shift from a reactive mind caught in a story of past/future to the body and what is happening in the internal world of sensations and emotions.
Anchoring ourselves in the breath helps us connect with a deeper awareness and wisdom that allows us to shift from the thinking/reactive mind to become better attuned to what is happening in the body. We may be able, as a result, to connect with the parts of the body that are under stress, with kind and caring attention.
We can hold what is rising within us in a tender embrace by bringing a sense of care for ourselves into this moment of pain, shifting from mindless reactivity to mindful compassionate presence.
It's almost as if there is a storm on the horizon and, instead of taking wise action by finding a safe refuge (the breath), we stand outside yelling at the sky, feeling helpless and putting ourselves in harm's way. Storms—those that occur in nature and those that rage internally—come and go, and we have a choice about how we meet them. If we are caught in limiting beliefs, all the energy goes to defending ourselves, and our mindless reaction armors our hearts and contracts the mind.
Whether we are riding out an internal hurricane or simply waiting for a brief shower to pass, resistance can turn what might be only a brief moment of pain into intense and often prolonged distress. Connecting mindfully, opening ourselves to the pain, can help us weather what comes without being worn down in its path.
Investigating Our Lived Experience
Practicing mindfulness in our daily lives can help us see how we are reacting to experience through a lens of likes/dislikes, should/should nots and right/wrong thinking. When something is pleasant we want it to last, of course, but when something is unpleasant, we tend to avoid it, try to change it, or dismiss it. But if we continue to meet life with resistance, we can get caught in hurtful patterns of behavior. When that happens, life can become very painful.
By making the effort to connect mindfully with our moment-to-moment experience, we begin an important shift from simply reacting to life to responding to it. We begin to see our reactions are based less on what is happening and more on our thoughts about what is happening. If we stay stuck on these thoughts, then our pain can intensify. To reconnect with life as it is, it is necessary for us to shift from this state of thinking mind to a mind-set grounded in real-time events in body, mind, and heart—our lived experience.
As we come into connection with our lived experience, we usually notice how it's constantly changing. Emotions, sensations, thoughts, sights, and sounds—none of these are static. Sitting in meditation can help us see the changing nature of experience. This act of being able to observe can help shift us out of thinking about an experience to connecting with the experience as it happens. As we begin to see life beyond labels and limit beliefs, we connect with the beauty and preciousness of life.
Mindfulness Practice to Help Free the Mind and Heart
Through the practice of mindfulness meditation, our minds become more open, enabling us to see clearly (beyond like/dislikes or right/wrong, for example). As we release limiting views, we connect with wisdom that allows us to respond in ways that are helpful and compassionate.
Mindfulness can also help us notice when we're caught in a limiting belief or story. As we shift out of the story and begin to attune to what is happening in our bodies, minds, and hearts, we begin to be able to respond in ways that help us regulate our emotions and restore a sense of balance.
As we soften any defensive, judgmental, or divisive ways of seeing the world we can meet suffering with a compassionate and kind presence. Being able to open up to suffering in this way is what awakens our hearts. We see how others want to be happy just as we do, that others experience pain just as we do.
We may experience a realization that we are interconnected, that what we do affects others and the world around us. As we recognize our interconnectedness, our sense of care for each other and the world around us often grows, giving us more access to wisdom, patience, and compassion.
This is a practice, and as such it takes time, as well as a commitment to be present for your lived experience in an openhearted way. It takes courage to connect in a way where you are awake and aware of what is happening in real time. As we practice mindfulness, we connect with the vibrant aliveness only felt in the present moment and with the heart of compassion that has space for all of life's experiences.
When we look beyond our stories, our beliefs and opinions begin to connect with the wisdom and compassion that is always available to us and can help us see and connect with the preciousness of life.
Developing the ability to live mindfully is a lifelong journey, one where we focus on what matters most—the loving connection of the heart and the ability to make wise choices and respond to what is happening in a way that heals and connects us. I consider this a priceless gift.
© Copyright 2017 GoodTherapy.org. All rights reserved. Permission to publish granted by Cindy Ricardo, LMHC, CIRT, Mindfulness-Based Approaches Topic Expert Contributor
The preceding article was solely written by the author named above. Any views and opinions expressed are not necessarily shared by GoodTherapy.org. Questions or concerns about the preceding article can be directed to the author or posted as a comment below.