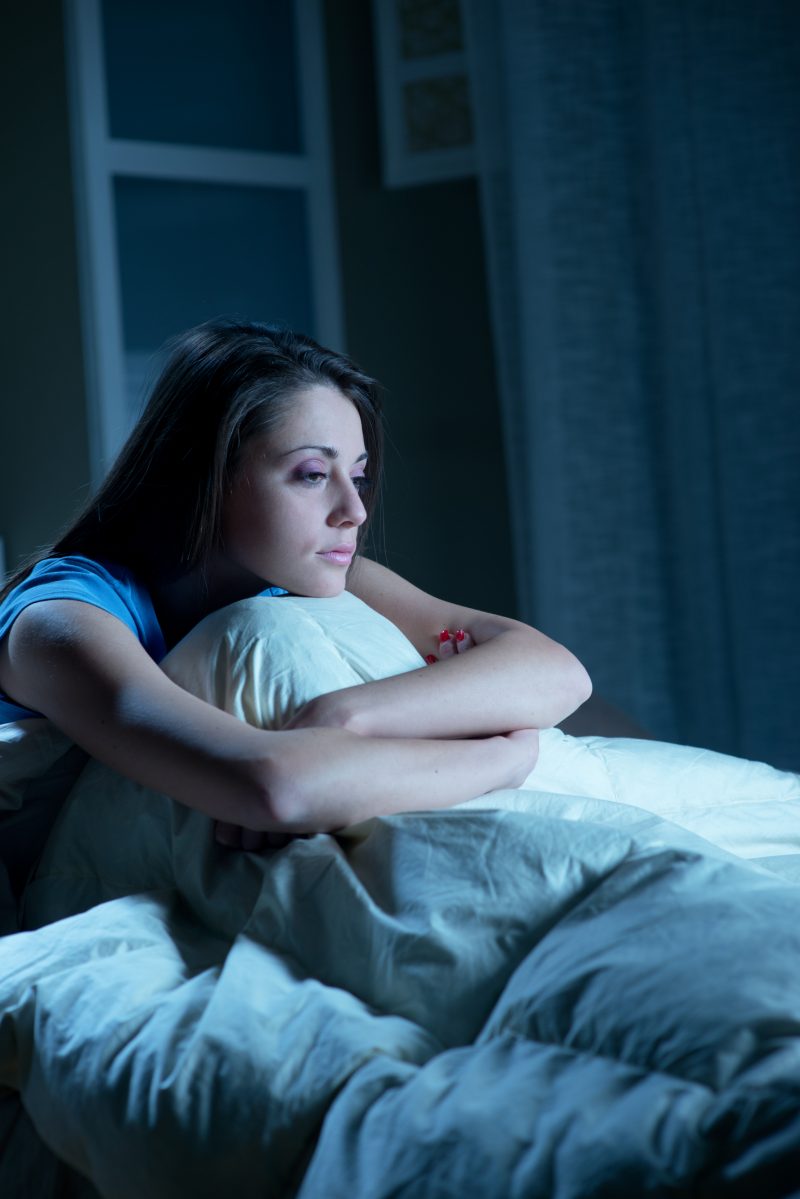 Chronic sleep deprivation increases symptoms of depression and anxiety in young women, according to a study published in Sleep Medicine.
The study found a single night of poor sleep did not harm mental health, potentially even alleviating the effects of depression. But women who slept less over a two-week period were more likely to report higher levels of depression and anxiety.
The Connection Between Sleep, Depression, and Anxiety
Researchers followed 171 female college students for two weeks. Participants completed a questionnaire measuring anxiety and depression symptoms to establish a baseline. Thereafter, researchers used daily surveys, including the Mood and Anxiety Symptom Questionnaire-Short Form, to measure symptoms of anxiety and depression.
Participants also logged their nightly sleep totals, the amount of time it took them to fall asleep each night, and their subjective assessment of sleep quality. Based on questionnaire answers, researchers judged a third of participants to be "at risk" for depression. Seventeen percent had clinically significant levels of anxiety.
Participants slept an average of seven hours and 22 minutes and took 21 minutes to fall asleep each night. Most participants said their sleep was "fairly good."
The study's authors say sleep deprivation can initiate a problematic feedback loop. Women may experience more mental health symptoms with decreased sleep. Those mental health symptoms can then make it even more difficult to get to sleep.
How Much Sleep Is Healthy?
In 2015, the National Sleep Foundation amended its sleep recommendations. The new guidelines recommend the following sleep amounts:
0-3 months: 14-17 hours per day
4-11 months: 12-15 hours per day
1-2 years: 11-14 hours per day
3-5 years: 10-13 hours per day
6-13 years: 9-11 hours per day
14-17 years: 8-10 hours per day
18-64 years: 7-9 hours per day
65+ years: 7-8 hours per day
References:
Kalmbach, D. A., Arnedt, J. T., Swanson, L. M., Rapier, J. L., & Ciesla, J. A. (2016). Reciprocal dynamics between self-rated sleep and symptoms of depression and anxiety in young adult women: A 14-day diary study. Sleep Medicine. doi:10.1016/j.sleep.2016.03.014
National Sleep Foundation recommends new sleep times. (2015, February 2). Retrieved from https://sleepfoundation.org/media-center/press-release/national-sleep-foundation-recommends-new-sleep-times
© Copyright 2016 GoodTherapy.org. All rights reserved.
The preceding article was solely written by the author named above. Any views and opinions expressed are not necessarily shared by GoodTherapy.org. Questions or concerns about the preceding article can be directed to the author or posted as a comment below.