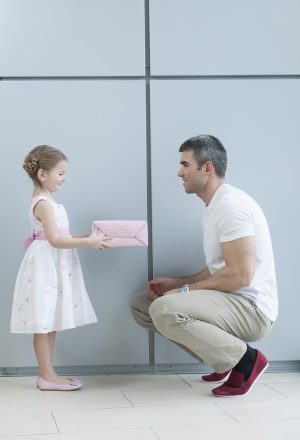 Attachment to adult caregivers—the extent to which a child feels securely bonded to and trusting of parents and other adults—can have long-lasting effects for the child's ability to manage stress in adulthood, according to a new study published in the journal Frontiers in Human Neuroscience.
The study builds upon previous attachment research, which points to the role of a parent as a "secure base" from which to explore the world. Previous research has already shown how secure attachments can improve childhood mental health and adult relationships.
Secure Attachments for Better Stress Management
Most attachment research is performed on children and their parents, but this study looked at the role of childhood attachments on subsequent adult behavior. Researchers assessed the childhood attachment status of 41 adults. Each participant completed a letter identification task that required them to select a letter from a flashing series of letters. Researchers repeated the tests under conditions designed to induce positive, negative, and neutral emotional states to explore how stress affected participants' ability to complete the task. Electroencephalogram (EEG) monitoring provided researchers with additional data about the subjects' brain functioning.
Insecure-attached adults underperformed in the emotionally negative context. EEGs revealed decreased brain activity in the negative emotional state. This suggests people with insecure attachments may devote more brain power to regulating their emotions and have fewer strategies for coping with stress, thereby undermining their ability to perform in stressful situations, such as in job interviews or while taking college entrance exams.
What Does a Secure Attachment Look Like?
Parents who want to build secure attachments with their children do not have to be perfect. Instead, strong attachments are about an overall sense that the parent can be trusted to take care of the child. Parents can promote strong attachments by:
Tending to a child's physiological needs as quickly as possible.
Reassuring a child that they are loved and valued.
Spending time with the child.
A parenting style known as attachment parenting aims to promote positive attachments, but there is little evidence to suggest this type of parenting is necessary for secure attachments. Parents do not need to quit their jobs, co-sleep, or breastfeed to promote secure attachments. Instead, research shows they need only provide their child with a safe environment where the child's needs are treated as important.
References:
Erickson, M., PhD. (n.d.). Good enough moms and dads: Separating fact from fiction about parent-child attachment [PDF]. University of Minnesota.
Insecure childhood can make dealing with stress harder. (2016, August 31). Retrieved from http://www.eurekalert.org/pub_releases/2016-08/f-icc083116.php
Leyh, R., Heinisch, C., Kungl, M. T., & Spangler, G. (2016). Attachment representation moderates the influence of emotional context on information processing. Frontiers in Human Neuroscience. http://dx.doi.org/10.3389/fnhum.2016.00278
© Copyright 2016 GoodTherapy.org. All rights reserved.
The preceding article was solely written by the author named above. Any views and opinions expressed are not necessarily shared by GoodTherapy.org. Questions or concerns about the preceding article can be directed to the author or posted as a comment below.