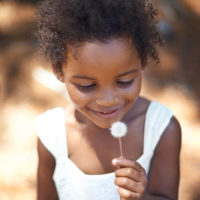 According to a report published by Georgetown Law's Center on Poverty and Inequality, adults view black girls as young as 5 years old as less innocent and more adult-like than white girls of the same age.
The authors of the study adapted a childhood innocence scale to also include stereotypes about black girls and women. Then they used the scale to survey adult perceptions of black girls. In addition to viewing black girls as more adult and less innocent, adults also saw them as less in need of protection compared to white girls. They also believed black girls are more independent, know more about sex and other adult topics, and are less in need of nurturing and support than white children.
A 2014 study found black boys face similar issues. According to that research, adults tend to view black boys as older and more threatening—and therefore more likely to commit crimes—than their white peers.
Previous research has found black children are disciplined more frequently and harshly than their white peers. Data from 2016 suggest black students are almost four times as likely as their white peers to be suspended from school. Adults' perception that they are older, less innocent, and more dangerous might explain this race disparity.
memories
that had previously been repressed led to criminal charges, family schisms, and much debate. The notion that
repressed memories
can be recovered has been debunked. Instead, therapists may accidentally implant
false memories
. But the theory remains prevalent, potentially exposing people to false memories of abuse and other traumas.
This week, a CEO's gracious response to an employee communicating the need to use a few allocated sick days to focus on her mental health went viral. Many employers are seeing the research-backed value in supporting and honoring workers' mental health, and conversations like this one can go a long way toward reducing stigma surrounding mental health issues.
Jahed Choudhury, 24, a Muslim man who once attempted suicide, is believed to be Britain's first known Muslim to marry a partner of the same gender. Choudhury was sent on a religious pilgrimage to change his sexual orientation and struggled with bullying and self-loathing. Now he encourages young people to embrace who they are. He says being gay and Muslim can be consistent identities.
According to at least one sport psychiatrist, the key to success in high-stakes athletic pursuits is not to think at all. Thinking causes players to hesitate and second-guess themselves, undermining performance. Instead, reactions must be instinctive. Honing good instincts demands years of practice.
People who "troll" online deliberately provoke or threaten other online users. According to a survey of online trolls, people who engage in trolling show higher levels of traits like sadism and lower levels of empathy than non-trolls. This, in conjunction with thrill-seeking behavior, might be what motivates online trolls.
Some drivers are annoyed by sharing the road with cyclists, while cyclists point out that resentment and anger from drivers can kill. A new study suggests requiring motorists and cyclists to occupy the same space may be to blame. The study also found drivers' decisions, which often involve stress, aren't always rooted in logic.
Researchers and providers have long spoken about mental health issues as if they must have an underlying cause—childhood trauma, brain anomalies, or genetic variation. Because mental health diagnoses rarely have a single cause, however, the focus on root causes can become a distraction. Instead, some experts propose focusing on the network of symptoms and their management.

The preceding article was solely written by the author named above. Any views and opinions expressed are not necessarily shared by GoodTherapy.org. Questions or concerns about the preceding article can be directed to the author or posted as a comment below.