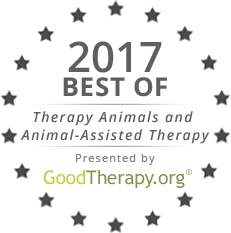 Incorporating animals into therapeutic mental health treatment is a practice that has existed for decades, if not centuries. Today, animal-assisted therapy might mean anything from visiting stables with a therapist and interacting with horses to owning an emotional support animal for constant companionship. Animal interaction has proven benefits for people of all ages and has been shown to positively impact mental health.
Children with behavioral concerns or difficulty relating to their peers can find comfort in connecting with animals instead. Demonstrating care for and attention to another living creature, and having them return that compassion, can do wonders for self-esteem and lead to improved social interactions.
Therapy animals can also help ease symptoms of posttraumatic stress, decrease anger and aggressive behaviors, and produce positive physical outcomes such as lowered blood pressure and decreased heart rate.
There are many different ways to engage in animal-assisted therapy, and most are relatively low-risk. If you are curious about animal-assisted therapy in any of its forms, even if you already have some experience with animals in therapy, check out GoodTherapy.org's top animal-assisted therapy resources of 2017.
References:
Martin, F., & Farnum, J. (2002). Animal-assisted therapy for children with pervasive developmental disorders.

Western Journal of Nursing Research

, 24(6), 657-670. Retrieved from http://journals.sagepub.com/doi/abs/10.1177/019394502320555403
Odendaal, J. S. (2000). Animal-assisted therapy—magic or medicine? Journal of Psychosomatic Research, 49(4), 275-280. Retrieved from http://www.sciencedirect.com/science/article/pii/S0022399900001835
© Copyright 2017 GoodTherapy.org. All rights reserved.