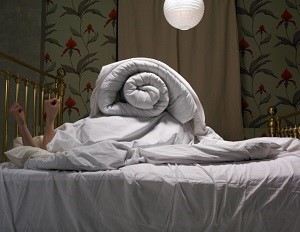 When Susan was growing up, she had a series of nightmares that were so familiar she knew when they were coming. She was scared to go to sleep and tried to stay awake to avoid them, but she couldn't quite do it.
Instead she would fall asleep, have a bad dream, wake up, and find herself inside another bad dream. True awakening sometimes was as impossible as true sleep. This torture continued as she got older and didn't go away until she learned that she needed help, which she sought; in psychotherapy, she learned just how scared she really was.
"How will therapy cure my fears?" she thought. "The therapist won't be there in my bedroom at 2 a.m. when I'm scared."
It's true, her therapist wasn't around in the middle of the night to save her with his friendly voice and warm face, but telling her therapist about the dreams and other things, too, did make them go away, eventually. And spending time in therapy helped her feel less alone, so that when she was afraid, she felt that there was something, someone behind her, to help and defend her.
But what do you do when you wake up at 2 a.m., and again at 3 a.m. and 4 a.m., your bedroom is dark, and you feel scared, terrified, heart pounding? Maybe you're afraid the bad people in your nightmares are real and they've come to get you. Maybe you're just lost in the muddle of worry about all the things you didn't do yesterday or that you did wrong or that you won't be able to do right tomorrow.
You can start by breathing slowly and deliberately: deep inhales, long slow exhales. That calms down your nervous system. You can imagine that, breathing in, you're taking in something protective and good; breathing out, you're ridding yourself of pain. You can turn on the light and read, say the heck with sleep for this night. You can get up and drink some warm milk. In very rare instances you can visit a physician and seek out a prescription for anti-anxiety medication or a sleeping pill. These remedies can help some but shouldn't be turned to too quickly or used for too long.
A lot of people automatically buy over-the-counter sleep aids or get prescriptions from their doctors. Most sleep aids are to be used for a limited span of time and can be helpful. But some people take them for years. This makes it harder and harder to get a good night's sleep, because you need more and more medication as your body develops tolerance; eventually the medication stops working.
There are ways to make sleep come a bit more easily. Always get up and go to bed at the same time. Don't watch stimulating movies or shows or even news right before you go to bed. Some people benefit from gentle yoga or a warm bath. Arrange your room so that it's pleasant looking, well aired, right temperature. The bed is comfortable. The surroundings are neat and attractive. All this makes finding your night's sleep and keeping it a bit easier.
Stay away from alcohol and coffee or other caffeinated drinks. They affect your ability to sleep, too. If you're a compulsive worrier, you can cut down a bit by arranging things before you go to bed, so when you wake up you know what to wear, for example. You'll be prepared, and feeling prepared will increase your self-confidence. Therapy will increase your self-confidence, too. Just as it may have taken several months or years to become an insomniac, it will take time to learn how to be a good sleeper.
While you're working on how to relax and go to sleep, you may also be in therapy, so you can learn the identity of the monsters that are after you and slay some of those dragons or find out they're really just tiny harmless lizards.
How do I know? I've had experience with sleeplessness of my own. Now, I boast that I can always fall asleep—I'm really good at it. It's my best skill. Maybe that sounds silly, but not if you spent years without enough rest. And I've worked with plenty of people who can't sleep.
Psychotherapy helped me and Susan and many others identify our fears and conquer them. Work with someone and find out what helps you feel comforted and comfortable, safe enough to get a good night's sleep. And then do those things.
Simple advice? Yes. Easy to do? No. Worthwhile? Yes!
© Copyright 2012 GoodTherapy.org. All rights reserved. Permission to publish granted by Lynn Somerstein, PhD, RYT, Object Relations Topic Expert Contributor
The preceding article was solely written by the author named above. Any views and opinions expressed are not necessarily shared by GoodTherapy.org. Questions or concerns about the preceding article can be directed to the author or posted as a comment below.