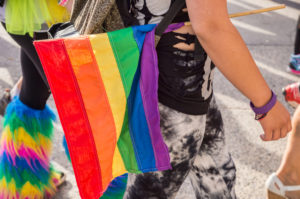 I attended my first Pride parade in Charleston, West Virginia, when I was sixteen. I still remember it. My younger sister, then-twelve, now-deceased, adorned herself with a hand-painted upside-down triangle and rainbow bracelet, but I didn't have any gear and just came for the experience. If memory serves, my late mother also joined us, challenging herself to rewrite what she was raised to understand as sin.
Perhaps it was easier to open up in such an adorable crowd. The parade was small, with fewer than thirty floats. Drag queens rode on some of them, as I recall, but the floats were mostly church floats. Even nestled into the Bible Belt, in a conservative state like West Virginia, the parade brought together congregations that had chosen to reform and expand their understanding of what was morally acceptable.
Throughout this month I've heard quite a few members of my own community frustrated with the way that LGBTQIA Pride events seem to have become the "fashionable" thing to do. I've heard criticisms and complaints that marches are now just another "fun event" for "straight teens" or "straight hipster boys who make out with boys and girls who make out with girls for fun" to attend, rather than a community event of significance.
I think this issue is nuanced and do not wish to reduce it to only two sides. However, I keep coming back to how visibility of sexual orientation and gender variance can help so many open up—not just in the acceptance of others, but also in acceptance of themselves. And this makes me I wonder: if I had not been exposed in my youth to LGBTQ+ people who were not only out, celebratory, and proud, but also kind, would I have given myself permission to come out and explore or would these LGBTQ+ groups have remained alien and "other" to me? I could write an entire article on the complicated package of privileges and invisibility comingling within bisexual identities, but that's not the purpose of this article.
I have been fortunate to live for years in such a queer bubble that I have not personally encountered anyone's mockery of Pride month—certainly I have my own critiques of its commercialization and slacktivist efforts (Pride "react" buttons on Facebook only if you've "liked" the LGBTQ+ Facebook page, anyone?), but I have yet to hear anyone ask in earnest, "Why do we even have a Pride month, anyway?" So I'll ask it myself. Why do we have a Pride month, anyway?
Sometimes, I think of power between groups as a faulty pendulum that, in order to be recalibrated, must first swing in the opposite direction before settling in the middle, establishing two groups as equal, achieving not just equality, but equity.
As a new group comes into the light, we develop a language and a vocabulary to adorn them and to make them visible, tangible, understandable. This is how language evolves; this is how humans evolve; this is how culture evolves.
Growing up in the Bible Belt, I was raised to reject pride and embrace humility, but if we're being honest, a group might need to get "in your face" a little before personal humility and wider acceptance are even possible. Pride is also going to feel a lot more "in your face" if you are afraid of the differences represented by these Pride events.
If you are a straight, cisgender person who does not understand the purpose of a Pride march, ask yourself whether the other parades you enjoy in your communities can be expected to summon criticism or a counter-protest.
Beyond Parades, Corporate Sponsorship, and Rainbow Profile Stickers
We can show LGBTQ+ pride in many ways, but there is still a long way to go, and many may be overwhelmed. Where do we even begin?
Equaldex.com shows the current status of LGB & T equality under the law in the United States. The Human Rights Campaign allows you to explore national and state policies issue by issue. Lambda Legal is a national organization committed to achieving full recognition of the civil rights of lesbians, gay men, bisexuals, transgender people, and everyone living with HIV through impact litigation, education, and public policy work. These are incredible launchpads if you're looking to learn more.
Those of us who identify as LGBTQ+ must make intentional space for justice issues surrounding intersectionality (specifically the impact of racism and transphobia) and acknowledge the ways privilege exists for certain members of our community and amplifies some voices while drowning others out. We should reject our linear notions of the "coming out" journey, as these can create an arbitrary rubric for failure when a person's life or relationships do not follow such a map. As it is difficult to exist at the societal level with so much "grey area" between categories, we might affirm a common language yet engage in dialogue about where our experiences converge and where they differ. We may have a stereotype about what it means to "be" L, G, B, T, Q, I, A, or any other identity, but these categories are so broad and so inclusive that we must recognize the diversity within them.
We may have a stereotype about what it means to "be" L, G, B, T, Q, I, A, or any other identity, but these categories are so broad and so inclusive that we must recognize the diversity within them.
As a community, we must permit ourselves flexibility and nuance within our definitions. We don't choose our gender, our orientation, or our sexual proclivities, but there is fluidity in our experiences of sex and gender, and we should not exist to police or to shame anyone for not living up to what we deem to be the "proper" criteria.
I've been thinking a lot and talking a lot and feeling a lot about a phenomenon I've been observing within my community, which I'll call "queer gatekeeping." It is far from new, and I believe it is rooted in woundedness, righteous distrust, and a desire for self-preservation. I want to challenge it—with fairness and compassion—because it runs so counter to my own sense of queerness.*
For me, the queer community has always represented a refusal to fit neatly within boxes and labels. It has embraced quirks, divergence, and complexity. It has permitted multiple versions of "success," beauty, and intelligence, allowing a diverse alphabet and rainbow of individuals to feel valued and loved. As a painfully-earnest lifetime nerd and former shy kid, I know how important it is to feel like you belong somewhere. For me and for many others, the LGBTQ+ community has provided a sense of home and camaraderie. Let's keep our spaces safe and not accept bad behavior, but let's also not shut others out because their queerness doesn't look like ours. We must remain curious about one another if we're going to evolve and grow.
Pride month is called Pride month to contrast pride with "shame and social stigma," which are the forces that take over if we deny folks a right to take up space and a right to use the language that best reflects their experiences of sex and gender. Whether you're a member of the community or observing from the sidelines, please take a moment to open up and learn more about the experiences of those who occupy a different shade of rainbow or letter in the LGBTQIA alphabet soup! The LGBTQ Alphabet video is a beautiful place to start.
I will end with a quote from my friend Chad Hensley's Instagram (cited with permission), where he describes what Pride means to him:
"Five years ago I decided to leave Ohio to become the writer I had always dreamt of becoming. I knew that moving to the city would create more opportunities for me professionally, but I hadn't thought much about community.

Community has always been a foreign concept for me. As a teenager, I was bullied by my peers, teachers, and neighbors. I learned to self-sustain; to not seek support or approval from others. But in New York, this started to change. For the first time I started seeing faces that looked like mine and began hearing opinions that aligned with my own. This support…makes me proud to call New York my home.

Every year during #pride, I think back to the boy I was in Ohio; dodging death threats and nervously scrubbing the word "faggot" off of my locker. I want so badly to share this newfound sense of belonging with the millions of boys and girls that are feeling as lost as I felt growing up. I offer this short story to let others know that it *does* get better. Be safe. Be resilient. Be proud."
* Author's note: I want to be clear that my critique of this behavior (queer gatekeeping) does not extend to that of other groups, i.e., the Black Lives Matter movement's race separatism as it relates to creating safe spaces where whites are not permitted.
© Copyright 2017 GoodTherapy.org. All rights reserved.
The preceding article was solely written by the author named above. Any views and opinions expressed are not necessarily shared by GoodTherapy.org. Questions or concerns about the preceding article can be directed to the author or posted as a comment below.