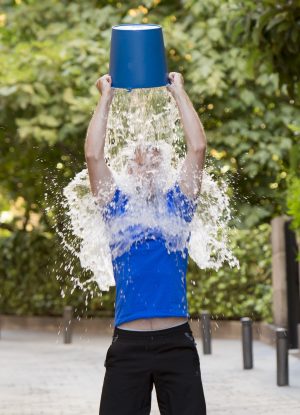 In 2014, videos of people dumping buckets of ice water on their heads flooded social media. The purpose of the ALS ice bucket challenge was to draw awareness and funding for amyotrophic lateral sclerosis (ALS). Known sometimes as Lou Gehrig's Disease, ALS is a progressive neurodegenerative condition that produces dysfunction in the spinal cord and muscles through nerve death in the brain. People with ALS steadily lose control over their bodies. This progressive deterioration can spark mental health challenges such as depression and anxiety. There is no cure for ALS.
Now, researchers are crediting the ice bucket challenge with raising funds that produced a groundbreaking genetic discovery in the fight against ALS. According to a study published in the journal Nature Genetics, a gene known as NEK1 is one of the most common genetic contributors to ALS. This discovery could potentially lead researchers to new treatment options for people who have the condition.
Genetic Discovery Provides New Information About ALS
Researchers from 11 nations studied 1,022 people with ALS who also had a family history of the disease. They compared genetic data from these individuals to those from 7,315 families without a history of the disease. To assess differences in genetic risk factors, the team also compared data from 13,883 people who developed ALS, but who had no family history of the disease.
People who eventually developed ALS were more likely to carry mutations in a gene known as NEK1, whether or not they had a family history of the disease. This suggests NEK1 mutations are a major risk factor for developing ALS, even in people who have no family history.
The ice bucket challenge raised more than $200 million for ALS research—an unprecedented amount of funding to fight the disease. The ALS Association received more than $115 million to go toward further research, treatment options, and improvements in quality of life for people with the condition.
References:
Kenna, K. P., Van Doormaal, P. T., Dekker, A. M., Ticozzi, N., Kenna, B. J., Diekstra, F. P., . . . Landers, J. E. (2016). NEK1 variants confer susceptibility to amyotrophic lateral sclerosis. Nature Genetics. doi:10.1038/ng.3626
Medici, A. (2016, August 1). New ALS gene discovery just a drop in the ice bucket challenge legacy. Retrieved from http://www.bizjournals.com/washington/news/2016/08/01/new-als-gene-discovery-just-a-drop-in-the-ice.html
Mohney, G. (2016, July 27). ALS ice bucket challenge funding leads to new genetic findings. Retrieved from https://gma.yahoo.com/als-ice-bucket-challenge-funding-leads-genetic-findings-160314430–abc-news-wellness.html
Symptoms and diagnosis. (n.d.). Retrieved from http://www.alsa.org/about-als/symptoms.html
© Copyright 2016 GoodTherapy.org. All rights reserved.
The preceding article was solely written by the author named above. Any views and opinions expressed are not necessarily shared by GoodTherapy.org. Questions or concerns about the preceding article can be directed to the author or posted as a comment below.