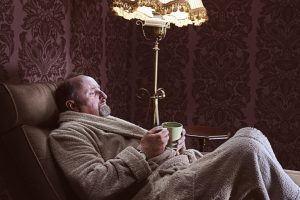 Aging harms the brain's ability to trigger deep and restful sleep, according to a review published in the journal Neuron. As a result, seniors often have more difficulty falling asleep and tend to wake more frequently during the night. This sleeplessness is linked to physical and mental health issues.
Why Seniors Sleep Less
The study was a literature review that explored previous research on age and sleep. Researchers suggest, beginning in the fifth decade of life, many people go to bed later and wake earlier. They may take longer to fall asleep, sleep for shorter periods of time, and wake more frequently. They are also more likely to be awakened by external stimuli. They typically spend less time in slow wave sleep cycles, have shorter sleep cycles, and spend more time awake during the night.
These changes in sleep patterns can produce many behavioral changes. Ten percent of adults ages 55-64 report napping during the day. For those ages 75-84, that figure rises to 25%.
The study's authors suggest these sleep changes are not due to scheduling issues or to a decreased need for sleep. Instead, brain circuits and neurons linked to sleep degrade with age, making it more difficult to get a good night's sleep. This trend can accelerate and play a significant role in the aging process.
depression
,
sleep disorders
,
chronic pain
, and nighttime bladder disturbances may help explain this difference, suggesting brain aging alone does not account for all senior sleep difficulties.
The Role of Sleep in Senior Health
Previous research has found a link between senior sleep habits and overall health. A 2017 study found sudden sleep pattern changes toward excessive sleep time are linked to dementia. According to a 2016 study, daytime fatigue and nighttime sleep difficulties are linked to age-related brain atrophy.
Seniors experiencing sleep difficulties may benefit from therapy. Research published in 2016 found cognitive behavioral therapy may improve symptoms of insomnia in seniors. A 2015 study found seniors may find relief from sleep difficulties with psychotherapy and Tai Chi.
Reference:
Mander, B. A., Winer, J. R., & Walker, M. P. (n.d.). Sleep and human aging. Neuron. doi:10.1016/j.neuron.2017.02.004
© Copyright 2017 GoodTherapy.org. All rights reserved.
The preceding article was solely written by the author named above. Any views and opinions expressed are not necessarily shared by GoodTherapy.org. Questions or concerns about the preceding article can be directed to the author or posted as a comment below.