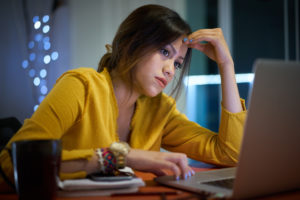 Many children diagnosed with ADHD, or attention-deficit hyperactivity, experience a high level of support from the time the ADHD is realized. Parents often serve a major role in helping them organize time, manage responsibilities, and complete tasks. In addition, children who have ADHD are likely to have tutors, IEPs, and other formal or informal services designed to help and assist them.
But when children become young adults and enter college or the workforce, it can at times be difficult for them to obtain the same level of support they received throughout their years of elementary and secondary education. If in college, young adults can get accommodations, if they choose to seek them, but it is often the case that more self-advocacy is needed on their part. In addition, when young adults no longer want extra support, parents cannot force college-aged children to receive such interventions.
Coping with Transitions
Whether young adults find a job immediately after high school, work throughout their college years, or complete college and then join the workforce, this period still marks a major transition for most individuals. When symptoms of ADHD, even when they are managed well, are also present, the transition is likely to be even more difficult.
Parents can help increase the likelihood of their teen having a successful transition into adulthood by encouraging and offering support as they ease into adult responsibilities, assisting them in finding support when necessary, and helping them learn and discover tools they can use and develop on their own.
The following suggestions may be helpful to parents helping their teens and young adults settle into college, a career, or adulthood in general.
Young adults may benefit from therapy, ADHD/executive functioning coaching, or other counseling during this period. Not only can professional help be beneficial while learning to manage feelings surrounding this period of transition, assistance with practical tools for time management and organization—from someone other than parents and caregivers—can be vital. Individuals new to the workforce, for example, may find it necessary to learn how to employ job-related time management and organizational tools.  In the same way it may have taken time to understand how to keep track of assignments, study for exams, and do well in school, it will likely also take time to understand being successful in a job requires a new set of skills. This can be more challenging in the workplace, however, because deadlines are not always as concrete, making it difficult to know how to prioritize. This is especially true when it is necessary to work on multiple projects at the same time.
Young adults may benefit from learning to use tools they can implement themselves. These kinds of tools might include online money management systems for budgeting and keeping track of bill due dates, funds, and so on; calendar apps to keep track of appointments; task list apps to keep track of chores such as laundry; or timer apps to ease transitions between work and leisure time.
Encourage young adults to get involved in activities on campus or in the community. Community involvement is a great way for young people to develop strong connections to their community and build lasting friendships. For many teens, especially those who attend college or begin work in a new area, this period can be isolating, and this may be even more the case for those who do not attend college. Finding structured activities to participate in outside of work is often a great way to prevent isolation and reduce feelings of loneliness.
Encourage your young adult to develop fulfilling hobbies of interest and achieve a good work-life balance. Many young adults may have spent the previous several years with most of their days fully scheduled, between attending school, meeting with tutors, and doing homework. Thus, they may have spent little time doing things out of pure enjoyment. Some young adults find jumping into the workforce to be similar—they may work long hours, evenings, and/or weekends. In the little free time available, many young adults spend time engaged in passive activities that may help them unwind but are less likely to provide them with long-term satisfaction. Young adulthood can be a great time to take up a sport, photography, art, or a similar activity that helps generate life satisfaction outside of work.
This list of ideas is not exhaustive. Rather, it is simply intended to provide a few suggestions and help you begin thinking about the steps young adults with ADHD and their parents can take to make the transition into adulthood easier. A qualified counselor can provide further guidance.
© Copyright 2017 GoodTherapy.org. All rights reserved. Permission to publish granted by Carey A. Heller, PsyD, therapist in Bethesda, Maryland
The preceding article was solely written by the author named above. Any views and opinions expressed are not necessarily shared by GoodTherapy.org. Questions or concerns about the preceding article can be directed to the author or posted as a comment below.