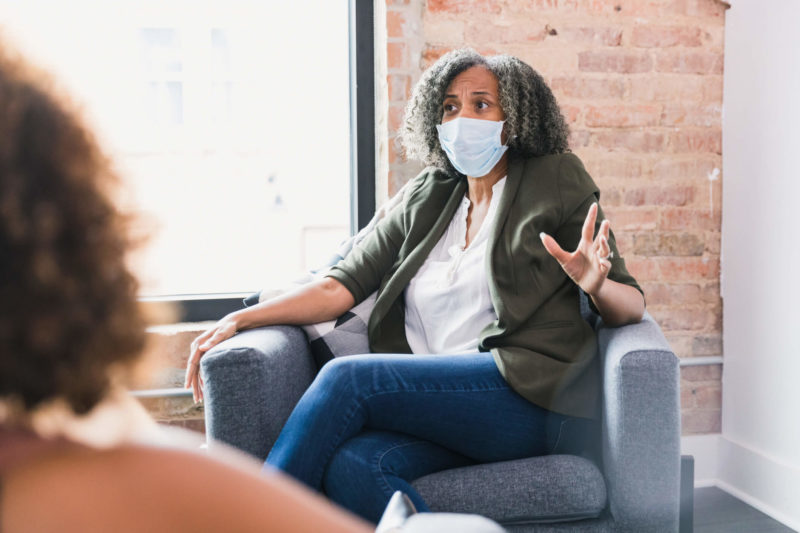 by Fabiana Franco, PhD, DAAETS
Psychological First Aid (PFA) as First-Line Defense Against the Negative Mental Health Impact of COVID-19
During a crisis such as the COVID-19 pandemic, broad swaths of the population incur psychological damage at a very rapid rate. The scale and speed of the pandemic mean that the typical psychological interventions are likely to be overwhelmed. "Psychological First Aid" can be a first-line defense during a population-wide crisis.
The World Health Organization recommends Psychological First Aid as a useful technique that can help many people in a time of crisis." (1)
Who is most in need of Psychological First Aid
Those Working on the Front Lines
We already know that the pandemic produces emotional distress in the population, with pronounced increased stress for health care workers and first responders. (2) 
Healthcare clinicians and first responders are experiencing excessive overload with not only the rapidly increasing cases but with real threats to their health and the health of their families.
Those with Pre-existing Mental Health Conditions
People who already have an anxiety disorder or other mental illness are an additional risk group. Increased stress can aggravate the ability of people already facing anxiety and other disorders to function during and after the pandemic. In a recent article, Galea, Merchant, and Lurie (2020) highlight that, while needed, the COVID-19 health regulations being enforced have potentially harmful results. Specifically, social distancing has the potential of exacerbating pre-existing symptoms. From bouts of loneliness increasing in frequency to the escalation of dangerous abuse, neglect, and harm cases, the alarming effects of these necessary precautions must be addressed early on (3).
Children
Children, and particularly children of front-line workers, compromise an additional risk group. Children experience major disturbance of their routine, loss of social support networks, and confusion as they see that their parents, teachers, and other significant adults in their lives are essentially powerless to prevent serious harm.
What about debriefing?
The procedure known as debriefing was intended to reduce the incidence of post-traumatic stress disorder (PTSD) after a major disaster. The rationale behind debriefing was to promote emotional processing by encouraging recollection of the event. 
Debriefing originated in the military and was intended to reduce distress after a mission as well as boost morale. 
A Cochrane Systematic Review found that debriefing was found to be at best, ineffective, and at worst, harmful. (4) Psychological First Aid (PFA) was designed to address the shortcomings of debriefing. Unlike debriefing, PFA is not compulsory and can be carried out over multiple sessions. It connects people in distress to additional services, seeks to avoid pathologizing normal reactions to stress, provides practical support for stress, and seeks to improve self-efficacy.
Psychological First Aid (PFA) is the state-of-the-art response to crisis
Psychological First Aid (PFA) is defined by the World Health Organization (WHO) as the supportive response given to victims of crisis (5). The first responders to a tragedy would not only help the victim by providing practical support such as addressing resource and safety needs, but also provide a listening ear.
PFA is not a form of counseling but can be provided immediately by professionals such as rescue response teams, psychologists, social workers, physicians, paraprofessionals, and others. The idea is that care is provided in a humanistic and caring manner (Inter-Agency Standing Committee, 2007).
The rationale underpinning PFA is that early intervention in a crisis can prevent or inhibit the development of more difficult effects. This is especially important for individuals dealing with preexisting mental health concerns that may become more severe when under duress. (6) Responding to the pandemic that applies intense external pressures while disrupting our daily routines requires a timely response. (7)
We have learned from previous natural disasters that the effects on mental health can be dire for many years after the natural disaster has already been controlled. 
Psychological first aid enables us, as professional psychologists and as a society, to be proactive about mental health during the pandemic. (8)
Fast-moving, rapid response is the order of the day. In Malaysia, for example, one innovative group developed and implemented a remote Psychological First Aid (rPFA) module to help front-line healthcare staff cope with psychological distress and avoid burnout while limiting face-to-face consultation to reduce the risk of transmission of Covid-19. (9)
Caveat – empirical evidence still required
While Psychological First Aid is recommended by the World Health Organization (WHO), empirical evidence for PFA is still sparse. PFA has become widely popular without testing. It can be said that, while Psychological First Aid is based on research, it is not proven by research. This is true even for high-risk groups, such as health care workers: "Scant literature exists on the use of PFA for nurses." (10)
Like much of the healthcare world during the COVID-19 pandemic, mental health practices need to adapt quickly to meet changing needs. As data accumulates, we will be able to gather empirical evidence to support best practice for PFA.
Where you can learn more
A good starting point is the WHO's Psychological First Aid: A guide for field workers. (11)
The National Child Traumatic Stress Network offers a six-hour online course for Psychological First Aid. This six-hour course puts the participant in the role of provider in a post-disaster setting. The course is for individuals new to disaster response who want to learn the goals of PFA. Additional details about the course can be found here.
The John Hopkins Center for Public Health Preparedness offers online psychological first aid training: Mental Health Preparedness — Psychological First Aid.
The National Association of County and City Health Officials offers online courses for professionals in a health care, public health, or emergency management role who may face responding to a disaster:  Public Health Preparedness — Building Workforce Resilience through the Practice of Psychological First Aid — A Course for Supervisors and Leaders
References
(1) Minihan, E., Gavin, B., Kelly, B. D., & McNicholas, F. (2020). Covid-19, Mental Health and Psychological First Aid. Irish Journal of Psychological Medicine, 1-12.
(2) Qiu, J., Shen, B., Zhao, M., Wang, Z., Xie, B., & Xu, Y. (2020). A nationwide survey of psychological distress among Chinese people in the COVID-19 epidemic: implications and policy recommendations. General psychiatry, 33(2).
(3) Galea, S., Merchant, R.M., & Lurie, N. (2020). The Mental Health Consequences of COVID-19 and Physical Distancing: The Need for Prevention and Early Intervention. JAMA Internal Medicine, 180(6): 817–818. 
(4) Rose, S. C., Bisson, J., Churchill, R., & Wessely, S. (2002). Psychological debriefing for preventing post traumatic stress disorder (PTSD). The Cochrane Database of Systematic Reviews, 2002(2), CD000560. https://doi.org/10.1002/14651858.CD000560
(5) Inter-Agency Standing Committee (IASC) (2007). IASC Guidelines on Mental Health and Psychosocial Support in Emergency Settings. Geneva: IASC.   http://www.who.int/mental_health_psychosocial_june_2007.pdf
(6) Minihan, E., Gavin, B., Kelly, B., McNicholas, F. (2020). Covid-19, Mental Health and Psychological First Aid. Irish Journal of Psychological Medicine, 1-12.
(7) Balkhi, F., Nasir, A., Zehra, A., & Riaz, R. (2020). Psychological and Behavioral Response to the Coronavirus (COVID-19) Pandemic. Cureus, 12(5), e7923. https://doi.org/10.7759/cureus.7923
(8) Shah, K., Kamrai, D., Mekala, H., Brinder, M, Desai, K., and Rikinkumar, P.S. (2020). Focus on Mental Health During the Coronavirus (COVID-19) Pandemic: Applying Learnings from the Past Outbreaks. Cureus 12(3): e7405. doi:10.7759/cureus.7405
(9) Francis, B., Rizal, A. J., Sabki, Z. A., & Sulaiman, A. H. (2020). Remote Psychological First Aid (rPFA) in the time of Covid-19: A preliminary report of the Malaysian experience. Asian Journal of Psychiatry.
(10) Corcoran, Christine M. "Use of Psychological First Aid for Nurses." Nursing Economics 38.1 (2020).
(11) WHO ( 2011) Psychological First Aid: A guide for field workers. https://apps.who.int/iris/bitstream/handle/10665/44615/9789241548205_eng.pdf;jsessionid=E437A8B252C3B3FA9945A4CB819C73B8?sequence=1 
(12) Haider, I. I., Tiwana, F., & Tahir, S. M. (2020). Impact of the COVID-19 Pandemic on Adult Mental Health. Pakistan Journal of Medical Sciences, 36 (COVID19-S4), S90–S94. https://doi.org/10.12669/pjms.36.COVID19-S4.2756
© Copyright 2020 GoodTherapy.org. All rights reserved. Permission to publish granted by Fabiana Franco, PhD, DAAETS