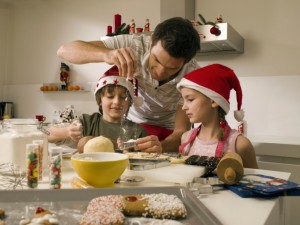 If you are in the midst of divorce or recently got divorced, you may be emotionally bruised and fearful this holiday season. It would be reasonable that you'd feel loneliness, self-doubt, self-judgment, and ruefulness about missing out on holiday celebrations with your children and former extended family. Combine the pain of divorce with the one holiday season you are expected to be "joyous" and "merry," and you've got internal angst.
Divorce is life changing no matter what time of year it is. But particularly as days grow shorter, cloudier, and snowier, when families are normally connecting rather than shuffling children from parent to parent, it's no wonder many people experience feelings of depression, sadness, anger, tension, and isolation
Even if you wanted your divorce and believe it's the right thing, you may still be moving through the holiday season with an unwanted hangover of negative emotions. A therapist can help you process these emotions and move toward a more peaceful state, but there are things you can do on your own as well. Everyone reacts to divorce differently, and everyone recovers in different ways and at different rates.
To get you through the holiday season, here are some tips that may prove helpful:
Do not make large decisions: The holidays are stressful enough. Now may not be the time to hire a new divorce attorney, go to mediation, ask for more child support, or move out of your custodial home. As necessary as those choices may be, perhaps leaving them until early next year would be best for your stress levels.
Reduce tension with your ex: It might mean biting your tongue or faking a smile, but for the sake of your children and your well-being, try to be pleasant and business-like. Even mustering a "happy holidays" to your ex is a step. Being pleasant goes a long way toward reducing tension, and it's better for your children.
Self-care: If your self-care routine has been in remission, rekindle it. Take walks, bubble baths, read a book, paint, talk to a friend, or learn a language. Anything that feels like an investment in your mental health is self-care.
If you don't have anything nice to say, say nothing: Even if you think your ex was a manipulative, cheating, lying rat, do not allow negative words to exit your mouth, especially within earshot of your children. Not only does negativity breed negativity, it creates internal conflict within your children because they feel caught in the middle. Stop the gossip to your mother and your friends, and give yourself a season of peace by not engaging in criticizing your former partner.
Have some fun: When was the last time you did something fun? It may have been a while. Treat yourself to the gift of laughter, silliness, and goofiness. It's the perfect present for divorcees and is necessary for healing.
Start a new tradition: If you've always wanted to cut down your own tree, bake cookies for a cookie exchange, or volunteer your time, this is the perfect time to start a new tradition. You can experience the holidays in any way you want now.
Connect with your family: One thing that helped me during my divorce was reconnecting with family. Family of origin can provide you with a safe place to be nurtured, to have some fun, and to feel loved. Consider spending more time this season with your parents and siblings, if possible. (If not, close friends often feel like family.) Get to know your nieces and nephews a bit better, or reconnect with cousins you haven't seen in a while. The support you get back can be just what you needed.
I wish you peace and healing this holiday season.
© Copyright 2015 GoodTherapy.org. All rights reserved. Permission to publish granted by Angela Avery, MA, LLPC, NCC, GoodTherapy.org Topic Expert Contributor
The preceding article was solely written by the author named above. Any views and opinions expressed are not necessarily shared by GoodTherapy.org. Questions or concerns about the preceding article can be directed to the author or posted as a comment below.