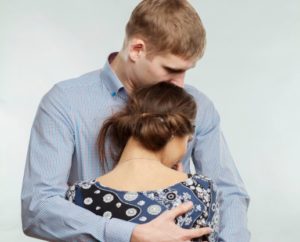 Experiencing the death of someone you love can be difficult and consuming. In the wake of loss, grieving often starts to seem like it's full-time job and something which affects every part of you. This may be a time when you need people the most, yet connecting with people seems bound by new context and may not feel quite like it used to. Grief can turn your life upside down, and your support system and social network may undergo changes that feel difficult and messy in the midst of bereavement.
Here are four common and absolutely normal challenges people often experience when simultaneously navigating loss and trying to relate to others:
1. Your Support System Will Surprise You
Often, the people who show up and truly step into the puddle of grief with you will not be who you expect. Some of your closest friends and family who have been through everything with you and are there at a moment's notice to discuss a relationship issue, babysit your children, or hash out a life dilemma will not be able to support you during bereavement as they do in other aspects of your life. Others, perhaps an old friend you drifted away from or a former neighbor you always loved but were never that close with, will step up and hold your hand, understand the complexities and grooves of living with death, and offer psychological holding that may make all the difference in the world.
2. People Will Disappoint You

abandonment
and hurt. For many, life feels lopsided and even
frightening
after the death of someone close, and it can really seem like everything is falling off the rails when the people you are closest to are not there.
Feeling additional pain while living with grief is really hard, and this can seem like the worst time for people to bail on you. This is also, unfortunately, normal. Who is and is not there for you will depend greatly on others' ability to hold and experience grief themselves. Bereavement is not the stuff of everyday life, which means it's not easy to predict who will be able to show up before it happens.
3. Your Grief Is a Mirror for Everyone
Loss is unavoidable—we will all invariably lose the people we love the most—and this inherent vulnerability is difficult for many people to face and accept. If it can happen to you, it can happen to them, and for some that notion is terrifying. Dealing with things like the logic of life and death affects people's emotions and puts fears and unconscious beliefs in the driver's seat. Looking straight into a loved one's pain, knowing nothing can make it go away, and accepting that it is not within anyone's control is not something everyone is prepared to do.
Facing loss through someone else requires going very deep inside oneself, and a lot of people may not have the tools to do that. The degree to which a person can tolerate grief may align with how much he or she will be able to show up for you. Conversely, those who have walked this walk—those who inherently know the complexities and layers—may become a great respite. The reason for this phenomenon is …
4. You Are Now Part of a Club

There are certain things people will never really understand until it happens to them: having a child, running a Relationships are hard, and they can be more difficult during periods of duress such as bereavement. This is the time to be especially gentle with yourself and to seek out additional sources of support.marathon, getting divorced, and so on. Having a loved one die is near the top of that list. While there are certainly people who have touched their own sorrow or are conscious and empathetic and really understand what you are going through, most people who truly "get it" will be those who have experienced their own loss. This means the people you feel closest to and understood by will change.
This does not mean people you were close with before your loss are not needed or integral to your "new" life. What it does mean, however, is who you know yourself to be has changed permanently. Losing someone can give you a new way of walking in the world and a new pair of eyes to see the world. This takes months and years to integrate, and it is hard work, but also immensely rewarding and powerful if you stick with it.
Be Kind to Yourself After a Devastating Loss
Relationships are hard, and they can be more difficult during periods of duress, such as bereavement. This is the time to be especially gentle with yourself and to seek out additional sources of support. Find a therapist. Join a grief group, even if you think it is cliché, because for many such groups are a safe place for enormous healing. Take in stories of those who have experienced loss through books, movies, or others means.
Getting through the ripe and devastating pain of grief and learning to walk in the world again is your work right now. Recognize that everything you are experiencing is a process and grief is truly on its own timeline. Healing and reorganizing your relationships will come in time and cannot always be done immediately. Do what feels right and true each day, knowing if you give it time you will understand and work through the changes in who you relate to and what you need from others. Finally, know every messy piece you are dealing with and facing is normal and common, even if it feels hard and uncomfortable.
© Copyright 2015 GoodTherapy.org. All rights reserved.
The preceding article was solely written by the author named above. Any views and opinions expressed are not necessarily shared by GoodTherapy.org. Questions or concerns about the preceding article can be directed to the author or posted as a comment below.