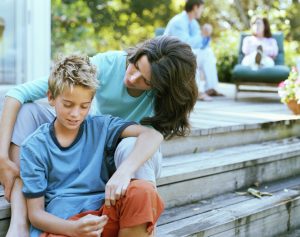 The more people on the autism spectrum I meet, the more I learn about my own biases and assumptions about them. Despite many years of working with families and raising my own autism-affected son, I am amazed at how much remains misunderstood. Perhaps that's largely due to the nature of autism spectrum: what's on the outside often doesn't match what's on the inside.
I recently met a 10-year-old boy who types on an iPad to communicate. He cautioned his teacher not to listen to his actions, but rather his words. For example, when attending a social gathering, he would walk in circles and make verbalizations that sounded like whining. This led others to assume he was unhappy or didn't want to be there. He was quick to correct them by typing that this was how he regulated himself in situations he found overstimulating. Once he had found a way to communicate, he wanted to make sure others knew that what his actions seemed to communicate often did not match the way he felt.
This got me thinking: If he feels misunderstood, how many other families are making the same mistakes with their loved ones affected by autism? Here are the top three things I've seen people do that those on the spectrum have indicated they do not like:
1. Talk about them as if they aren't there.
First, let me say I am as guilty of this as the next parent. There were years when my son was younger when I assumed he didn't understand, so I often spoke about him in front of him. I did this with teachers, therapists, family members, and friends. Many of us make assumptions about people based on their responses to us. When a person doesn't make eye contact and gives no indication they've heard you, we may assume they don't understand or aren't paying attention. That isn't necessarily accurate.
This practice is also difficult to break because many kids on the spectrum are always around due to their need for constant supervision. So I've started either waiting to have conversations I don't want my son to hear, or I've included him by telling him I want to discuss a certain topic with a teacher or therapist.
For example, telling your child, "Jimmy, Mrs. Jones and I are going to discuss your progress in class and if you'd like to add anything, I want you to let me know however you can. I know you will be listening, so I want to respect that."
If Jimmy really can't understand you, you've lost nothing. But if he can, you just showed him tremendous respect, which can only benefit your relationship.
2. Assume a lack of response is defiance.
Many people with autism spectrum issues have poor motor planning ability. Motor planning is different than motor skills. A person may have excellent motor skills (i.e., ability to grasp and use a pencil correctly) but may not be able to motor plan what they want to write (i.e., their name).
Perhaps the greatest lesson I have learned from my son and from the people I work with in therapy is to never judge their abilities based on what they show me.
So, the child who has been told eight times to get out of the tub just sits there, and the parent gets annoyed at the "defiant behavior." This was my own experience with my son. When I learned about his poor motor planning, I realized he couldn't always get his body to do what he wanted it to do. Now, instead of asking him to stand up, I remind him to bend his knees in order to place his body in such a way that he can stand up. A light touch on his knee can also help him figure out where his body is in space.
This was a mind-blowing revelation. I began relating it to other things I knew he could do but, for some reason in that moment, wasn't able to follow through on.
3. Underestimate their abilities.
Perhaps the greatest lesson I have learned from my son and from the people I work with in therapy is to never judge their abilities based on what they show me. So often, I assumed my son didn't hear me when I asked a question, due to his lack of response. Giving him the space and patience of more wait time (without asking the question repeatedly) solved this issue. He now responds more easily, and with much less frustration.
I know a 20-year-old woman who spent most of her life unable to communicate her wants and needs effectively. She recently learned how to type on an iPad, and it turns out the "low IQ" people assumed she had isn't so low after all. She is learning how to share her feelings, thoughts, and even her goals with the people who love her, people who had made assumptions about her based on her output. She is an amazing, talented artist who recently had her paintings featured in a local gallery.
It's so important that, as therapists, teachers, and parents, we make an effort to understand people with autism spectrum issues from their point of view. One of my favorite quotes, attributed to Albert Einstein, puts it best: "Everybody is a genius. But if you judge a fish by its ability to climb a tree, it will live its whole life believing that it is stupid."
I started making this shift with my son by telling him I knew he was smarter than he could convey to me. That was met with a huge hug and a big smile.

The preceding article was solely written by the author named above. Any views and opinions expressed are not necessarily shared by GoodTherapy.org. Questions or concerns about the preceding article can be directed to the author or posted as a comment below.