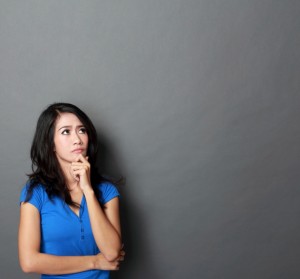 When working with people in therapy (or even talking with friends), three words function as a red flag when they're used frequently, peppering every statement or explanation like a kind of punctuation.
"I don't know."
Some people use this phrase so often they appear unable to finish a sentence without it. It's become a habit. They may say it as a means of demonstrating innocence, lack of clarity, or overwhelm, but often what it conveys when overused is the inability to take ownership of the thing they are discussing. "I don't know" becomes the means by which they absolve themselves of responsibility, as if to say, "If I DID know, I'd do something about it."
Obviously, we all find ourselves in situations where we have questions, when there are things we truly don't understand or don't have enough information about in order to draw appropriate conclusions. Our job is then to FIND the answers to those questions and to determine what it is we have control over so we feel a little less adrift. The phrase "I don't know" often signals a passivity, a willingness to let a situation have the upper hand and the choice to simply sit back and wait to see what happens next. It can represent one's decision to identify as the victim, or it can serve as a claim of ignorance.
Ignorance is not always bliss. Unfortunately, it often promotes remaining stuck.
In the therapy room, when it becomes clear that a person's catchphrase is "I don't know," I often find myself challenging this in one of two ways:
1. I ask the person to refrain from using that phrase during our sessions from that point forward.
Just shifting your language from "I don't know" to "I'll find out" can change the way you feel about yourself and your situation.
We laugh at first as people begin to catch themselves in the act of saying those three words. It creates an awareness. Often, people don't know they're doing it. As they become more cognizant, words are spoken with more accuracy: "I DO know, but I don't like it," or, "I know how it works, but I don't know what to do about it." Then we have a space in which to work. The issue hasn't been shoved under the rug. We end up with something we can sink our teeth into, and people begin to understand what it feels like to try to uncover what it is they might be able to do to either change their circumstances or how they react to them.
2. I might also respond with the question, "Is it possible that you DO know?" or, "Are you being honest with yourself and with me about that?"
Often, after a little bit of thought (and maybe some frustration as well), people find a way to rephrase what they said. They begin to take more ownership of what's happening and how they choose to describe it. We end up with a scenario more grounded in fact and reality. The situation becomes less "out of the person's hands" than originally assumed.
"I don't know" is a kind of cognitive distortion that promotes the idea of relinquishing control. Just shifting your language from "I don't know" to "I'll find out" can change the way you feel about yourself and your situation. We don't always have to have the answers, but if we really want to know them, we do have to come up with a plan to discover them and see that plan through.

The preceding article was solely written by the author named above. Any views and opinions expressed are not necessarily shared by GoodTherapy.org. Questions or concerns about the preceding article can be directed to the author or posted as a comment below.