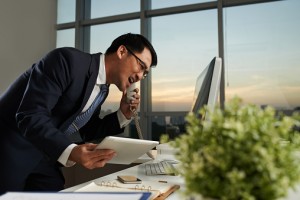 I've noticed an increasing number of people in therapy presenting with some form of anger issue. While troubling and potentially dangerous in personal relationships, unchecked anger in the workplace can cost you your job. Many work environments are rife with triggers for anger, and easy ways to decompress are not always obvious or accessible. Here are a few pointers and reminders to keep in mind next time you're in the conference room and feel like you're transforming from Bruce Banner into the Hulk.
1. Let Go of the Guilt
It's easy to feel guilty about something getting us angry. We say things like, "I know this shouldn't bother me," or, "I shouldn't let this person get to me like this."
Not to further dictate how you should or shouldn't feel, but anger is your primitive brain's natural response to an irritant in your environment. Something in your brain is saying, "This needs to stop right NOW!" What follows is a series of messages through the super expressway of your neural circuitry that sends your brain into high-alert mode. This also shortchanges the resources available to your prefrontal cortex (the tiny area of your brain that has evolved to control your executive functions).
So, when something pushes your buttons, your sympathetic nervous system gets ready to go out and start kicking butt and taking names, and the part of your brain that normally says, "Can't we work this out in a nice way?" is essentially off-line.
The bottom line: If something makes you angry, just accept it and move on to figuring out how to deal with it.
2. Master Self-Soothing
When you feel your blood starting to boil, do something to calm your body so that it understands you are not actually in the middle of a major crisis. Really, nothing at work is that serious. Even if you handle life-or-death situations on the job, is anything serious enough to want to strangle a coworker over? No.
Even if you handle life-or-death situations on the job, is anything serious enough to want to strangle a coworker over? No.
Try different strategies to calm yourself down and note the most effective ones. If you can get outside and take a short walk around the block, that can do a lot to help restore your sense of power, control, and calm. Keep a picture of someone you love on your phone, and look at the photo when you start feeling upset (assuming that person isn't upsetting you today). Close your eyes and take a few slow, deep breaths. Sip some cool water and notice how it feels in your mouth and going down your throat.
3. Note Your Triggers
People at work, especially supervisors, often remind us of other people in our families. Consequently, if your boss makes a comment to you about something that needs to be corrected on a report and uses a certain word that raises red flags in your mind, it may hearken back to a time long before you started working for that person.
Try keeping a journal of the incidents that bother you most, and notice if those incidents bring back unpleasant memories or if you associate them with anything that seems out of place. This information can be helpful in therapy or even just for your own reference.
What seems to be the most troubling about anger at work is we often feel blindsided by it, and it's an emotional response we've been conditioned to view as dangerous. Anger can be a helpful way to identify things that aren't working for us or that need to change, and often provides us with energy to make needed changes. The key is to master the art of self-soothing so that we can go from the visceral reaction to what makes us angry and engage with our executive functions to problem-solve.

The preceding article was solely written by the author named above. Any views and opinions expressed are not necessarily shared by GoodTherapy.org. Questions or concerns about the preceding article can be directed to the author or posted as a comment below.