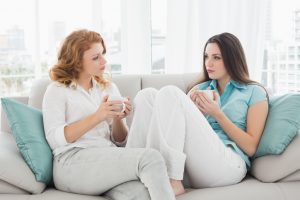 Few things are more upsetting than getting into a heated argument with your partner. Many couples are baffled by disagreements that seemingly come out of left field, leaving them feeling blindsided and wounded. A seemingly innocent remark can set the stage for a major blowup that could last hours, days, weeks, or longer.
Feeling misunderstood, wrongly accused, or judged by your partner can be very painful. Couples who experience unresolved negative, repetitive, and intense conflicts often find themselves at a therapist's office. They are looking for answers. They have exhausted all their resources. Why is it so difficult to get your point across without all the negativity?
Some couples tend to believe conflict is a sign their relationship is flawed, doomed, or hopeless. The truth of the matter is happy, satisfied couples argue just like unhappy, dissatisfied couples. The trick to a happier relationship during conflict has little to do with what you are arguing about, but rather how you conduct yourself. Even when upset or angry, happy couples tend to work hard to respect their partner, have a sense of humor, and listen to a different point of view during a disagreement.
These two simple points can make a difference in the way you handle conflict:
1. Recognize That a Conflict Is a Conversation
When an argument ensues, it is helpful to recognize that your conflict is simply a conversation that lacks agreement. It is nothing more than a dialogue. Try to think of the conflict with your partner as an opportunity to understand each other better. Start conversations on a positive note, remain calm, and stick to the facts.
Taking responsibility for your actions will go a long way in restoring the peace and helping your partner feel understood.
Being able to regulate your emotions and state your position objectively will help your partner feel more respected, validated, and willing to listen to your point of view. Taking responsibility for your actions will go a long way in restoring the peace and helping your partner feel understood.
Take turns being a speaker and listener without interrupting each other. Keep the dialogue free from criticism, blame, and defensiveness. Learn to compromise and agree on a different strategy to try in the future.
2. Stop Taking It Personally
Let's face it: conflict in a close or intimate relationship is inevitable. Naturally, two individuals with two different life experiences will view the world in different ways. Although you may not see eye to eye, remember that one person's perspective is just as valid as another's. Each position has a certain element of truth in it.
A difference of opinion does not diminish who you are or invalidate your ideas. Don't let an unkind remark during a heated argument damage your self-esteem. Try to listen to a complaint non-defensively and decide if there is an element of truth in it. If the complaint is valid, acknowledge it. Looking at issues in this way will promote personal growth.
Arguments and disagreements are a reality of life. All meaningful relationships have them. Realizing conflict is simply a conversation and not taking it personally are a couple ways you can resolve differences amicably.
© Copyright 2016 GoodTherapy.org. All rights reserved. Permission to publish granted by Ellen Schrier, MS, LPC, NCC
The preceding article was solely written by the author named above. Any views and opinions expressed are not necessarily shared by GoodTherapy.org. Questions or concerns about the preceding article can be directed to the author or posted as a comment below.