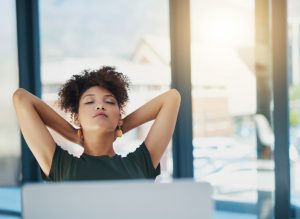 A busy work week can lead to increased stress over time. Even with the best intentions for productivity at the start of a work day, many people may find themselves heading home with thoughts of uncompleted tasks, not understanding where the time went.
This is a common occurrence, and research shows most people spend about 47% of their time thinking about something other than what is right in front of them. This amount of distraction can result in decreased focus and higher levels of stress. Training your brain to focus on the present moment through mindfulness may be a good solution.
Successful mindfulness practice has been proven to reduce stress, boost focus, and help you to find more satisfaction in relationships with others. If you already feel overwhelmed at the thought of adding yet another activity to your already crammed schedule, don't stress it. Here are 10 ways you can easily fit mindfulness practice into a regular work day:
1. Practice Mindfulness in the Morning
Try introducing mindful moments into some of your first actions for the day, such as when you start getting ready or when you first walk outside. Some studies have found thinking about a stressful day ahead can trigger the fight or flight response, so doing one or two mindfulness exercises before you leave for the day can help ease that stress reaction.
2. Practice Mindfulness on Your Daily Commute
A morning commute can be a great time for mindfulness practice. If you drive, take a moment in traffic to safely notice the details around you. What does the car in front of you look like? Say this out loud to yourself. How does the steering wheel feel in your hands? If you take public transit, take a deep breath and notice how the seat beneath you feels. See the color and texture of it. What sound does the bus or train make when it starts and stops?
3. Practice Mindfulness While Drinking Coffee or Tea
If you're the type who chugs coffee or tea while checking email first thing in the morning, then this might be a good time to pause and take a moment for mindfulness. Research shows too much multitasking isn't doing you any favors. Instead, sit down with your preferred morning beverage and notice how it feels in your hands. Feel the temperature through the container. Inhale the aroma, then slowly breathe it back out. How does the color of your drink contrast or blend in with its container?
4. Practice Mindfulness While Taking a Break
Make a point to take short breaks from work a few times each day. Taking a quick walk or grabbing a snack can help refuel your energy and productivity level. Studies have found employees who take frequent breaks to do something they enjoy return to their tasks with more stamina and feel more energized and motivated throughout the day. Breaks can also be helpful when you get stuck with a problem you might be struggling to address. Taking a breather can allow you to return with fresh eyes or a new perspective.
If you decide to go for a walk, go slow and feel the fresh air on your face. Notice the sounds around you. Are you in a park or courtyard? What color are the trees right now?
5. Practice Mindfulness While Browsing Social Media
It's not just FOMO that might make you feel unhappy after spending a lot of time browsing through your Facebook news feed. Findings from a University of Pittsburgh study suggest the more time people spend on social media, the more likely they are to experience depression. Social media can sometimes make you feel more isolated, can expose you to cyberbullying, and can sometimes distort your perception of time. Try not to stay logged into your social media accounts all the time, so when you do decide to check Facebook or Instagram, you must stop and log in.
Before logging in, take a moment to ask yourself what you're seeking from this online interaction. Before posting anything, pause and evaluate your intentions for the post. If you're already feeling defeated, calling a friend or going for a walk with a loved one might be more likely to improve your mood.
[smartslider3 slider=4]
6. Practice Mindfulness in the Presence of Others
If your day involves being around other people for much of the time, you can still find moments for mindfulness. If you're in a work meeting, lay your hand flat on the surface in front of you. Notice how the table or desk feels under your palm. In an office or house full of other people, take small moments to practice mindfulness—either alone or as a group activity.
7. Practice Mindfulness in Meditation
Many people practice mindfulness through meditation. Quieting your mind can be one of the hardest parts of this practice. In mindfulness meditation, focus your mind on the present thought. If you find your thoughts drifting to other things, take notice of those thoughts—without reaction or judgment—before redirecting your attention back to the present.
If you're having trouble getting started, try simply closing your eyes and focusing on your breathing. Count each deep breath as you check in with your body. Notice where you are carrying tension. Focus your breaths on that area.
8. Practice Mindfulness While Eating
Physical health can contribute in many ways to mental health and well-being. Practicing mindfulness while making decisions about what you put in your body can not only help you feel better but can aid in creating healthier habits in your diet. Being in tune with your body and eating while in a relaxed state can also support good digestion.
Arrange your food in an appealing way before beginning to eat, taking a moment for each bite to notice the taste, texture, and aroma of your meal or snack. Notice the transition in your body as you go from feeling hungry to satisfied.
9. Practice Mindfulness in Self-Care Activities
Meditation and mindfulness can be a part of your self-care plan, but it can also be beneficial to find ways to work mindfulness into your other self-care activities. Think about what would most benefit your mind and body, and then choose a self-care activity thoughtfully.
During your chosen activity, pay attention to your senses. What do you feel? What can you hear? If you find your mind wandering, take note of your thoughts and direct them back to your self-care activity.
10. Practice Mindfulness Before You Go to Sleep
A lack of sleep—specifically good, restful sleep—can raise your stress level and take a toll on your mind and body. If your mind is busy, and you're having difficulty quieting it at night, a moment of mindfulness might help.
Try a few deep breathing exercises or a guided meditation before settling into bed. As you lie in bed, focus on relaxing one section of your body at a time. Concentrate on your breathing until your mind feels quiet enough to welcome sleep.
References:
Carter, R. H. (2016, April 25). How to practice mindfulness throughout your work day. Retrieved from https://hbr.org/2016/03/how-to-practice-mindfulness-throughout-your-work-day
Chowdhry, A. (2016, April 30). Research links heavy Facebook and social media usage to depression. Retrieved from https://www.forbes.com/sites/amitchowdhry/2016/04/30/study-links-heavy-facebook-and-social-media-usage-to-depression/#7cda20744b53
Davis, D., & Hayes, J. (2012, July & aug.). What are the benefits of mindfulness. Retrieved from http://www.apa.org/monitor/2012/07-08/ce-corner.aspx
Gelles, D. (2017, April 19). Meditation for real life. Retrieved from https://www.nytimes.com/column/meditation-for-real-life?action=click&contentCollection=Well&module=ExtendedByline®ion=Header&pgtype=article
Why taking a break at work makes you a better employee. (2015, September 18). Retrieved from http://www.health.com/home/workday-breaks-help-employees-reboot-researchers-say
© Copyright 2017 GoodTherapy.org. All rights reserved.
The preceding article was solely written by the author named above. Any views and opinions expressed are not necessarily shared by GoodTherapy.org. Questions or concerns about the preceding article can be directed to the author or posted as a comment below.