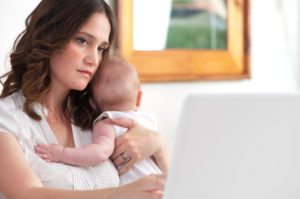 One in five women with postpartum mood issues (PPMD)—a group of diagnoses that includes conditions such as postpartum anxiety and postpartum depression—do not tell their health care provider.
Postpartum mood issues are common and can be the result of hormonal shifts, lifestyle changes, trauma during pregnancy and childbirth, inadequate help, and similar factors. Most estimates suggest 10-20% of women experience PPMD, but in this study, 51% of participants experienced PPMD.
Women Commonly Avoid Help for Postpartum Issues
The study involved an online survey of 211 primarily white, middle-class women in relationships. The women were from the southeastern United States and had given birth within three years prior to the survey. The survey included several measures of mental health, including the Maternity Social Support Scale, the Depression, Anxiety and Stress Scales-21, the Perceived Barriers to Treatment Scale, and various questions about PPMD.
Twenty-one percent of women who had PPMD symptoms did not disclose these symptoms to a health provider. Various public health organizations increasingly urge medical providers, lactation consultants, doulas, and other experts who work with postpartum women to ask about symptoms of PPMD.
The study's authors say their results suggest at least some women deny having symptoms even when they are asked. This refusal to discuss symptoms with a health care provider may be a significant barrier to treatment.
Why Don't Women Tell Providers About Postpartum Issues?
The study also asked women about perceived barriers to treatment. About half of participants said they faced at least one treatment barrier that made seeking help "impossible" or "extremely difficult." More than a third said they had inadequate social support.
Unemployed women, those with a history of mental health issues, and those who reported the most severe symptoms were more likely to say they faced treatment barriers.
The study's authors say providers need to continue to destigmatize the wide range of reactions women have after giving birth. This might enable women to comfortably seek support, particularly when they have inadequate support systems.
References:
One in five women with postpartum mood disorders keep quiet. (2017, August 24). Retrieved from https://www.sciencedaily.com/releases/2017/08/170824101816.htm
Prevatt, B., & Desmarais, S. L. (2017). Facilitators and barriers to disclosure of postpartum mood disorder symptoms to a healthcare provider. Maternal and Child Health Journal. doi:10.1007/s10995-017-2361-5

The preceding article was solely written by the author named above. Any views and opinions expressed are not necessarily shared by GoodTherapy.org. Questions or concerns about the preceding article can be directed to the author or posted as a comment below.