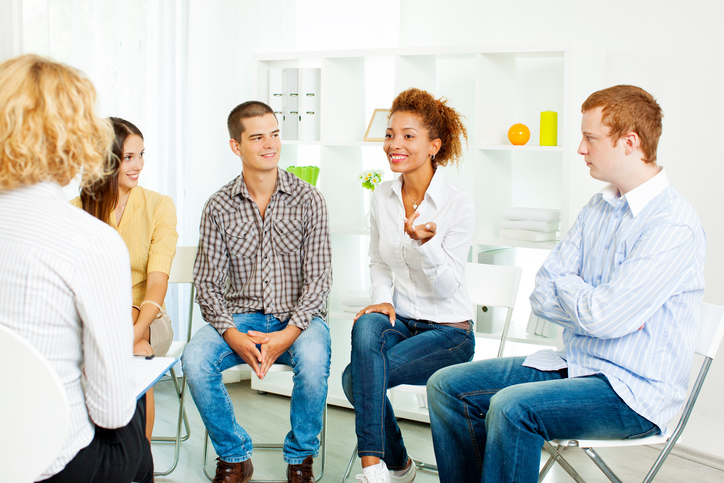 Many health care providers believe the 12-step model can help people with addiction abstain from addictive substances and behaviors. Rehab centers may use 12-step programs to provide space for individuals to share personal experiences, release emotional tension, and receive social support as they seek to achieve and maintain abstinence. You are encouraged to find a rehab center in your area if you experience addiction.
What Are 12-Step Programs?
Twelve-step programs are support groups that help people overcome addiction. These programs encourage members to live by a set of tenets known as the 12 Steps. Many people claim they have been able to break their addiction and maintain abstinence by following the steps in the correct order. Lessons taught and friendships made at these programs can also help individuals stay motivated to stick with their treatment plan.
Today, millions of people participate in 12-step programs. Rehab centers typically combine a 12-step approach with other evidence-based interventions to fight addiction. Many who complete rehab continue using 12-step programs to help them remain abstinent. 
Find a Treatment Center
Pros and Cons of 12-Step Programs
This type of program is widely known to provide a strong support network and community for people with addiction. Several studies suggest people who abstain from addictive substances are more likely to experience improved mental health and long-term recovery when participating in a 12-step program. The 12-step model provides individuals with a framework for letting go of addiction and adopting healthier behaviors. It can help people become more aware of behaviors that contribute to addiction, build self-esteem and self-acceptance, and learn strategies for staying sober.
As recovery is a lifelong endeavor and people have unique needs and circumstances, some individuals may find it helpful to revisit steps or apply multiple steps at the same time.
Despite the benefits of the 12-step model, some concerns should be noted. Some people do not find the religious overtones of many programs helpful. Programs like Alcoholics Anonymous accept people of all faiths, as well as atheists and agnostics. However, other programs choose to eliminate religious references from their approach. 
Additionally, some individuals in treatment may be uncomfortable with the philosophy in certain programs that they are morally deficienct or powerless against addiction. These people may prefer an more empowering approach. 
Critics also contend that many of the studies supporting the effectiveness of the 12-step model are poorly conducted. They also claim that 12-step programs are more concerned with sticking to routine than adapting to new research.
Will I Have to Do a 12-Step Program at Rehab?
While many rehab facilities use 12-step programs, there are non-12-step alternatives for people in treatment. Alternative programs encourage abstinence without placing emphasis on religion or spirituality. They may also be less likely to pathologize addiction.
Alternative treatment options that could be available at rehab include:
How to Choose the Best 12-Step Program for You
There are several factors to consider before choosing a 12-step program. For instance, it is important to choose a program that specializes in treating your specific addiction. Many people commute from home to join a support group beyond the facility setting. However, if you need intensive care, it could be best to enroll in an inpatient treatment program offering 12-step support. Other factors worth considering include the location of the group, whether the steps are secular or religious, and if you feel comfortable with the other members in the program. 
References:
How to find the best 12-step substance abuse recovery program. (n.d.). Recovery.org. Retrieved from https://www.recovery.org/topics/12-step-substance-abuse-recovery-programs/
Seeking drug abuse treatment: Know what to ask. (2013). National Institute on Drug Abuse. Retrieved from: https://www.drugabuse.gov/publications/seeking-drug-abuse-treatment/5-how-do-12-step-or-similar-recovery-programs-fit-drug-addiction-treatment
The purpose of the 12 steps. (2017, September 14). Addiction Center. Retrieved from https://www.addictioncenter.com/treatment/12-step-programs
Treatments for substance use disorders. (2016, August 9). Substance Abuse and Mental Health Services Administration. Retrieved from https://www.samhsa.gov/treatment/substance-use-disorders
Vergara, S. & Dyer, D. (n.d.). 12-step programs. Retrieved from https://www.drugrehab.com/recovery/12-step-programs
What to know about 12-step rehabs. (n.d.). American Addiction Centers. Retrieved from https://americanaddictioncenters.org/rehab-guide/12-step
12 step recovery programs. (n.d.). CRC Health. Retrieved from http://www.crchealth.com/treatment/12-step-programs