Residential treatment allows individuals to experience 24-hour care while pursuing therapy to confront the challenges of conditions related to substance abuse, addiction, and eating disorders.
At residential treatment centers, individuals are able to access a higher level of care than can be provided by individual, family, or group therapy alone. Residential treatment centers are available for both youth and adults, and stays can range in length from 28 days to six months and beyond.
To learn more about different types of rehab programs, what life is like in rehab, or the medical or financial aspects of rehab, see Frequently Asked Questions About Rehab.
Retreat-based therapy offers individuals, couples, and families the opportunity to spend a short period of time on an intensive therapeutic retreat where they can focus on addressing any concerns negatively impacting their well-being. The popularity and success of this type of therapy, as well as that of residential treatment, lies at least partially in the benefit many people obtain from stepping away from their everyday surroundings and immersing themselves in therapeutic work at a dedicated facility.
What Is Residential Treatment?
The intensive therapeutic services offered by residential treatment centers require individuals seeking treatment to leave their homes and reside in a treatment facility for the duration of therapy. These centers are in place to provide safe, effective, evidence-based care for adolescents and adults who have experienced profound negative consequences from issues related to substance abuse, addiction, and/or eating and food issues, among others. In residential treatment, individuals have the opportunity to address behavioral, emotional, and mental health needs with the guidance of licensed mental health professionals.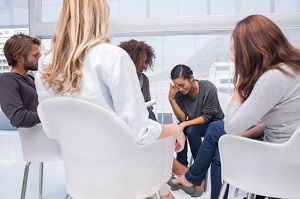 Today's residential treatment centers accommodate people of all ages and treat a variety of concerns, including trauma, substance abuse, and eating disorders, as well as concerns related to personality, cognitive development, and addictive and compulsive behaviors. Individuals who enter these treatment programs have typically first undergone assessments and screenings indicating they may need a higher level of care in order to experience long-term success in their personal recovery.
Typically, residential treatment centers provide a variety of evidence-based therapeutic modalities as part of the treatment process. A combination of individual and group therapy sessions, supplemented by family therapy sessions, provide ongoing care in order for facilitate the healing process and help the process continue after the individual completes treatment.
The approach of a residential treatment center may differ, based on the issues treated and the people providing services. Some residential treatment centers may offer experiential therapeutic activities such as equine-assisted therapy, art therapy, or structured physical activity. Many programs now also offer alternative treatments such as massage therapy, yoga therapy, acupuncture, meditation, or energy work to further foster an individual's whole-body wellness. By offering these therapeutic opportunities, residential treatment centers offer support as people work to achieve an improved quality of life, personal growth, and the development of healthy interpersonal relationships.
What Is Retreat-Based Therapy?
Retreat-based therapy is designed to offer respite from the chaos, stress, and often overwhelming demands of everyday life. Retreat centers, often referred to as wellness centers, offer a safe space for an individual, couple, or family to slow down, reflect, heal, and restore. At a retreat center, people may find the space and time they need to process personal, psychological, emotional, relationship, or spiritual issues in order to return to daily life feeling strengthened, renewed, and better able to meet a variety of challenges.
With its emphasis on relaxation and restoration, retreat-based therapy has increased in popularity over the past few decades. The efficacy of family and couples therapy sessions is often enhanced in a retreat setting, as the highly-focused environment allows for deeper exploration of intrapersonal and interpersonal relationships without the stress of outside concerns. Retreat-based therapy provides individuals with an intensive but brief therapy format where they can address emotional and mental health needs, whether these concerns are personal, family-related, or relationship-based.
Finding Residential Treatment and Retreat Centers

Residential treatment programs are offered throughout the United States and around the world. There are many factors to consider when choosing a treatment center. Depending on the issue being treated and the location of the person seeking treatment, some degree of travel may be required to attend the program best suited to one's individual needs. Finding the right program typically requires some awareness of what a person hopes to achieve in treatment. This awareness, coupled with a knowledge of the type of environment best suited for optimum comfort, may help contribute to the long-term health and success of the individual.
There are four main styles of residential treatment programs.
Clinical residential treatment programs often provide life skills training, addiction treatment, and educational training as well as extensive therapy.
Group residential communities, also known as group homes, use a familial atmosphere to help residents improve mental and emotional health, develop life and relationship skills, and manage mental health symptoms.
Farm or work-based residential programs help residents achieve growth and recovery through daily work in addition to therapeutic treatment.
Apartment-based communities offer an environment where residents may maintain more independence than is possible in other settings while they pursue therapeutic treatment and work toward recovery.
Retreat centers also vary greatly in focus and offerings. Marriage or couples retreats in particular seem to be increasing in popularity in recent years, and several well-known marriage and family therapists offer their services in a retreat-based format. A variety of retreat centers exist throughout the United States, however, and programs offered might address substance abuse, family or couples issues, and stress, among other concerns.
Concerns and Limitations
One of the primary issues associated with residential treatment and retreat centers is the expense. Residential treatment centers and retreat-based therapy can be quite expensive. Consequently, there is a significant socioeconomic divide with regard to healing and recovery, and the options available to those who are seeking treatment but cannot afford high costs may be limited.
Some residential treatment centers and retreat facilities do offer scholarships or work exchange opportunities for those who cannot pay the fees. This is especially true for spiritual or mindfulness-based retreat centers. There are low-cost, no-cost, and nonprofit treatment centers throughout the United States for those that are uninsured, underinsured, or who face financial limitations.
Expense remains a significant barrier to treatment for the majority of individuals. To address this issue, among other concerns, the Mental Health Parity and Addiction Equality Act was officially declared as law in November of 2013. Health insurance companies are now expected to provide increased coverage for those seeking inpatient treatment for substance abuse and mental health-related issues. In fact, the coverage is supposed to be equivalent to that given for physical ailments, and denial of coverage is against the law, according to the act. These policy changes will likely have a significant positive impact on the availability of treatment options for those who would otherwise be unable to access appropriate treatment services.
References:
Benefits of Residential Treatment. (n.d.). Retrieved from http://www.artausa.org/benefits.html

Brodsky, M. (2012). Residential Treatment — When to Consider It, What to Look For. Social Work Today, 12(2), 8.

Residential Treatment Centers. (2015, September 15). Retrieved from http://www.addictionrecoveryguide.org/treatment/residential

Residential Treatment Programs. (2011). American Academy of Child & Adolescent Psychiatry: Facts for Families, 97. Retrieved from https://www.aacap.org/App_Themes/AACAP/docs/facts_for_families/97_residential_treatment_programs.pdf

Substance Abuse & Mental Health Services Administration. (2008, September 18). Out-of-home services for emotional or behavioral problems among youths aged 12 to 17: 2002 to 2006.

National Survey on Drug Use and Health: The NSDUH Report

. Retrieved from http://oas.samhsa.gov/

2k8

/

youthServices

/youthServices.pdf

Types of Programs. (n.d.). Retrieved from http://www.artausa.org/type_programs.html