Karen Horney was an early 20th century psychoanalyst. Her critique of some of Sigmund Freud's views led to the founding of feminist psychology.
Professional Life
Karen Horney was born near Hamburg, Germany, in 1885. As a teenager, she suffered her first episode of depression, a challenge she faced several times throughout her life. In 1906, Horney was able to enroll in University of Freiburg Medical School, one of a few medical schools admitting women at that time. She transferred from there to the University of Gottingen and finally to the University of Berlin in 1909, where Horney elected to study the emerging field of psychoanalysis. While in school, she met her husband, Oskar Horney; they married in 1910 and raised three daughters. Horney graduated from the University of Berlin in 1915.
Horney began working with the Berlin Psychoanalytic Institute as an analyst and teacher in 1920. Within a few years, the Horney's marriage began to fracture, as Oskar's business collapsed and his health declined. In addition, Horney's brother passed away from a pulmonary infection. After suffering through a prolonged depressive state, Horney and her husband separated in 1926, and she moved to the United States in 1932, accepting an invitation from Franz Alexander to be the Associate Director of the Chicago Institute for Psychoanalysis.
Horney lived in Chicago for two years before moving to Brooklyn, where she was a frequent lecturer at the New School for Social Research and a teacher at the New York Psychoanalytic Institute. It was during this time that she met Harry Stack Sullivan and Erich Fromm, and she began to explore her own theories on personality and neurosis. Horney's beliefs differed from traditional Freudian theories, and this led to her expulsion from the New York Psychoanalytic Institute. In 1941, in collaboration with other dissenters, she founded the American Institute for Psychoanalysis and served as dean until her death in 1952. She also established the American Journal of Psychoanalysis.
Contribution to Psychology
Horney is widely regarded as the founder of feminine psychiatry, which focuses on the psychiatric treatment of women, and feminist psychology, which studies the ways in which gender power imbalances affect both mental health and the development of psychological theories. She strongly advocated that differences between men and women are manifest from differences in culture and socialization rather than biology.
Horney is perhaps best known for her critique of Sigmund Freud. She and Alfred Adler are considered the founders of Neo-Freudianism, a departure from Freudian orthodoxy. Horney was highly critical of Freud's theories of psychosexual development and was particularly troubled by the concept of penis envy. She argued that penis envy was not an innate psychological complex, but instead a product of gender power imbalances. Under this conception, women don't envy men's penises; they envy their power and privilege. Horney further argued that men might be envious of women because there is less pressure upon women to gain power. In addition, Horney disagreed with Freud's focus on aggression, power, and sex. She argued that the Oedipal complex had little to do with these drives, and was instead a product of insecurity in the relationship between parent and child.
Horney is also known for her theory on neurosis. She believed that neurosis was not a condition, but rather a process which occurred throughout one's life. Although she disagreed with her contemporaries about neurosis, she did agree with them with regard to childhood influences. She theorized that a person's neurosis is a result of their childhood perceptions of their own parents. Horney categorized ten basic needs that she believed were essential for someone to succeed. She grouped them into three types of needs:
Compliance Needs
Aggression Needs
Attachment Needs
A strong advocate for the role of environmental influences on individual psychology, Horney viewed narcissism not as a personality trait or disorder, but as the outcome of early environment. She did not believe that narcissism was inherent to the human condition or human personality. She emphasized that narcissists often suffer from low self-esteem and that narcissism may be the product of over-indulgence.
Books by Karen Horney
The Neurotic Personality of our Time (1937)
New Ways in Psychoanalysis (1939)
Self-Analysis (1942)
Our Inner Conflicts: A Constructive Theory of Neurosis� (1945)
Are You Considering Psychoanalysis? (1946)
Neurosis and Human Growth (1950)
The Collected Works of Karen Horney (1950)
Quote by Karen Horney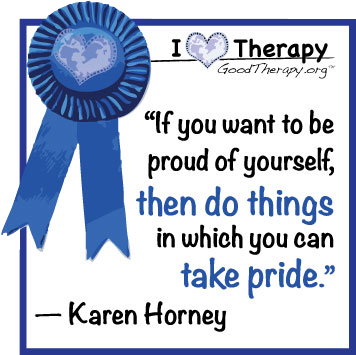 References:
Eckardt, Marianne H. (2005). Karen Horney: A Portrait. American Journal of Psychoanalysis, 65(2), 95-101. doi:http://dx.doi.org/10.1007/s11231-005-3620-6
Kester-Shelton, Pamela, (Ed). (1996). Karen Horney. Feminist Writers. Biography In Context. Retrieved from http://www.gale.cengage.com/InContext/bio.htm