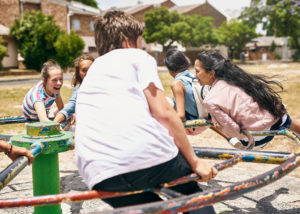 Transgender kids face alarming rates of bullying and abuse. GLSEN's 2017 National School Climate Survey found 83.7% of trans and 69.9% of gender nonconforming (GNC) students experience bullying at school.
Bullying can erode self-esteem, increase isolation, and make it more difficult for a child to assert their gender identity. Some bullied children become depressed and suicidal. Centers for Disease Control and Prevention (CDC) reports that any involvement with bullying—whether as a victim, bully, or both—raises a child's risk of suicidal behavior.
Parents, educators, and other adults have significant power to reduce bullying and support trans kids at school.
Transphobia Statistics
Transphobia is animus toward transgender people. It can cause bullying, physical aggression, and other forms of abuse.
Research consistently finds that gender-related discrimination is a problem in schools. GLSEN's annual National School Climate Survey looked at over 23,000 children in grades 6-12. The study found 42.1% of trans and GNC kids are prevented from using their preferred pronouns. Nearly half of these kids (46.5%) are forced to use the wrong bathrooms.
Other research has found high rates of transphobic bullying.
Research published in 2017 found trans kids are two to three times more likely than their peers to be bullied.
A 2016 survey of adult transgender individuals found 60% have avoided public restrooms because they feared confrontation and bullying.
A 2012 survey found 61% of students have heard peers make negative remarks about gender expression. The same survey found 27% of students face physical abuse because of their gender expression.
Creating a Safe Environment for Trans Kids
Many parents and educators worry that there's nothing they can do to stop transphobic bullying. Yet research consistently finds that creating an inclusive, gender-affirming environment can greatly reduce bullying. Even when kids are bullied in these environments, they may feel more comfortable reaching out to an adult than they would in less inclusive environments.
According to GLSEN, students at inclusive schools with curricula that feature LGBTQ-affirming content are less likely to experience bullying, hear transphobic remarks, or feel unsafe at school. They are also less likely to be forced to use the wrong bathrooms or the wrong pronouns. Inclusive curricula can also raise self-esteem, reduce the risk of depression, and even improve grades.
Some strategies that promote a safe environment for trans kids include:
Creating a trans-inclusive curricula. Schools can participate in LGBT History Month, feature notable transgender historic figures, and discuss transgender history and civil rights with students.
Asking students about their preferred pronouns or names and then using them
Educating teachers, school counselors, and others who work with students about transgender issues.
Establishing safe spaces, such as counselor's offices, where students can safely discuss gender issues and bullying.
Refusing to tolerate any bullying or transphobia, even from teachers or other adults.
Parents who want to support a transgender child should urge their child's school to promote an inclusive environment that actively works to prevent transgender discrimination. At home, parents can help by allowing children to assert their own gender identity in a safe, judgment-free zone.
It is important to let the child determine what gender means to them. Parents should avoid reinforcing gender stereotypes or rigid gender ideologies. For example, a trans girl does not need to turn her entire wardrobe pink in order to "prove" she is a girl. No toy or clothing should be off limits to anyone solely because of gender.
Parents can also support their trans or GNC children by introducing them to the wider LGBT community. They may read books with their child that feature people of many gender identities and presentations. They may identify trans or GNC role models for kids to learn about. They may also help their children meet other trans kids through support groups, trans camps, and other communities.
Lastly, parents may wish to educate themselves about transgender history and issues. Children pick up on what parents believe, not just what they say. Parents who are uncomfortable with their child's gender presentation may inadvertently stigmatize their child. Education can help parents reevaluate their own ideas about gender and become better advocates for their children.
Understanding Your Child's Rights
Federal, state, and local laws determine a student's legal rights. Trans students in some states have more protections than students in other states. Individual schools may extend additional rights to trans students.
Many courts have ruled that transgender individuals are protected under Title IX. This federal law forbids schools from discriminating against students based on their sex or gender expression. Under Title IX, transgender and GNC students have the right to:
Be protected from bullying, harassment, and violence.
Use restrooms and locker rooms that match their gender identity.
Be called the correct name and pronouns.
Dress and present themselves according to their gender identity (so long as they follow the general school dress code).
Access the same educational opportunities and school events as other students.
Maintain their medical privacy, including the right not to disclose being transgender.
However, not all states share this interpretation of Title IX. According to the American Civil Liberties Union, only 17 states have laws explicitly protecting transgender students from harassment and discrimination. These include Arkansas, California, Colorado, Connecticut, Delaware, Hawaii, Illinois, Iowa, Maine, Maryland, Minnesota, New Jersey, New York, North Carolina, Oregon, Vermont, and Washington. The District of Columbia also has anti-discrimination laws.
Even between these states, the extent of civil protections can vary. For example, only California, Connecticut, and Washington currently allow transgender students to join school sports teams consistent with their gender identity. School districts within a state may also vary in their policies.
The rights of transgender students at school are continually evolving. Parents who worry their child is facing discrimination should consider consulting a lawyer who specializes in educational law or who has experience with transgender issues.
How Therapy Can Help Transgender Kids
Therapy can offer immense support to transgender kids and their families. Family counseling can help a family identify strategies for supporting a child's gender identity and fighting back against bullying. When family members do not fully understand or accept a child's trans identity, family therapy can educate them and encourage acceptance.
Individual counseling can help transgender kids who struggle with depression, low self-esteem, and anxiety due to bullying. The right therapist can also affirm a child's gender identity and point them toward trans role models and literature. In therapy, a child can learn that being trans is not a mental health problem or a weakness, but an important component of a person's identity that should be respected and celebrated.
You can find a therapist here.
References:
GLSEN 2017 National School Climate Survey. (2018). Retrieved from https://www.glsen.org/article/2017-national-school-climate-survey-1
Know your rights: Transgender people and the law. (n.d.) ACLU. Retrieved from https://www.aclu.org/know-your-rights/transgender-people-and-law
McKay, T., Misra, S., & Lindquist, C. (2017). Violence and LGBTQ+ communities: What do we know, and what do we need to know? RTI International. Retrieved from https://www.rti.org/sites/default/files/rti_violence_and_lgbtq_communities.pdf
Supporting transgender and gender diverse students in schools [PDF]. (2015). American Psychological Association. Retrieved from https://www.apa.org/pi/lgbt/programs/safe-supportive/lgbt/school-administrators.pdf
The relationship between bullying and suicide: What we know and what it means for schools [PDF]. (2014). Chamblee: Centers for Disease Control and Prevention. Retrieved from https://www.cdc.gov/violenceprevention/pdf/bullying-suicide-translation-final-a.pdf
Trotta, D. (2016, December 08). U.S. transgender people harassed in public restrooms: Landmark survey. Reuters. Retrieved from https://www.reuters.com/article/us-usa-lgbt-survey/u-s-transgender-people-harassed-in-public-restrooms-landmark-survey-idUSKBN13X0BK
What are my rights at school? (n.d.). Retrieved from https://transequality.org/know-your-rights/schools

The preceding article was solely written by the author named above. Any views and opinions expressed are not necessarily shared by GoodTherapy.org. Questions or concerns about the preceding article can be directed to the author or posted as a comment below.