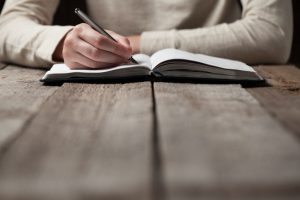 We all have things and ideas and ventures that we turn over in our minds, sometimes on paper, maybe with other people who share our inconsistent commitments—projects that, even in their incompleteness, still have some hold on us. Our interest and our thoughts keep circling back to that place. We come back to them again and again, and we work on them in fits and starts. Unrealized projects we have yet to find the space or time to help become something concrete in our lives.
My unrealized projects are the fragments I have been writing for years about my mother. The Book (probably an overly optimistic way of seeing it, but we'll go with that for now), or A Thousand Illegible Scribbles (I have the title, at least), that keeps flipping me on the back of the head, insisting that I pay attention. For almost a decade, my mom has struggled with a mental health condition. I'm still not sure what it is. It's easier to describe symptoms than state a diagnosis. She cycles through the day between extreme emotional states—through anger and frustration, through sadness and a deep, deep stasis. She doesn't think she has a head. She stares in the mirror to locate herself, brushes her hair ritualistically. She struggles with self-care; the shower hurts. She knows that I'm her daughter, but no longer cares for me as one. Her script has been unchanged for years: "I'm a bit nervous." "I just worry about my sleep." "I was a good mum, wasn't I?"
Amber's Office Hour, then, sat between these two seemingly opposing but actually quite complementary worlds: she had designed a session that would take on a creative project that is loved and obsessed over, but that we don't actually work on or don't work on enough to actually make happen. Amber's Office Hours would try to help us figure out why that particular project—that artwork or business, that blog or zine— keeps mattering, why it keeps insisting on space in our lives. She'd bring to our creative endeavors an emotional life and give them validity.
I started writing A Thousand Illegible Scribbles four years ago. It started with an article that was published in The Independent newspaper in the UK. There was a story that my mother couldn't tell herself, but I could. And through telling it, I thought that I could do more for her, and others like her.
Would you put your mental health story, or that of your family, down on the page? Do you talk about it? Do you share your anxiety, depression, break-downs?
I've dealt with my mother's struggles in various ways: spending time at home. Spending time away. Seeking out people to help her, to help my dad who is home with her, to help me. I have researched and discussed her condition. I have planned and argued with and for her. And I have written (in bursts), since I realized the condition that began the year I got engaged, like my marriage, had the promise of a life-long commitment.
I now have 40,000 words, pages and pages of fragments. I sit down and write when there's no outlet for what I feel about her condition, or when she's having a bad episode and I'm back in the UK living alongside her every day, or when we have any interaction that throws me back with her and less in California, where I now live.
"I suggested a walk. Mom asked to feed the ducks at Marbury Park. She'd collected scraps of bread which, it turned out, meant dad had pulled together almost a whole fresh sliced loaf. She didn't notice. Too cold outside for us in April, we walked straight from the car park to the lake. She broke off the bread in handfuls, almost like pulling out hair, and chucked it at the ducks. Bits so big they should have choked. Ten seconds to tear through a loaf, then back to the car."
Having done my own time on the couch, I know the structure of weekly therapy, but my Office Hour with Amber was different. The orientation of the session, its focus on unfinished business, meant that I had a clear, definable framework in which to work. Though going into it, I had thought that we'd talk about words on the page, about how to get the book going, about how the pieces I write occasionally can come together into a coherent whole. Plotting and planning its progress, making it take shape, setting goals. But this was therapy-of-sorts, and we lingered in that space of the emotional content that makes up the book.
Over the course of an hour, as we sat in the cozy booth at Makeshift Society where these sessions were held, Amber took me through four different ways of thinking about the project. We covered the strengths that the book represented for me and with that, the daily build that would support it, the obstacles for working on its daily pages, the allies and supportive forces to fortify progress, and the self-care necessary for keeping it a reality. Amber talked with me about how our creative projects are not just carefully contained goals, but real relationships, with all the complexity and messiness that those entail. Especially this one.
Talking with Amber, that's where I got—this project is so much more than building chapters and momentum. It's a deeply meaningful and emotional project that is about connection. Connection with my mother and the family I left behind.
"Mom paces. Dad was 40 minutes late for coffee, but we were together in a nice café, with warm drinks and each other's company. Not so bad, but she slipped off her chair and shuffled from side to side, looking around for dad, though when he appeared she didn't see him."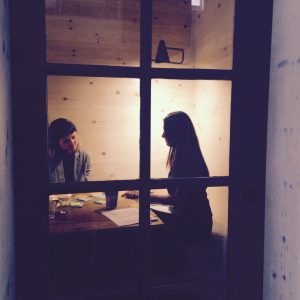 But Amber also helped me realize the reason that this book languishes in that "unfinished business" category. She helped me identify the huge emotional roadblock, the one that would and does keep me away from the book: the threat of conflict. As much as it touches on urgency and meaning, the book also touches on points of contention and denial. It's about connection, but holds the promise of its opposite: disconnecting me from those I care about.
When you talk about mental health, you very quickly enter the language of stigma; when you talk about mental health in your own family, you very quickly get to your own family's biases and fears around the subject. To write to this subject means opening up our lives in ways that are terrifying and complicated to those involved, to admit to a problem that we don't want to identify. I see writing as the invitation to connect, as an opening to a conversation, and I believe that we need to talk about the reality of mental health in our society.
But writing can end relationships too. As soon as I write a sentence, any sentence, there's the possibility that the conversation I want to have around my mother's situation may end in silence. Family members may shut down and turn away, or accuse me of airing our dirty laundry in public, acting on motivations that have more to do with fame and money than impact and value.
"By day three she is angry. She's already at the breakfast table when I come down for a shower. She wears a ridiculous fluffy peach sweater that accentuates her size and attracts my baby daughter's curiosity. She says nothing. No acknowledgement of the new baby, no acknowledgment of her old daughter. No good morning. Dad makes slightly burnt bacon butties. He asks Mom again and again if she wants one. Always 'no.' Her rice crispies are already stuck to her sweater. 'No.' I put the baby down for a nap, then hear 'No,' louder this time. My husband shuffles our son out of the house. I hear them chatting. More 'No's. Voices starting to rise."
The book, even just lingering in the idea stage, contains the power dynamics in my family, the lingering shock of losing people I have loved, the pain that confrontation can bring. I've been framing the project as a way of making meaning from an awful situation, of researching and thinking and processing ways beyond how we currently think about mental health. Done in the right way, it may help my mum, my family, me, and others like her. But received wrongly, it might go the other way.
We are all touched by mental health issues. We know that now. We know that one in four people lives with mental health issues. We know someone who has a mental health condition. We're starting to learn that we need to take care of our psychological well-being as much as our physical selves. We're increasingly comfortable going to therapy or seeking help when we're in crisis. What we're less able to do is tell our stories or share our experiences or stand out as that someone who is, in fact, struggling. We're not there yet. My mum is not there yet. My family isn't. Maybe I'm not, either.
So this is what we do: we hide her away, we deal with it in private, hoping the neighbors don't call the police with another outburst, that the local coffee shop doesn't get tired of her rants and ask her to leave, that people don't continue to turn away from our family, to give up on us. And we don't get the help we need because we mistrust, we're afraid, and we don't talk about it, don't know how to, and actually don't want to.
That's the real reason for the book—the belief that we need to tell our stories, to ourselves and each other, to make sense of our mental health. We need to talk about what preventative care looks like, what we do when someone "gets sick," and resources for how to care for someone with a mental health condition. But it's also a threat. Would you put your mental health story, or that of your family, down on the page? Do you talk about it? Do you share your anxiety, depression, break-downs?
Yeah, that's where I am, too. Right in that space of knowing that to reach out is necessary, but to do so, in the words of my mother tongue, is bloody terrifying. That fear can silence us, even when we need those words on the page more than anything. That's not just my unfinished business—it's ours.
Claire Fitzsimmons is the Founder and Co-Director of Storefront Institute, a co-learning space based in San Francisco's Bay Area that delivers discussion-based public programs facilitated by innovative practitioners – writers, artists, designers, teachers, and thinkers. Our programs provide the practical, social, and intellectual connections to open up new perspectives that help us better navigate our lives. Claire is a curator who has worked internationally and has spent more than a decade as an exhibition-maker and explorer of ideas and cultural practice.
© Copyright 2016 GoodTherapy.org. All rights reserved.
The preceding article was solely written by the author named above. Any views and opinions expressed are not necessarily shared by GoodTherapy.org. Questions or concerns about the preceding article can be directed to the author or posted as a comment below.