American Foundation for Suicide Prevention (AFSP)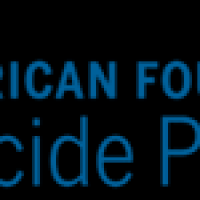 The American Foundation for Suicide Prevention (AFSP) was formed in 1987 when a small group of individuals who had each lost someone to suicide came together, envisioning a private, caring source of support for suicide research and education. These founding families were concerned about the rise in youth suicide over the previous four decades, which had doubled for young women and tripled for young men. With goal of essential suicide prevention efforts that could be sustained into the future, the group joined with scientists to create the organization.
Suicide, a serious public health concern, is currently the third leading cause of death among young people between the ages of 15 and 24. The highest overall rates of suicide are for adults between the ages of 40 and 59. According to research, 90% of those who die by suicide have, at the time of death, a treatable mental health condition. In many of those people, the condition was neither recognized nor treated. AFSP works to better understand the reasons behind suicide and to prevent suicide by increasing awareness and developing programs to help those at risk.
AFSP, currently the leading organization in the fight against suicide, was the first national not-for-profit organization wholly dedicated to suicide prevention research, education, and advocacy. The organization funds research, creates educational programs, advocates for public policy, and supports those who have survived suicide loss. Led by CEO Robert Gebbia, the organization is headquartered in New York, though it offers nationwide events and programs and currently has 81 local chapters throughout the United States.
Five Core Strategies serve to help AFSP fully achieve its mission. These include:
Funding scientific research
Offering educational programs
Educating the public about suicide prevention and mood disorders
Promoting legislation that impacts suicide and suicide prevention
Providing programs and resources to people at risk and people who have survived suicide loss and involving them in the Foundation's work
Since AFSP's founding in 1987, the organization has:
Mobilized and connected tens of thousands of individuals who have lost loved ones to suicide.
Reached out and offered support to thousands of those at risk for suicide, as well as those who love and care for them.
Attracted support and participation—such as groundbreaking research on suicide and its prevention—from members of the scientific and clinical communities.
Established local chapters in nearly all of the 50 states. AFSP continues to work to increase these numbers.
Educated hundreds of local communities about suicide awareness and prevention.
Created a public policy and lobbying arm by successfully merging with an existing national policy organization. This enabled AFSP to push for policies and legislation advancing suicide prevention and awareness at the local, state, and federal levels.
Substantially increased funding from individual donors. These donors include the thousands of individuals nationwide who participate in AFSP's Out of the Darkness Walks.
Provided education to reporters and the media about appropriate and sensitive ways to cover suicide in the news.
Communicated with hundreds of thousands of individuals through the organization's website, social media platforms, brochures, speakers, and the press coverage generated through various efforts.
AFSP works closely with volunteers and the organizations who prove direct services, such as counseling and crisis hotlines, advocating for social change and supporting efforts to reduce and prevent suicide. Community events, such as Out of the Darkness Walks, and donations help AFSP raise money to support the organization's work and research.