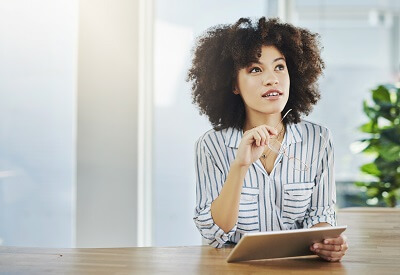 It can be empowering to view your business through your clients' eyes. In doing so, you may begin to create a plan to adjust your business to become safer, better branded, streamlined, and more lucrative, all while setting a professional precedent for clients and referral sources.
One way to take this first step in your clients' shoes is to do a practice inventory. Note everything a patient may perceive from the point of first hearing about you and your expertise all the way through termination of therapy.
Therapy Private Practice Inventory
Here are some questions to kick off your practice inventory:
Marketing material
What do your website, online listings, business card, and intake paperwork reflect about your business, your expertise, and services/fees charged?
Patient communication and management
Explore how clients contact, schedule, and experience their first visit. How do they pay and receive communication from your business? Consider factors including voicemail, email, text, intake documentation, statements, resources, and more. Is the process convenient and client-centric, and does it set a professional precedent?
Billing management
How easy is your billing process, and how does it manage varying appointment types? Can patients easily be billed for consultation, additional appointments, cancellations, no shows, and emergencies? Are statements they receive for service secure and encrypted for easy submission to insurance if you are private pay? How are sliding scale requests managed?
The environment
How does your physical space support your credibility, your brand, and your advertised expertise? Does the space really feel like "you"? Is it inviting, comforting, and inspiring? Does the environment convey professionalism, trust, privacy, and support? What support documentation or resources are available to patients?
Practice management technology
Are you spinning plates using multiple devices and processes? What systems and tools are you currently using in combination, and what is the cost? Is your payment processing tied to software of any kind? Do you have any strategies that are currently aimed at streamlining operations? Are you using practice management software? Are you securely communicating with clients? How much time are you spending on administration and/or operations? How can this time and redundancy be reduced, freeing you up to engage in business development or time for you to recharge?
Business operations vs. business development
How do you manage your time and energy? How much money and time is going toward practice administration? Have you allocated specific, dedicated time to look at and reorganize your practice management processes to create maximum efficiency, safety, and revenue? Have you created space and time for business development, including business-of-practice education, advertising and marketing, cultivating referral sources, and clarifying your brand and offerings?
Takeaways
Once you have answers to the questions above, think about which areas you might like to improve. Where can you enhance your clients' experience? Is it in the marketing phase, where you could make it easier for new clients to find you? Or perhaps it's the billing phase, where you'd like to simplify your payment processes.
Wherever your answers take you, resources are available to help you grow and streamline your practice, enhancing not only your client's experience, but your own.