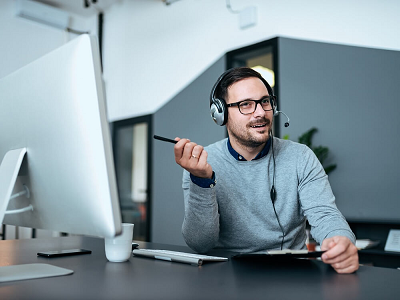 Busy group practice owners often find themselves spending more time on business management than they do with their clients. As your practice grows, so too does the paperwork and administrative hassle. An administrative assistant can give you the gift of more time and less stress. With more time comes more opportunities to earn a solid living. The right administrative assistant may even pay for themself by freeing you to take on more clients, helping you market your practice to more lucrative clients, and ensuring you're always compensated for your work.
However, hiring an administrative assistant also means taking on the demands of recruiting, training, and managing an employee. For some practice owners, the additional time and expense aren't worth it. Here are some things to consider before hiring an administrative assistant.
What Do Administrative Assistants Do?
An administrative assistant does more than act as a receptionist or secretary. These versatile assistants can tackle many of the administrative duties your practice must handle. The specific roles your assistant fills will depend on their training, your practice structure, and industry norms where you live. In general, some tasks they may be able to perform include:
Receptionist duties such as answering the phones, returning calls, checking voicemail, and greeting clients when they arrive at your practice.
Scheduling duties such as calling clients to cancel and reschedule appointments, serving as a central point of contact for new and established clients who need to change their appointments, and managing the practice calendar. Your administrative assistant may remind you of important deadlines, such as an upcoming conference submission deadline or the deadline for a tax extension.
Communicating with insurance companies on your behalf. Some administrative assistants may be able to file claims and respond to claim denials.
Managing initial client intake. Your assistant can educate clients about your practice, help them fill out paperwork, check insurance coverage, and assess whether a potential client is a good fit for your practice. This may require training or a background in mental health, especially if you work with people in crisis.
Managing financial paperwork such as tax receipts, as well as tracking business expenses.
Marketing your practice by working with your marketing team, monitoring advertising campaigns, notifying you of upcoming events, and applying for you to speak at local and national events.
Hiring the Right Assistant
The U.S. Department of Labor Bureau of Labor Statistics estimates a 5% decline in the availability of administrative assistant jobs between 2016 and 2026. This means that employers may have less difficulty finding quality candidates, especially in metropolitan areas where the market is saturated with applicants.
Even so, people who hope to hire an administrative assistant must be prepared to offer a competitive compensation package. The more competitive the compensation is, the more likely it is you will get a quality candidate. Particularly if you want to hire an administrative assistant with extensive mental health experience, it is important to offer a working environment and compensation package that allows you to compete with other practices.
The Bureau of Labor Statistics reported in 2016 that administrative assistants earn an average of $18.69 per hour. Those in busy metropolitan areas and areas with high costs of living typically earn more. You'll also pay more for an administrative assistant with many years of experience, an exceptional resume, or prior experience working in mental health.
Some strategies for hiring the right assistant include:
Devise a recruitment plan. Ask other therapists if they have a part-time assistant they love or if their current assistant is looking for a job change. Friends and family may know qualified people looking for a job. Your college or university job center is also a great resource.
Consider using job listing and search services. Some allow you to post a job so you can screen candidates yourself, while others do the preliminary screening and recruitment for you.
Plan interview questions ahead of time. If you don't, you could end up hiring an administrative assistant because you like their personality, not because they are the best fit for the job.
Develop a job description. This should include details about the working environment. It's important to be honest about what they can expect from you. Do you tend to micromanage? What practice and managerial tasks do you most struggle with? What might be frustrating about the job, and how can you mitigate these frustrations?
Consider alternative options for an administrative assistant. A part-time administrative assistant can add significant value to your practice, and part-time hours can allow them to earn more money at a second job or spend time with their family. A remote assistant retains flexibility but can still do most traditional administrative assistant functions. This can be an appealing option for people with young children or for people who prefer to remain busy by taking on many clients as a virtual assistant.
Set aside money in your budget. You should have sufficient funds to pay the assistant for at least 2 months, even if you earn no money in that time. If you fail to pay on time, an assistant will likely leave. They may also sue you or report you to the Department of Labor for labor law violations.
Virtual Assistants and HIPAA
Virtual assistants are an affordable, flexible option for practices that do not need full-time help, as well as practices that cannot afford an in-house assistant. A virtual assistant can work from anywhere. Some people find them on freelancing sites like Upwork, but these assistants also advertise their services on traditional job boards, as well as through professional networking.
Sending information to virtual assistants via email, text, and other means can raise HIPAA compliance issues. To remain compliant:
Treat a virtual assistant like any other employee. They should sign a contract and a nondisclosure/confidentiality agreement outlining their job duties.
Ask the assistant about their working environment. If they work with other clients or in a co-working space, what do they do to preserve confidentiality?
Communicate only via secure, encrypted means. If you use text messages, use an encrypted service such as Signal.
Develop clear policies for handling client records and communications. For example, you might require that your virtual assistant not retain any paper records and that all records must be securely stored in the cloud.
A virtual administrative assistant is distinct from an artificial intelligence assistant. While it's possible to use Siri and other assistants for some limited assistance, a virtual assistant offers most of the same services as an in-office assistant.
What if You Can't Afford an Assistant Yet?
Group practices, especially new ones, often have slim margins. If an administrative assistant is not yet in your budget, your time may be better spent increasing profits so you can eventually hire one. Some strategies for managing until that day comes include:
Hiring someone on a limited part-time basis. Even five hours of support a week can greatly reduce your workload.
Distributing specific duties among practice members. If everyone has an assigned additional duty or two, you can collectively fill the role of an administrative assistant—without the confusion that often happens when everyone tries to do everything. Try assigning tasks based either on each practice member's interests or their skills. If certain duties are unpopular, try assigning them on a limited basis via lottery. For example, each practice member might have to spend a month managing insurance denials.
Using scheduling or practice management software, such as TherapyPartner. To get the most out of these services, everyone in the practice must use them and have access to the account.
GoodTherapy lists member therapists in our directory so that clients can easily find you. Therapists in group practices can obtain discounts through our group membership program. You can also gain access to dozens of seminars and continuing education opportunities. Become a member today!
References:
Secretaries and administrative assistants. (2019, June 18). Retrieved from https://www.bls.gov/ooh/office-and-administrative-support/secretaries-and-administrative-assistants.htm
Vozza, S. (2015, November 5). How to know when it's time to hire an assistant. Fast Company. Retrieved from https://www.fastcompany.com/3053054/how-to-know-when-its-time-to-hire-an-assistant