Albert Ellis was a 20th century psychologist who pioneered the development of Rational Emotive Behavior Therapy, which is widely considered a precursor to cognitive behavioral therapy.
Early Life
Albert Ellis was born in Pittsburgh, Pennsylvania, in 1913. He had a very distant emotional relationship with his parents and described his mother as a self-centered woman who struggled with bipolar. Despite his own personal health issues, Ellis helped to raise his younger brother and sister until he could leave the family to study at the City University of New York.
After graduating in 1934 with a bachelor's degree in business, Ellis first attempted a career in business and then another as a writer. With little success publishing fiction, Ellis began writing nonfiction on the topic of human sexuality. In 1942, he enrolled at Teachers College at Columbia University to obtain a PhD in clinical psychology. He published several articles before he completed school and was harshly critical of popular personality tests. He argued that only the Minnesota Multiphasic Personality Inventory (MMPI) was scientifically valid.
Ellis was painfully shy and intimidated by public speaking. At 19, he challenged himself to talk to 100 female strangers in the Bronx Botanical Gardens, and this early experience with behavioral change likely influenced his development of Rational Emotive Behavioral Therapy.
He studied various psychological theories, including Sigmund Freud's, and—like most of his contemporaries—was a strong proponent of psychoanalysis. He began practicing and took teaching positions at both Rutgers and New York University.
Professional Life
Influenced by Alfred Adler, Karen Horney, and Erich Fromm, Ellis began to question the effectiveness of psychoanalysis. His own personal experiences, combined with historical research and modern philosophy, led to his decision to end his practice of psychoanalysis in the hopes of developing a more directive form of psychotherapy.
He called his therapy Rational Therapy, then later changed the name to Rational Emotive Behavioral Therapy (REBT). This form of therapy, widely viewed as a precursor to the now-popular cognitive behavioral therapy, aimed to address the behaviors and belief systems of a client. Ellis's approach was not widely accepted at first, but that did not prevent Ellis from founding the Institute for Rational Living in 1959.
In the 1960s, Ellis became heavily involved in the sexual revolution and atheism. His strong opinions on theology, sexual relations, and therapeutic diagnoses led to several books and heated debates among religious therapists and his peers. Ellis worked with many religious practitioners to expand the use of REBT, and he finally admitted that there can be psychological benefits to believing in a loving god. He eventually toned down his opinions, but remained a probabilistic atheist, firmly believing that choice provided the highest psychological outcome.
Ellis dealt with criticism for much of his career, but for the last half of his life, his theories were embraced by the psychological community. Cognitive behavioral therapies were being recognized as scientifically proven effective methods of treatment and Ellis was seen as being responsible for that movement. Ellis founded "The Living School" in the 1970s. The institution focused on REBT for children aged 6–13 years.
Ellis continued working, researching, and writing well into his 90s and died in 2007.
Contribution to Psychology
Ellis is best known for REBT, which led to cognitive behavioral therapy (CBT). Rather than focusing on early childhood experiences, psychoanalysis, dream interpretation, or a client's relationship with family and parents, REBT aims to directly address problematic beliefs that lead to self-defeating behaviors.
Ellis's 1958 classic, Sex Without Guilt, was a popular text during the sexual revolution. It advocated liberal sexual attitudes and the embrace of sex as a pleasurable good. Homosexuality: Its Cause and Its Cure, however, treated homosexuality as a pathological condition that could be treated through psychotherapy. He later altered his views, emphasizing that homosexuality is neither good nor bad and that homosexual feelings and behaviors are resistant to change, even through therapy.
Ellis acted in several capacities throughout his life. He was a member of several prestigious psychological institutions and contributed to dozens of scientific journals. He won accolades and awards from multiple organizations for his impact on the field of psychology, and even received personal phone calls from several world leaders on his 90th birthday.
Even in his 70s and 80s, he continued to practice and work tirelessly, giving workshops and conducting speaking engagements. He collaborated with his wife on several publications to further the field of REBT. He continued to write articles and publish his own books up until the time of his death. He was also a popular social commentator who debated several philosophers, psychologists, and politicians. Ellis is considered one of the most influential figures in the history of psychology.
Quote by Albert Ellis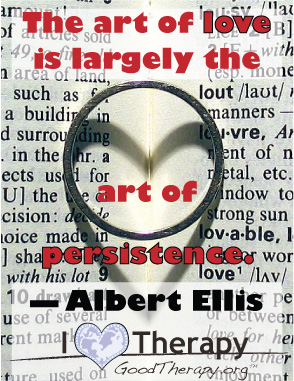 Books by Albert Ellis
The Folklore of Sex (1951)
The Homosexual in America: A Subjective Approach (1951)
The American Sexual Tragedy (1954)
Sex Life of the American Woman and the Kinsey Report (1954)
The Psychology of Sex Offenders (1956)
How To Live With A Neurotic (1957)
Sex Without Guilt (1958)
The Art and Science of Love (1960)
A Guide to Successful Marriage (with Robert Harper, 1961)
Creative Marriage (with Robert Harper, 1961)
A Guide to Rational Living (1961)
Reason and Emotion In Psychotherapy (1962)
Sex and the Single Man (1963)
If This Be Sexual Heresy (1963)
Nymphomania: A Study of the Oversexed Woman (with Edward Sagarin, 1964)
Homosexuality: Its Causes and Cures (1965)
Is Objectivism a Religion (1968)
Murder and Assassination (with John M. Gullo, 1971)
Growth Through Reason: Verbatim Cases In Rational-Emotive Therapy (1971)
Humanistic Psychotherapy (1974)
A New Guide to Rational Living (1975)
How to Master Your Fear of Flying (1977)
Anger: How to Live With and Without It (1977)
Handbook of Rational-Emotive Therapy (with Russell Greiger & Contributors, 1977)
Overcoming Procrastination: Or How to Think and Act Rationally in Spite of Life's Inevitable Hassles (with William Knaus, 1977)
How to Live With a Neurotic (1979)
Overcoming Resistance: Rational-Emotive Therapy With Difficult Clients (1985)
When AA Doesn't Work For You: Rational Steps to Quitting Alcohol (with Emmett Velten, 1992)
The Art and Science of Rational Eating (with Mike Abrams & Lidia Abrams, 1992)
How to Cope with a Fatal Illness (with Mike Abrams, 1994)
Reason and Emotion In Psychotherapy (1994)
How to Keep People from Pushing Your Buttons (with Arthur Lange, 1995)
Alcohol: How to Give It Up and Be Glad You Did (with Philip Tate, 1996)
How to Control Your Anger Before It Controls You (with Raymond Chip Tafrate, 1998)
Optimal Aging: Get Over Getting Older (with Emmett Velten, 1998)
How to Stubbornly Refuse to Make Yourself Miserable About Anything: Yes, Anything (2000)
Making Intimate Connections: Seven Guidelines for Great Relationships and Better Communication (with Ted Crawford, 2000)
The Secret of Overcoming Verbal Abuse: Getting Off the Emotional Roller Coaster and Regaining Control of Your Life (with Marcia Grad Powers, 2000)
Counseling and Psychotherapy With Religious Persons: A Rational Emotive Behavior Therapy Approach (with Stevan Lars Nielsen & Brad Johnson, 2001)
Overcoming Destructive Beliefs, Feelings, and Behaviors: New Directions for Rational Emotive Behavior Therapy (2001)
Feeling Better, Getting Better, Staying Better: Profound Self-Help Therapy For Your Emotions (2001)
Case Studies In Rational Emotive Behavior Therapy With Children and Adolescents (with Jerry Wilde, 2002)
Overcoming Resistance: A Rational Emotive Behavior Therapy Integrated Approach (2002)
Ask Albert Ellis: Straight Answers and Sound Advice from America's Best-Known Psychologist (2003)
Sex Without Guilt in the 21st Century (2003)
Dating, Mating, and Relating. How to Build a Healthy Relationship (with Robert A. Harper, 2003)
Rational Emotive Behavior Therapy: It Works For Me—It Can Work For You (2004)
The Road to Tolerance: The Philosophy of Rational Emotive Behavior Therapy (2004)
The Myth of Self-Esteem (2005)
Rational Emotive Behavior Therapy: A Therapist's Guide (with Catharine MacLaren, 2005)
How to Make Yourself Happy and Remarkably Less Disturbable (1999)
Rational Emotive Behavioral Approaches to Childhood Disorders (with Michael Bernard, 2006)
Theories of Personality: Critical Perspectives (with Mike Abrams & Lidia Abrams, 2008)