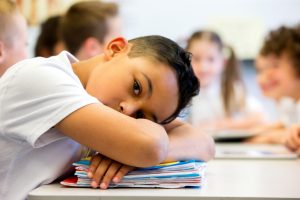 More than 50 million students are enrolled in public schools across the United States. Of those, one in five meet the criteria for a mental health condition. About 70-80% of these students won't receive any kind of treatment or therapy. Because children and adolescents spend most of their time at school, teachers, administrators, school nurses, and other staff are often in a unique position to be the first to identify any problems or issues in a child's life. Here are some ways for public schools to better address this rising mental health crisis.
Mental Health Screening in Public Schools
Most schools do not have any type of mental health screening in place for students. The National Association on Mental Illness supports mental health screenings for several reasons. Half or more of chronic mental health issues begin at or before age 14. Early identification and treatment can help prevent more serious problems down the road.
Just as screenings are done for a variety of physical health problems, mental health screenings in public schools could greatly benefit vulnerable students. Conducting mental health screenings in schools allows teachers to recognize the warning signs of various mental health issues, allowing for earlier identification and quicker connections to the treatment resources students might need.
The Role of Public School Nurses in Mental Health
While school nurses are usually the most likely to catch any mental health issues early on, many schools only have one on-staff nurse, and many of these nurses only work part-time. It is not uncommon for entire school districts to share one nurse, meaning that one nurse may see hundreds or even thousands of students (depending upon the size of the district). This makes it more unlikely that a school nurse would be able to spot symptoms of mental health issues, as the nurse may not be available or have enough time with each student to address their needs.
According to the American Association of Pediatrics, schools function as the mental health system for approximately 80% of students. For this reason, school nurses play a critical role in identifying problems so they can be treated as soon as possible. Unfortunately, school nurses typically receive little to no training in mental health.
While nurses aren't expected to be psychologists or therapists, they should be aware of emotional, physical, and behavioral warning signs for common mental health problems. Awareness and recognition of problems as soon as they arise could prevent a suicide.
Integrated Mental Health Strategy in Public Schools
Researchers suggest the best way to help students with mental health issues may be to have teachers, counselors, administrators, and school nurses work together to spot and handle mental health issues. Saddling this responsibility on one teacher or administrator is not likely to be effective because they typically do not have the necessary training or time. On average, school counselors see around 500 students. School nurses may see even more students, especially if they are the only nurse for an entire district. Teachers also see a significant amount of students, ranging from 20-30 in elementary schools to hundreds of students in middle schools and high schools where students change classes and teachers throughout the day.
drug and alcohol use
, and
relationship abuse
. To recognize these potential problems, some degree of training in mental health will likely be necessary.
Some signs that a student may be experiencing a mental health condition include:
Sudden changes in a student's mood or behavior
Frequent mood swings
Behavioral problems such as aggression, temper tantrums, or lashing out in school
Poor academic performance
Poor hygiene
Frequent absences
No longer participating in extracurricular activities
Isolation from peers
Difficulty paying attention in class
Difficulty relating to others
Somatic complaints (stomachaches, headaches) with no clear physiological cause
Providing Mental Health Services in Public Schools
According to the 2016 Children's Mental Health Report, young people with access to mental health treatment and services in school are 10 times more likely to seek help for mental health and substance abuse concerns than those who do not have such programs available. Many schools are choosing to address the rising mental health crisis in the public-school system by hiring a professional psychotherapist, counselor, or psychologist on staff. Other schools have therapists come in from community mental health centers to see students who are struggling with mental health issues beyond the guidance counselor's scope of expertise.
Congresswoman Grace Napolitano is currently working on implementing the Mental Health in Schools Act, which would provide $200 million in funding through competitive grants of $1 million each to 200 public schools across the country. This funding would help them provide on-site licensed mental health professionals in public schools. Napolitano has been executing these programs since 2001 in 14 public schools in her congressional district. This approach has proven successful and will be expanded nationwide through the funding provided by the Substance Abuse and Mental Health Services Administration.
References:
Anderson, M. & Cardoza, K. (2016, September 7). A silent epidemic: Our public schools are struggling to handle millions of students with mental health problems. Retrieved from http://apps.npr.org/mental-health/
Association for Children's Mental Health. (n.d.). Problems at school. Retrieved from http://www.acmh-mi.org/get-help/navigating/problems-at-school/
Cardoza, K. (2016, September 3). School nurses can be mental health 'detectives' but they need help. Retrieved from http://www.npr.org/sections/ed/2016/09/03/478835294/school-nurses-can-be-mental-health-detectives-but-they-need-help
Child Mind Institute. (2016). 2016 children's mental health report. Retrieved from http://childmind.org/report/2016-childrens-mental-health-report/
Facts on the Mental Health in Schools Act. (n.d.). Retrieved from http://napolitano.house.gov/resources/additional-resources/mental-health-schools-act/facts-mental-health-schools-act
Firth, S. (2015, February 20). Hospitals see alarming increase in suicidal children. Retrieved from http://www.medpagetoday.com/pediatrics/preventivecare/50117
National Alliance on Mental Illness. (n.d.). Mental health screening. Retrieved from http://www.nami.org/Learn-More/Public-Policy/Mental-Health-Screening
Shefall, A., Asti, L., et al. (2016, September). Suicide in elementary school-aged children and elderly adolescents. doi:10.1542/peds.2016-0436
© Copyright 2016 GoodTherapy.org. All rights reserved.
The preceding article was solely written by the author named above. Any views and opinions expressed are not necessarily shared by GoodTherapy.org. Questions or concerns about the preceding article can be directed to the author or posted as a comment below.