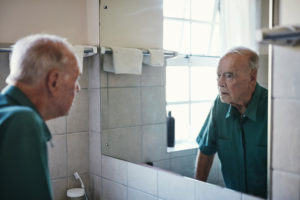 Being hurt and having disappointments in life are universal equalizers, as is the need to forgive. When we think of forgiveness, we often focus on the need to forgive people who have harmed us and those who have not been available in the ways we hoped they would be. One topic of forgiveness that often gets lost in the proverbial shuffle is self-forgiveness.
As we walk through life, it is so easy to recall and recount the many ways that people around us have done us wrong. What is often far more difficult (and humbling) is to remember that we too are human beings. We too have most likely done things we are ashamed about or have harmed another person (even unintentionally).
In the process of healing from our past traumas and wounds, we are unlikely to fully recover if we avoid the very important step of looking at the disappointments and hurts we might have inflicted upon others.
Sometimes in life, even when we are trying to be as perfect as perfect can be, we can still be neglectful of the people we love most or fail to live up to standards others may have set for us. And even when we have tried our very best, there are still things in our pasts and in our stories that need to be addressed. We need to examine these things in order to move forward with our heads held high.
3-Step Process on How To Forgive Yourself:
1. Tell the truth.
 You may try to distract yourself from guilt or self-disappointment by focusing on other parts of your life. But we know deep down inside when we have done something we aren't proud of.
Here is the thing. It is literally impossible to avoid making mistakes. As a human being, there is absolutely zero way to get out of this life without having things you are sorry you have done. When you are ready to get honest with yourself, you can not only see the patterns of your past, but also to start your life with a clean slate.
Telling the truth about your mistakes may or may not involve sharing them with another person. Maybe it involves you getting out a notebook and writing everything that comes to mind. Maybe it is sharing your past aloud with a safe friend. Whichever way you do it, getting all the secrets and pain out of your head is a great first step toward total self-forgiveness.
We can't go anywhere if we don't let go of from where we have come. Getting utterly honest about your past and the secrets you carry is a very important first step.
Note: There is a huge difference between shame around abuse others inflicted on you as a child or vulnerable victim and feeling authentic guilt about ghosting a friend or walking out on a job. Shame for things that were never your fault is not the same thing as taking radical responsibility for your adult choices.
2. Sit with the feelings.
When we have a backlog of guilt and remorse in our lives, it can be so scary to open up those emotions. To slow down. To sit still. To feel the consequences of not only the actions that we regret, but also the feelings we have been stuffing down in order to avoid the guilt.
Sitting with your feelings doesn't mean sitting in a chair and staring out and being emotional all day. It just means that when the sadness, guilt, fear, or anger arise, to avoid shoving or hiding them away again. Even if you can't do it perfectly, you can practice that action one uncomfortable feeling at a time. Sitting with your feelings can be a life-changing opportunity.
Some productive ways to "sit with feelings" can include daily journaling or listening to music that allows the feelings to come to the surface. You could also talk to a safe person who can handle your emotions and your pain. You may even write a letter (that you may or may not ever give) to the person you may have treated poorly.
3. Don't forget the pain you've caused yourself.
Adding yourself to the list of things you are forgiving yourself for sounds  counterintuitive, doesn't it? But in reality, you are the most important name on your list!
This step is about taking stock of how much time you have spent beating yourself up for being imperfect.
How many ways have you shown disdain for yourself?
How often have you avoided your feelings by taking part in unhealthy behaviors?
How many times have you neglected yourself by under-eating or under-sleeping?
How many times and ways have you not shown yourself the love and acceptance that are your birthright to deserve?
This step is about turning your self-forgiveness even deeper towards yourself. It is about forgiving yourself for all the times you did not forgive yourself.
Steps 2 and 3 are a lifelong process. They are about learning the art of sitting with discomfort, while at the same time learning to practice radical self-acceptance. These are not basic things. These are advanced-level skills. With long-term practice comes growth, but never total perfection.
If you are ready to dive into a journey of self-forgiveness, I would recommend working with a seasoned counselor who can help you cope with some of the really intense feelings that may arise. As with all things that are hard, it is a good idea to ask for help. Remember, no matter who you are, that you never have to do life totally alone.

The preceding article was solely written by the author named above. Any views and opinions expressed are not necessarily shared by GoodTherapy.org. Questions or concerns about the preceding article can be directed to the author or posted as a comment below.