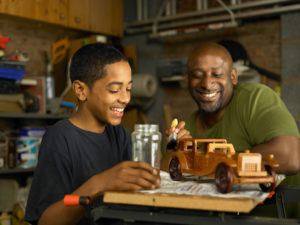 Parents of autistic children often participate in cognitive behavioral therapy (CBT) to address emotional and behavioral concerns in their children. According to a study published in the Journal of Autism and Developmental Disorders, parents who attended CBT with their children experienced improvements in their own mental health.
In the standard model of therapy for autistic children, parents are usually not active participants. They are often in a separate room. For this study, researchers asked parents to act as co-therapists, directly involving them in the process.
CBT is a type of therapy that aims to alleviate distress by correcting and redirecting automatic thoughts and behaviors. Therapists work with people in therapy to help them better manage emotional distress and to change problematic behavioral habits.
CBT: Benefits for Parents and Children
For the study, researchers recruited 57 autistic children between ages 8 and 12. None of the children had co-occurring intellectual disabilities.
parents
were randomly assigned to serve as co-therapists during their children's CBT sessions. Another group was placed on a waitlist. As co-therapists, parents practiced emotional and behavioral regulation strategies alongside their children. They also wrote down their children's thoughts during therapy activities.
Compared to waitlisted parents, the parents who acted as co-therapists experienced improvements on a wide range of mental health measures. They had fewer symptoms of depression, were more adept at regulating their own emotions, and were more mindful parents with better perceptions of their children. Because CBT often cultivates mindfulness and supports emotional regulation, these improvements are likely a direct result of the parents' involvement in their children's therapy.
CBT as a Tool for Understanding Autistic Children
Parents who participated in their children's therapy felt the experience improved their understanding of their children. Writing down their children's feelings and participating in therapy sessions with their children may have helped some parents better understand their children's challenges.
"It created a very safe, predictable approach for my son," said Jessica Jannarone, a parent who participated in the program, in an interview posted to YouTube. "I could hear firsthand from his own perspective and his words what it felt like to be him sometimes and to work on coping skills together. The difference it's made in the last year is more than has happened in the past 10 for us."
References:
Effects of cognitive behavior therapy on parents of children with autism. (2017, August 1). Retrieved from https://www.sciencedaily.com/releases/2017/08/170801131221.htm
Maughan, A. L., & Weiss, J. A. (2017). Parental outcomes following participation in cognitive behavior therapy for children with autism spectrum disorder. Journal of Autism and Developmental Disorders. doi:10.1007/s10803-017-3224-z
© Copyright 2017 GoodTherapy.org. All rights reserved.
The preceding article was solely written by the author named above. Any views and opinions expressed are not necessarily shared by GoodTherapy.org. Questions or concerns about the preceding article can be directed to the author or posted as a comment below.