Five Surprising Benefits of Video Games
January 27, 2013 • Contributed by Zawn Villines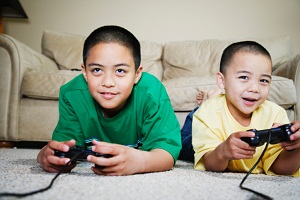 Whenever there's a new technology, there are people there to debate its merits. And while video games are hardly new, they've exploded into the homes of families everywhere over the past decade or so, and many parents spend an inordinate amount of time pleading with their children to do something other than play video games.
There's been much debate about whether violence and sexual images in games are harmful to children, and many parents are concerned about the impact regular gaming has on their children. While the content of video games matters and parents are wise to supervise their children's gaming habits, an increasingly voluminous body of research is revealing some educational and developmental benefits of gaming.
Spatial-Reasoning Skills
Spatial-reasoning skills play a critical role in development and education. Children with good spatial-reasoning skills tend to score higher on IQ tests and often excel at geometry. Spatial reasoning can also improve navigational skills and mental manipulation. Some research indicates that girls are less adept at spatial-reasoning tasks than boys, but spatial-reasoning skills can be learned, and video games are one method that can improve mastery. Video games require players to anticipate movements and, in the case of three-dimensional video games, force players to manipulate objects through a three-dimensional plane. Several recent studies have demonstrated an improvement in spatial-reasoning skills among both children and adults who regularly play video games.
Video Games in Education
Children tend to learn best when what they're learning is relevant to their daily lives, and flashcards and perpetual drilling can make learning a miserable task. But video games offer promise for helping children master everything from basic grammar to complex math. When children enjoy video games, they'll happily play games and may not even notice that they're learning. Educators are increasingly incorporating video games into the classroom.
Collaboration and Social Skills
introverted people
, video games may be a less stressful way to interact socially.
Critical-Thinking Skills
Critical-thinking skills enable children to master concepts rather than simply accept rote memorization. This vital skill is key in many pursuits, including science, math, engineering, and the humanities. Video game players are constantly presented with novel problems, many of which they must solve in a split second. This process improves critical-thinking skills and can teach gamers the value of trying several different solutions to a problem.
Rehabilitation and Specific Skills
Video games are increasingly realistic, and while this raises concerns about violence, it also offers new opportunities for teaching skills. Some schools now use video games to simulate real-life procedures such as surgery or flying a plane. Video games can also be used as a form of rehabilitation. For example, a 13-year-old boy with Erb's palsy noticed marked improvement in control over his arms after playing video games.
References:
Griffiths, M. (2002). The educational benefits of video games [PDF]. Education and Health.
Steinberg, S. (2011, December 26). The benefits of video games. ABC News. Retrieved from http://abcnews.go.com/blogs/technology/2011/12/the-benefits-of-video-games/
Torgovnik, K. (2012, November 19). 7 talks on the benefits of gaming. TED Blog. Retrieved from http://blog.ted.com/2012/11/19/7-talks-on-the-benefits-of-gaming/
© Copyright 2013 GoodTherapy.org. All rights reserved.
The preceding article was solely written by the author named above. Any views and opinions expressed are not necessarily shared by GoodTherapy.org. Questions or concerns about the preceding article can be directed to the author or posted as a comment below.
16 comments
Leave a Comment
Ira Bindman

January 27th, 2013 at 9:20 AM

Thanks for this positive take on video games. While I can see some benefits coming from playing them, they often serve as holding objects for boys particularly, who have difficulty socializing and have poor images of themselves. Two clients of mine report extensive involvement with video games to displace their shyness and express aggression. Someone who's mentally unstable can get caught up in winning, i.e., killing off "bad guys" and move into actual killing off those who he thinks have done him wrong. While I think there's no way to completely tame that violent impulse in us, we certainly don't need to exacerbate it either by creating and promoting video games that may bring it out to a very destructive degree.

Jean Nystrom

January 27th, 2013 at 1:26 PM

Yes, our culture has changed and technology is at the realm. I use a neurofeedback computer program called playattention with my daughter who has ADHD and can attest to the fact that this technology can provide our children with social skills, behavior skills and educational skills that promote brain growth and social acceptance.

cynthia peters

January 28th, 2013 at 3:47 AM

As a parent of a child who would like nothing better than to game all day, I too apprecaite that there are actually some good things that can come from the video games. I do try to monitor the time he spends on them a little more closely than I may have once done and since I buy them I do have some limits on the ones I will let him have. With that being said I know that I don't always control what he sees or does at others' houses, I can only control what he does at home. I don't see any bad changes in him, and I hope that I can now start to pick out some of the good. This is what he loves to do in his down time, and I was starting to feel really bad about having to limit it to the point where he might not get any enjoyment from that at all anymore. I know that this is not a free pass to let him sit and do this all the time, but it does help to take a way a little of the guilt I have been struggling with and gies me a conversational piece to engage with him in.

adam

January 28th, 2013 at 10:03 AM

like many other things video games can be both good and bad. how we use them determines the result. the content matters certainly. some games have nothing but violence in them and although reactivity and reflexes may improve by playing them I would prefer to stay away.

on the other hand some other games have so much to offer, be it for children or for adults with. Changing world we need changing media of learning and if video games fit then why not?

Barry

January 28th, 2013 at 10:28 AM

Well, if video games do all this, my kids gonna be a dang genius.

Cathy J

January 28th, 2013 at 10:30 AM

The Video Games in Education part explains a lot. I kept wondering why my daughter was talking about playing video games in class. At first I thought she was making it up. Then, I asked a couple of the other moms at a class party and they said their kids were saying the same thing. I was beginning to wonder if we just got the bad teacher. I'm glad to know there is probably a good purpose going on here.

Jack

January 28th, 2013 at 10:33 AM

I truly believe we need a balance here. It is such great news that video games have some real positives for our current and future adult populations. Who doesn't want kids to have problem solving skills that will take them and our nation far in the coming years? But, all of these great advantages can also be found in real world activities. So, I am thrilled to know that while kids are blowing off steam they are also learning. But, I still believe that kids need limits set on the time they spend in front of any electronic gadget.

Daniel

January 28th, 2013 at 10:36 AM

As any scientific mind will tell you, statistics can be skewed in any direction you'd like them to be. You can claim these are benefits if you want them to be. You can claim video games increase violent behavior if you want to and skew statistics to prove you are right. I'm not saying this is or isn't right. I'm just saying when you read articles like this you need to be aware that just cause studies prove it doesn't necessarily make it true.

Jean Nystrom

January 28th, 2013 at 11:55 AM

The program my daughter uses is in over 600 schools it is not only a neurofeedback program but also an edufeedback program for ADHD developed by teachers. I do not believe in the violent computer programs because I feel violence breeds violence. Playattention is a behavior shaping program which helps her focus and develop her mind. I'm sorry I should have been clearer in my response

C Harris

January 28th, 2013 at 3:31 PM

I've observed gaming has helped with my response times and also my ability to pay attention to detail. Game bashers abound but it's nice to see some scientific proof to the goodness of games. Take that, haters!

M vaughan

January 28th, 2013 at 11:18 PM

Video games per se are not detrimental or anything bad. but just like with everything the subject and content of each game is what makes it beneficial of detrimental. it holds a lot of promise for learning and other purposes. but seeing as some of he most widely used games are violent in nature, a generalized statement about video games cannot be made.

Herraz

April 18th, 2013 at 10:45 PM

I agree that games can give one's child growth develop mature or even the develop a skill of judgement.

Dennis

May 17th, 2013 at 5:57 AM

The take of video games is somewhat true. I play often, and it's not very dangerous and the stress-relieving thing I can definitely concur on. But to all parents out there, never let your child play games like GTA and Saints Row, you can do anything in those games.

Gamer

June 15th, 2013 at 12:32 AM

Video games don't make people violent. No rational human being would re-enact something that they clearly understand as fantasy. People that commit violence are born prone to violence, or have had horrible things happen to them.

Ray

January 21st, 2014 at 9:43 PM

Why visitors still use to read news papers when in this technological world all is presented on net?

SHADOWNINJAX999

March 16th, 2016 at 9:47 AM

i love video games it teaches me alot as a child
Search Our Blog
GoodTherapy.org is not intended to be a substitute for professional advice, diagnosis, medical treatment, or therapy. Always seek the advice of your physician or qualified mental health provider with any questions you may have regarding any mental health symptom or medical condition. Never disregard professional psychological or medical advice nor delay in seeking professional advice or treatment because of something you have read on GoodTherapy.org.